Belgrad
Brose Bamberg's strong comeback goes unrewarded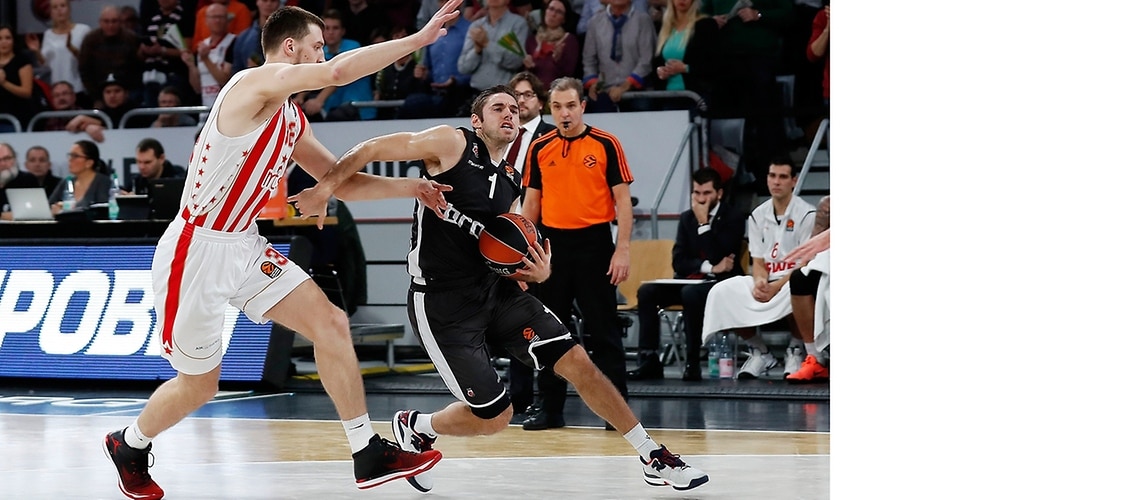 Belgrad, 2017-02-03
The chances of German champions and cup winners Brose Bamberg advancing to the next round of the Euroleague are as good as non-existent following their 60:74 defeat at Red Star Belgrade.
Although Red Star held the encounter in its smaller Pionir Arena (which holds 8,000 spectators compared to 18,500 in the Kombank Arena), "just" 5,300 fanatical supporters fired on their team vociferously and turned the place into a cauldron. From the very first second, every action by Bamberg was greeted by a deafening barrage of catcalls. The home side was also able to celebrate early on. Although Daniel Theis reduced an initial 0:8 deficit to 7:8 with two lay-ups, the team of Head Coach Andrea Trinchieri did not subsequently come to terms with the Serbian club's incredibly strong defending. The upshot: Red Star produced a run of 14 points without reply and Bamberg trailed by 23:41 shortly before half-time. Fabien Causeur scored Bamberg's first bucket from beyond the arc at its tenth attempt, then youngster Ali Nikolic drained the next three to make it 29:41. However, Belgrade added two more points just before the break (29:43).
Unfortunately, the two three-pointers did not bolster the visitors' confidence after the break to begin with. Trinchieri's team had few ideas in offense against its strong opponents, who then produced their next run (13:2) to surge 25 points ahead and leave Bamberg straggling by 31:56. Yet the club from Lower Franconia suddenly got into its stride: Patrick Heckmann scored from downtown to trigger a 12:0 run up to the end of the period. Top scorer Fabien Causeur (21 points) made five points in a row and in the space of three minutes Bamberg had cut the gap to 43:56 at the end of the quarter. Belgrade was now in disarray and was not able to add a single point for eight-and-a-half minutes. Causeur and the strong Ali Nikolic (9 points) reduced the deficit to 48:56 before the Serbian club scored again and, with three minutes left, Trinchieri's players were even within six points (57:63) after further threes by Causeur, Nikolic and Darius Miller. However, it was precisely then that Belgrade was able to assert its dominance again with strong solo actions and, whereas Miller and Nikolic missed two chances, Belgrade held on to win with five points in a row.
Andrea Trinchieri commented: "We produced a strong comeback today after playing disastrously in the first two periods. Belgrade's physical play and aggressive defending threw us completely off our stride. We kept on losing possession and so confidence in ourselves. The second half was a lot better. We fought back magnificently. In this spell, we were one big play away from seizing the momentum completely. But once again, this game showed that we work as a team, never give up and can also survive in such an atmosphere."
Brose Bamberg faces its next game on Monday (tip-off: 8:30 p.m.) at home against playoff candidate Gießen 46ers, who demanded everything of Trinchieri's team in the narrow 79:77 victory earlier in the season.