Zadar
Brose loses to Munich and finishes fourth in the Zadar Tournament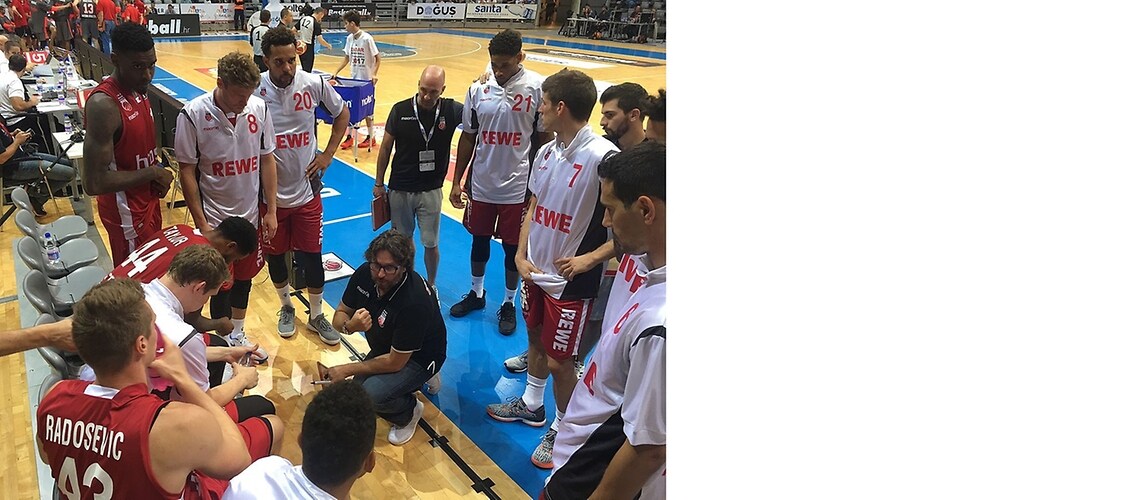 Zadar, 2017-24-09
Brose Bamberg lost to Munich by 58:71 in its third game of the 2017 Zadar Tournament. Brose failed to get into its stride from the tip-off, its shots did not want to drop in offense and it also conceded 27 turnovers in the course of the game. Following a narrow defeat in overtime against Euroleague rivals Khimki Moscow and a victory over Euroleague champions Fenerbahçe Doğuş Istanbul after two periods of overtime, Bamberg finished in fourth spot as a result of the defeat at the hands of Munich.
Brose went into the encounter against Munich without Ricky Hickman and Daniel Hackett, but for the first time with European champion Ali Nikolic. After a strong opening spell by the club from Bavaria, a bucket from beyond the arc by Staiger got Brose into the game in offense after just over six minutes. Munich opened up a double-digit lead thanks, in particular, to securely drained free throws, which was compounded by Brose's poor shooting percentage: Just three of its shots out of twelve attempts hit their mark. The first period ended with the score at 11:21.
Things did not really get any better for Bamberg at the start of the second quarter, with Munich pulling away by 14 points at one stage. Heckmann and Lô ensured Brose did not lose touch completely with threes up to midway through the period. Yet its field goal percentage remained its shortcoming. Whereas Munich made of high ratio of its shots, Brose was hardly able to drain any. The logical consequence: Bamberg trailed 27:42 at half-time.
The picture was the same in the third period. Two buckets from downtown by Macvan meant that Brose was 19 points behind at one stage. It was able to reduce that deficit a little to 36:50 by four points in a row from Lô and Rubit, but it still found the going very tough. That was also attributable to good defending by Munich, which repeatedly forced Bamberg into losing possession. Brose trailed 41:58 at the end of the quarter.
Maodo Lô and Augustine Rubit dominated the opening minutes of the final period for Bamberg and brought their side back to within ten points. However, a 6:0 run with three minutes to go ensured Munich pulled away again. In the end, Brose went down by 58:71.
Head Coach Andrea Trinchieri commented: "I'm extremely annoyed. The way we played today, even if it's the pre-season, is not acceptable. But it's only the pre-season. So I'm not worried. I've nine months to be worried."