Jena
Nail-biting game on the road ends in second victory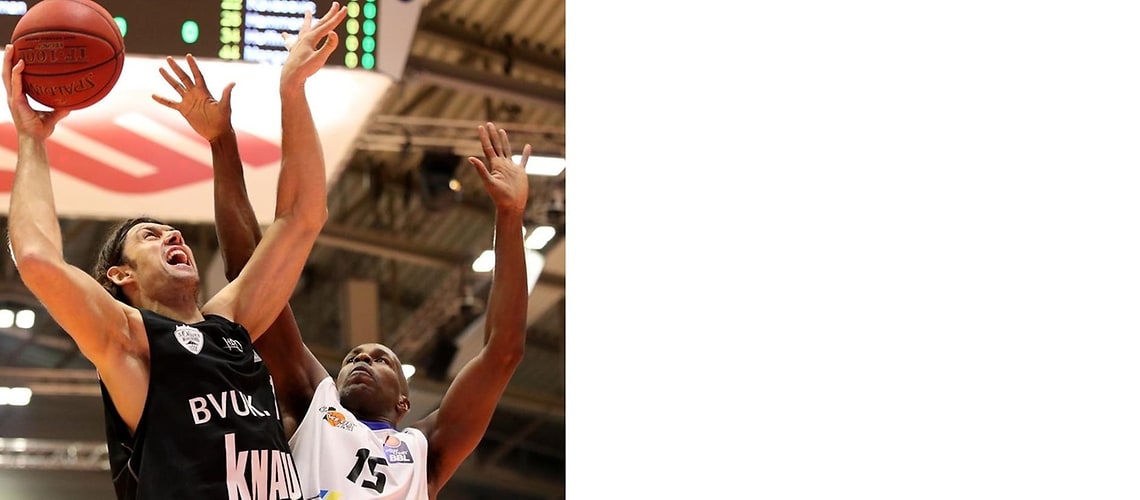 Jena, 2017-03-10
What a nerve tingler on the Day of German Unity: s.Oliver Würzburg needed five extra minutes on Tuesday to capture its first away game of the season at Science City Jena by the narrow margin of 81:79. Top scorer Robin Benzing first scored a lay-up to take the game into overtime, where he made the final shot to give Würzburg its second win out of two games. "We got off to a good start, but still have to improve in many areas if we want to notch up our next victory against Bremerhaven at home on Sunday," said Head Coach Dirk Bauermann afterwards.
His team produced a lightning start and led by 0:7 after the first three of season by Benzing, before the home side got off the mark. When Jena's Head Coach Björn Harmsen called his first timeout after just over five minutes, Robin Benzing already had eight points under his belt and the visitors were 9:18 in front.
That soon changed because the club from Thuringia had adjusted its aim well and drained five threes in the first period. Jena remained within striking distance for a long time in the second period as well, before the club from Lower Franconia produced a run of 8 points without reply through two buckets from downtown by Osvaldas Olisevicius and a lay-up from captain Kresimir to pull away to 31:45 at half-time.
Right after the break, Harmsen's team then managed to stop the visitors from scoring for more than three minutes. Würzburg then came to terms better with Jena's intensive defending and was able to chalk up its highest lead of the game (39:55). It seemed at this stage that s.Oliver Würzburg would coast to a comfortable start-to-finish win – yet the encounter turned into a real nail-biter in the final phase and was only decided in overtime.
With the score at 45:57 going into the final period, Jena began to operate more aggressively in defense and continued to drain a high percentage of its shots from outside: Three threes in a row tied the score at 61:61 in the 36th minute and shortly after that the home side went ahead for the first time thanks to a lay-up by Derrick Allen.
With 51 seconds left on the clock in regular time, it was again Skyler Bowlin who put his team in front with a bucket from beyond the arc (71:67). With 4.6 seconds to go, Robin Benzing tied the scores at 71:71 with a lay-up. Abdul Gaddy had his fingers on the last attempted shot by Immanuel McElroy and so the game was sent into overtime.
The game was decided at the death in it, too. The encounter was tied at 79:79 with 17.4 seconds left. Robin Benzing took the decisive jump shot and drained it with exactly five seconds to go to the final buzzer.
s.Oliver Würzburg now faces its second home game of the season, when Bremerhaven Polar Bears visit the s.Oliver Arena on Sunday afternoon (tip-off: 3 p.m.).