Bayreuth
medi loses to Estudiantes Madrid after overtime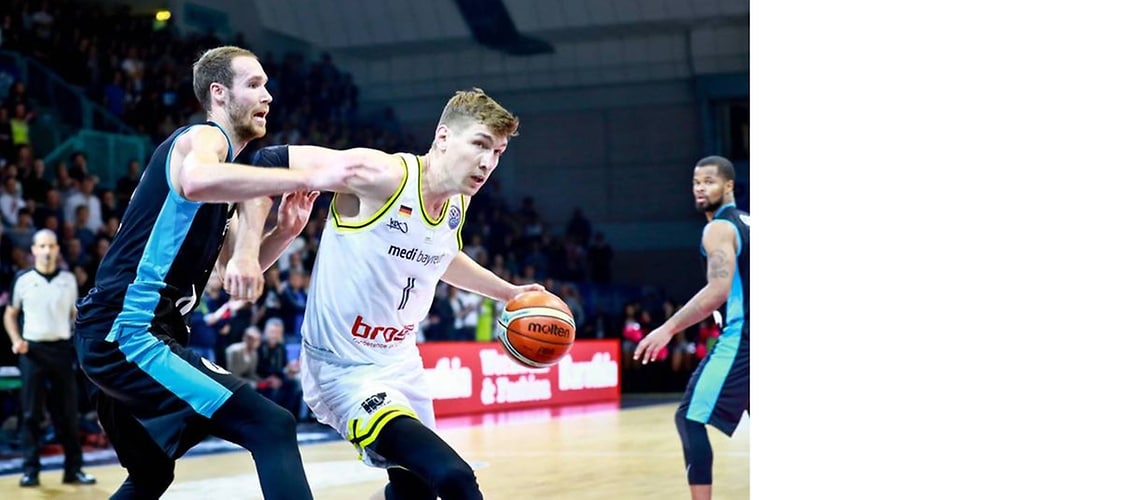 Bayreuth, 2017-07-11
The first competitive international game in Bayreuth since 1996 was heavy going for the fans in the Oberfrankenhalle to begin with. In contrast to the Heroes Of Tomorrow, who – like last Sunday – did not get in the game, Estudiantes was highly alert and wrested control on court from the tip-off. The score after a one-sided opening period was 11:29.
The team of Head Coach Raoul Korner also failed to get into its stride in the second quarter. Gaps in defense, poor choices when shooting and individual mistakes left it trailing by 23 points. Only then did the team snap into action. Nate Linhart in particular now seized the initiative. He scored seven points up to the break and, although medi won the period by one, it lagged far behind when both teams went in at half-time (33:50).
The Heroes Of Tomorrow got back into the game after the break through Andreas Seiferth. A bucket from beyond the arc by Gabe York reduced the deficit to 46:59, but then Madrid pulled away again. When the gap dwindled to 53:63 after a three by Doreth and a subsequent assist for De'Mon Brooks, the visitors' Head Coach Salva Maldonado called his first timeout. Another bucket from downtown by Gabe York not only gave his side a fresh boost of energy before the final period, but also reduced the deficit to just nine points.
medi drew closer and closer. Steve Wachalski drained a shot from outside and then Gabe York added a lay-up to cut the margin to just four. However, Alec Brown responded clinically for the visitors with five straight points. Nate Linhart struck back with an and one (70:74), but the Spanish club produced an immensely strong reply with two threes in just 18 seconds. Yet medi showed its morale again: It prevented Madrid from scoring for four minutes and even managed the seemingly impossible task of equalizing – through Gabe York with 59 seconds remaining – to make it 82:82 and send the encounter into overtime.
However, Estudiantes was then the better team in the extra five minutes. Omar Cook put his team on the road to victory with a quick three. medi now simply ran out of breath and the Spanish club was able to pull six points in front through its top scorer Sylven Landesberg with 87 seconds to go and so decide the encounter. A very exciting game finally ended 84:90 in favor of Madrid.