München
Cup qualification: Brose Bamberg loses in Munich as a result of controversial refereeing decisions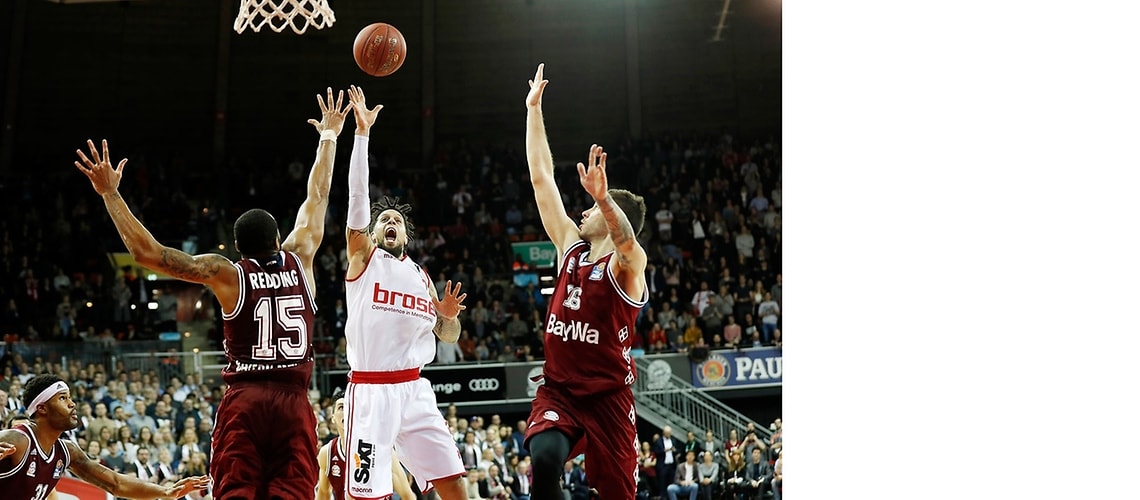 München, 2018-21-01
Brose Bamberg will no longer be able to defend one title this season: the cup. The team of Assistant Coach Ilias Kantzouris lost 97:101 after overtime yesterday at the German league leaders FC Bayern Munich. However, the home side had a very dubious call by the referee on its last attack to thank for being able to tie the scores at 86:86 after regular time.
It is sad when you have to grumble about the referees' performance, especially when your own team loses and does not play flawlessly. But the incorrect decision in the final seconds of regular time in the cup qualifier between FC Bayern Munich and Brose Bamberg cost the champions the chance to advance to the semi-finals in Ulm. Bamberg led 86:83 with twelve seconds left on the clock. Bayern gained possession, launched a fast attack and Nihad Djedovic rose to make a lay-up, with his knee ahead of him, above the defender Maodo Lo. The lay-up dropped to make it 86:85 – but to Bamberg's dismay, referee Robert Lottermoser also called a foul against Lo. It was dubious and unjustified – and Djedovic drained the bonus free throw to tie the encounter at 86:86 and take Bayern into overtime, where it then defeated Bamberg.
However, it would also be wrong to put all of the blame for Bamberg's defeat on the referees. After an incredibly strong performance, and despite feeling the toll from two tough Euroleague games, Bamberg led 86:80 and had possession with 64 seconds left before the end of regular time. Yet two of its last four attacks ended with turnovers after passes by Nikos Zisis (19 points), who otherwise had a strong game, while the two others resulted in rushed shots as the clock ran down. The picture was the same in overtime: Augustine Rubit (18 points) put Bamberg 95:91 ahead with two minutes to go, but Brose failed to seal the encounter on the next three attacks: The shot clock ran down, Ricky Hickman played a bad pass, and Daniel Hackett lost possession with 20 seconds remaining – while Bayern scored three times to move 95:97 in front. Top scorer Hackett still had the chance to equalize with a free throw with nine seconds on the clock, but the ball rebounded off the hoop.
Strong opening quarter for Brose Bamberg
Despite two tough Euroleague games during the week, Bamberg conjured up a strong opening period, with an outstanding shooting percentage of 92 from the floor: Eight out of eight twos and four out of five shots from beyond the arc dropped to make it 30:25 for Bamberg. And when Bayern stepped up a gear in defense and kept Bamberg down to just ten points in the second quarter, Brose was also more attentive in defense and kept the home side away from its basket. The two teams went in at half-time with the scores tied at 40:40. Kantouris' players struck back after a short weak spell after the break (40:47) with two quick threes by Daniel Hackett and Ricky Hickman (16 points) to make it 61:63 at the end of the third period and the momentum seemed to be completely with Bamberg in the final quarter. The visitors pulled 86:80 ahead thanks to top scorer Daniel Hackett (21 points) with strong lay-ups and threes, as well as difficult buckets from downtown by Nikos Zisis (19 points).
Ilias Kantzouris commented: "It was a duel between two teams worthy of a Euroleague game. My players did a really good job and showed a lot of fight and energy. It's not easy to play three games in six days against such teams. We had a few problems in defense, especially in the first half with Munich's inside game. We had the game under control toward the end. Then we made mistakes, but they're part and parcel of the game, and so let Munich back in. It was the small details that decided the game in the end. It's a tough defeat for us."
Bamberg now faces a Euroleague game on the road at group leaders CSKA Moscow on Friday, January 26, 2018 (tip-off: 6 p.m.) and then two days later (January 28, 2018) travels to Telekom Baskets Bonn for an encounter in the German league (tip-off: 5:30 p.m.).