Bremerhaven
Brose Baskets clinch 11th league win in a row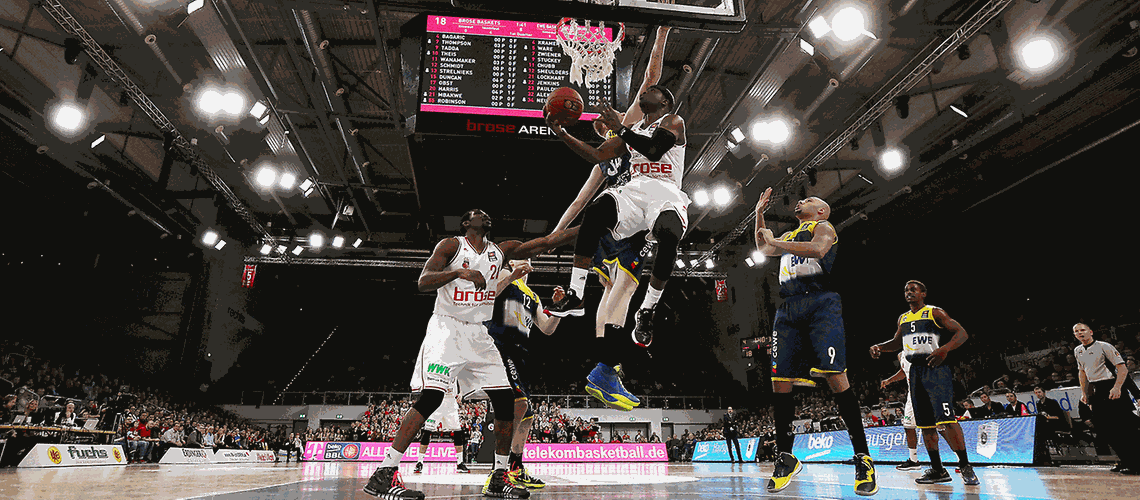 Bremerhaven, 02-08-2015
Brose Baskets did what was expected of them and ran out 63:75 winners on the road against relegation candidates Bremerhaven Polar Bears. In the second period, they were briefly trailing against the next-to-last team in the league, which has had a new head coach – Muli Katzurin – since Friday. Yet Bamberg mastered that without any great problems to celebrate its eleventh straight win in the German league.
Bremerhaven got off to the better start and went 4:0 in front, also because Dalibor Bagaric missed two free throws and was blocked while attempting a lay-up. However, Ryan Thompson (8 points) struck back with two consecutive buckets from beyond the arc to make it 6:8 for Brose Baskets. Bamberg conceded too many turnovers, however, which Bremerhaven capitalized on to go 13:11 in front. Nevertheless, Dawan Robinson (11 points) secured a 13:17 lead for the visitors at the end of the period by adding six points in a row. After that, Bamberger lost its stride – Robinson responded to a three-pointer that made it 16:17 with another lay-up, but in the next five minutes Brose Baskets displayed a lack of ideas in offense. The Polar Bears pulled away to 25:19, after which Josh Duncan buried two free throws. Robinson reduced the deficit to 25:24 with a bucket from outside and then Trevor Mbakwe gave Bamberg the lead back with two lay-ups after great passes by Robinson and Janis Strelnieks. In the final forty seconds, top scorer Josh Duncan (20 points) drained two threes in succession, as Bamberg went in at half-line ahead by 29:34.
The lead gave Brose Baskets confidence for the second half and from then on the team of Head Coach Andrea Trinchieri took command more and more, without overexerting itself after the strenuous game against Ljubljana. Trevor Mbakwe with free throws and Josh Duncan with a three-point play stretched Brose Baskets' lead to 31:39, after which Janis Strelnieks opened up a double-digit gap for the first time (33:44). Two straight buckets from beyond the arc helped the home side close the gap to seven points shortly before the end of the third period (43:50), after which Elias Harris snapped up a missed shot from outside by Dawan Robinson to make it 45:54 at the end of the quarter. Elias Harris (7 points) caused Bremerhaven great problems with five further points at the start of the final period, before Josh Duncan with two lay-ups (54:68) and Brad Wanamaker (8) with a three-pointer made it 56:73 to seal victory. Trevor Mbakwe (10 points), who managed to set a new record of five blocks, brought his side's scoring to an end with a slam-dunk (59:75).
Andrea Trinchieri commented: "We played very professionally. We knew we wouldn't produce a sparkling performance after the tussle against Ljubljana with overtime last Wednesday. Our sole objective was therefore to win here and keep up our winning streak in the league. I believe we had the game under control at all times and defended well in spells. I call that a 'professional' win."
Brose Baskets now face their final game in the last 32 of the Eurocup on Wednesday: against FC Bayern Munich, who is as yet unbeaten in the group. The game will not affect the group's outcome: FC Bayern will remain top of the table and Trinchieri's team second.