Bamberg
Brose Baskets stroll to victory against Hagen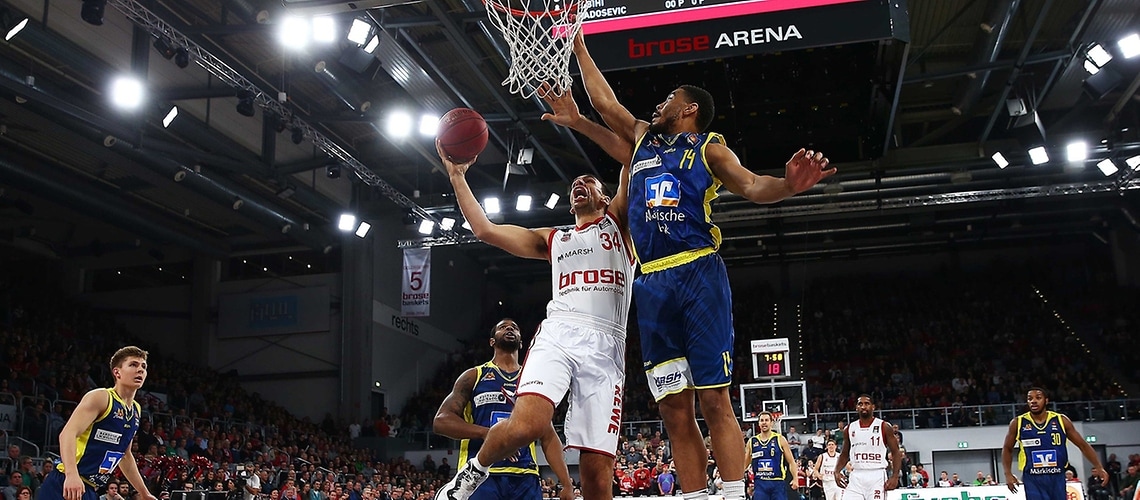 Bamberg, 11-23-2015
Brose Baskets did what was expected of them in the German League, producing a solid performance to win comfortably by 95:65 against Phoenix Hagen. However, Hagen was able to keep the deficit below ten points until well into the third period, after which the German champions pulled away, also thanks to top scorer Daniel Theis (19 points, 11 rebounds). The victory means they have reduced the gap to top-of-the-table Alba Berlin to two points.
Brose Baskets were only able to reproduce their magnificent play from the Euroleague game against Unicaja Malaga in the first few minutes against Phoenix Hagen when they returned to the reality of their bread-and-butter business in the German League. They soon opened up a double-digit gap, especially because they had an advantage under the basket: Hagen's regular center Owen Klassen was missing due to an injury he incurred in the final training session before the encounter. However, after Brad Wanamaker (16 points) drained a bucket from beyond the arc to make it 20:10, the team of Head Coach Andrea Trinchieri missed many chances – Janis Strelnieks, for instance, failed to score from three shots from outside despite the fact that he was completely free. Hagen initially reduced the deficit to 20:15, after which Lucca Staiger buried one of his four threes to bring the period to an end (25:18). Bamberg lacked the concentration and uncompromising tenacity in defense it showed against Malaga: Hagen kept on exploiting the home side's gaps and small mistakes and was able to add a haul of 25 points in the second quarter. All the same, the home side's lead was never endangered, as its finishing up front was good. Two lay-ups by Daniel Theis and Leon Radosevic made it 54:42 at the break.
However, Bamberg's carelessness in defense did not cease at the beginning of the second half and Hagen closed the gap to 59:52. It was only then that the German champs increased their intensity in defense, forced the visitors to concede turnovers and, thanks to the many points from top scorer Daniel Theis (19 points, 11 rebounds), produced 15:0 run to surge 74:52 ahead. The game was a pretty placid affair in the final eight minutes: Hagen put up hardly any further resistance and Brose Baskets relentlessly stretched its lead. Lucca Staiger (12 points) chalked up his 1001st point in his German league career by draining his fourth three of the game.
Andrea Trinchieri commented: "We were solid as a rock today, but lost possession a little too often because we didn't read Hagen's defense well. Later we operated better in attack. Hagen always creates problems if you aren't focused because then they take wild shots and also make them. However, our opponents became more tired as the game went on and we capitalized on that. We rested Elias Harris today because he has a slight injury."
Brose baskets now face a tough game on the road on Friday evening, November 28, 2015, (tip-off; 8:45 p.m.) when they travel to Istanbul to hopefully continue their winning streak in the Euroleague. If they chalk up their third straight victory, they will already qualify for the Top 16, provided top-of-the-table Unicaja Malaga also wins against Maccabi Tel Aviv on Thursday.