Bamberg
Brose Baskets surrender home court advantage in the final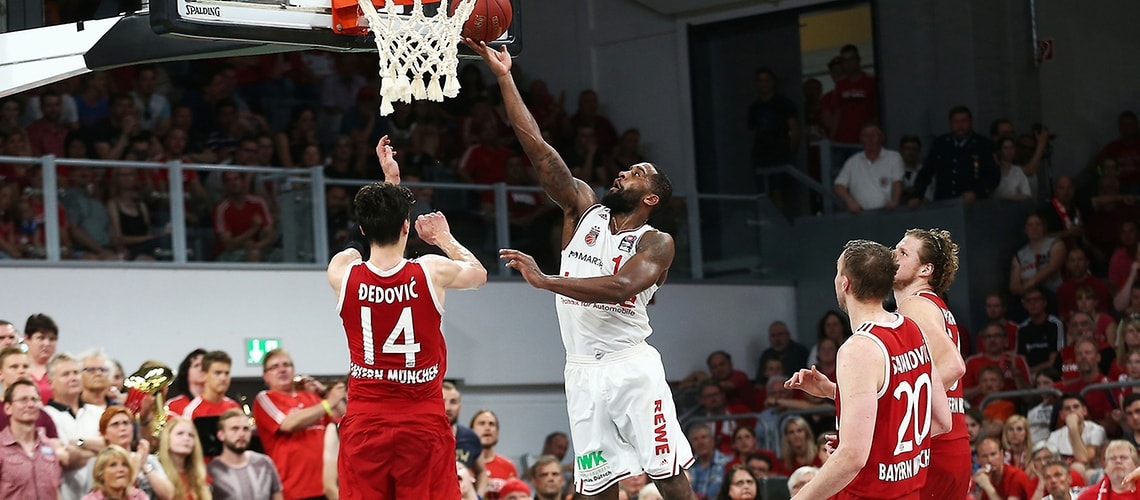 Bamberg, 06-07-2015
Brose Baskets have lost the first playoff game in the final of the German championship against the title-holders FC Bayern Munich by 73:84. It was the first time Bamberg has been defeated at home in the Brose Arena this season in the German league after 21 straight wins and it also lost home court advantage to Munich.
Bamberg managed to dictate its game on reigning champions FC Bayern only in the first period. The team of Head Coach Andrea Trinchieri made the game fast and often shot well before the 24-second clock had run down so that Bayern could not completely line up in defense. Brose Baskets quickly led 5:0 thanks to a bucket from beyond the arc by Brad Wanamaker and a lay-up from Ryan Thompson and, even after trailing 7:11, they soon recovered and bagged the next five points to move 12:11 ahead. However, the home side was not able to pull away further than 24:19 after a three by Janis Strelnieks (10 points) – the next open shot from outside by Dawan Robinson hit the hoop and a great lay-up by Daniel Theis as he was falling backwards was erroneously disallowed due to a traveling violation. As a result, the visitors from Munich were right in touch at the end of the quarter (28:27), also because they picked up a lot of offensive rebounds under Bamberg's basket and capitalized on their second chance to score.
However, the defending champions put their stamp on the game as of the second quarter: they slowed the pace considerably, were very physical in defense and so robbed Bamberg of its key advantages of athleticism and pace. And Bayern repeatedly used their offensive rebounds to score points after missed shots to take a 44:38 lead at half-time.
The home side frequently narrowed the gap after the break, such as with a bucket from outside by Darius Miller (10 points) to make it 41:44 or after the free throws and lay-up by the international Elias Harris (10 points) to reduce the deficit to 54:56. However, Bamberg had great difficulties in getting to grips with Vladimir Stimac, Munich's top scorer, under the basket and, with two rebounds and five successive points, the center gave his side a 61:54 lead going into the final period. And then, to the dismay of the 6,800 Bamberg fans, Bayern suddenly also began to drain its difficult shots from beyond the arc. With his side trailing by 54:63 at one stage, Daniel Theis (10 points) got Bamberg to within two (60:65), but it was precisely then that the home side failed to cover Heiko Schaffartzik, who bagged his three to make it 60:68. In particular, Bamberg's top scorer Brad Wanamaker (15 points) fought valiantly to avert defeat and cut the gap from 67:76 to 70:76 with a lay-up and bonus free throw. However, the defending champions sealed victory with a three off the backboard by Bryce Taylor to make it 70:81.
Andrea Trinchieri commented: "It was a tough game. We lost due to our clear mistakes. We weren't good in rebounding and gave Munich a lot of chances. That also impedes our transition offense and costs a lot of energy. We came back and made the mistake of letting Heiko Schaffartzik score his three-pointer. However, it's only game one and Bayern was on a psychological high after the series against Berlin. Now we have to pull ourselves together and do a better job."
Brose Baskets face the second game in the final of the German championship against title-holders FC Bayern Munich on Wednesday, June 10, 2015. The game in the Audi Dome in Munich tips off at 8 p.m.