Coburg
Crowds flock to the Museum Night at Brose
Coburg, 09-10-2016
For the first time in the 12-year history of the "Night of Contrasts," this year's Museum Night on September 10 celebrated its premiere in Building 25 at Brose – and aroused huge enthusiasm.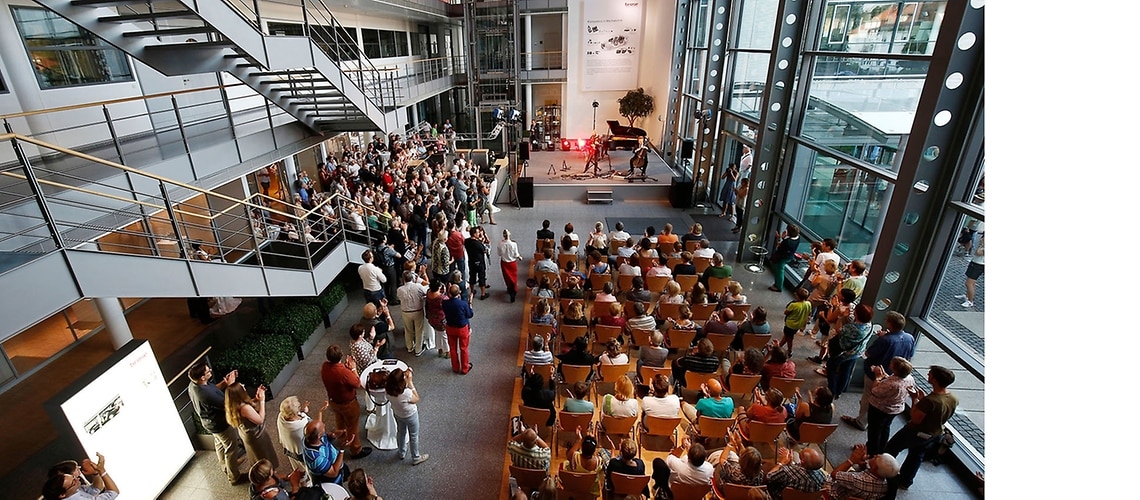 The accordion virtuoso Henrik Letzer opened the event with an English Suite by Johann Sebastian Bach. "This evening, our building is transformed into an out-of-the-ordinary concert hall for out-of-the-ordinary artists. We can look forward to a truly very varied program with Nina Scheidmantel and the Swiss duo Mozart Heroes," announced Plant Manager Frank Remy in his address to welcome the invited guests. Further words of greeting from Norbert Tessmer, the city mayor and Chairman of the Coburger Landesstiftung foundation, and Martin Rohm, the organizer of the Museum Night, kicked off the richly contrasting musical program.
Under the slogan "Strange and Familiar," the pianist Nina Scheidmantel and the Swiss band Mozart Heroes performed alternately every hour in the industrial ambiance of the automotive manufacturer's lobby. The audience also did not have to be asked twice – long lines formed in front of the entrance before the official start at 6 p.m. And the crowds kept on coming – up to midnight, more than 1,500 visitors listened to the mix of fine classical melodies and interpretations of familiar rock songs by Mozart Heroes and the piano playing of Nina Scheidmantel, who were rewarded with enthusiastic and long-lasting applause.
The Coburg audience also used their visit to obtain an insight into the "world of Brose". Right up to the end of the Museum Night, visitors had the opportunity to view Brose products up close and try them out.