Ludwigsburg
Bayreuth loses narrowly in Ludwigsburg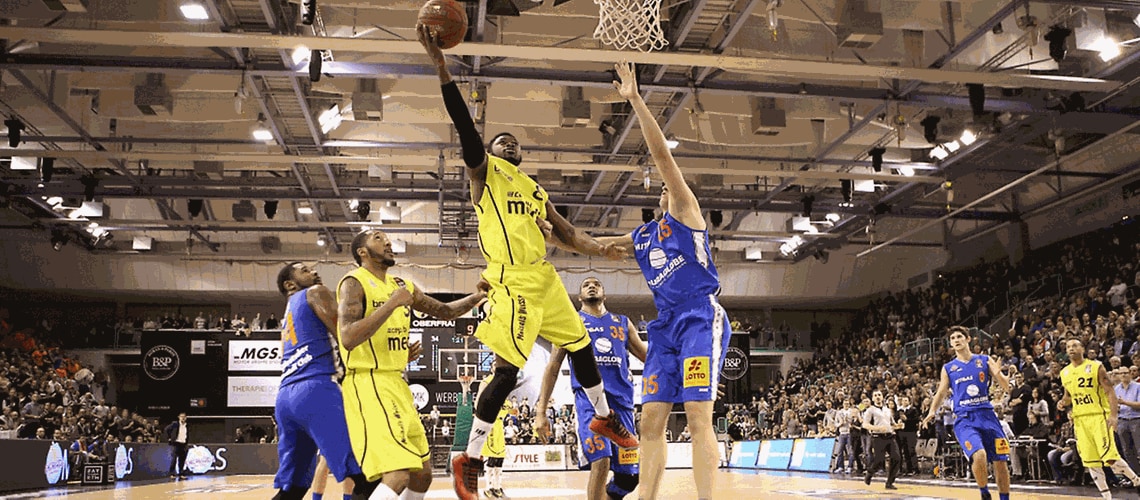 Ludwigsburg, 04-03.2016
As in the game between medi bayreuth and Ludwigsburg earlier in the season, this one was also decided at the death. And once again, it was the side from Upper Franconia that unfortunately did not come out on top. At the end of the day, it was the small nuances that resulted in the narrow 85:88 (48:48) defeat for the team of Head Coach Michael Koch in Ludwigsburg. Bayreuth produced a very strong performance all in all and traded blows with the play-off candidate throughout what was an open and extremely attractive game in front of 3,810 spectators in the MHP Arena.
Both sides got off to a strong start. However, things went a little better for the home side to begin with. Kerron Johnson gave his side its first clear lead after three-and-a-half minutes (9:4), but that did not disconcert medi bayreuth: buckets from beyond the arc by Kenneth Horton and Jake Odum gave Bayreuth its first lead of the evening (10:9 in the 5th minute), which it would defend up to the end of the first period (27:22).
medi also held on to its narrow lead in the second quarter. However, Ludwigsburg remained extremely aggressive in defense and now grew in strength overall. Rocky Trice tied the scores at 30:30 in the 14th minute with a bucket from outside. The home side now tried to wrest control of the game, but Bayreuth put up magnificent resistance. After a steal and subsequent slam-dunk by Kenneth Horton in the final minute of the first half, after which Jake Odum stole possession and then played an Alley Oop to Kenneth Horton, medi was three points ahead, seconds before half-time. However, Ludwigsburg's top scorer Kerron Johnson managed to equalize with a three before the break (48:48).
When the teams came back for the second half, MHP RIESEN seemed to intensify their aggressive defending even more. However, Basti Doreth and Jake Odum kept their cool against the in some cases extremely unpleasant pressure of the home side. The twelfth-placed team in the league and the playoff hopefuls were level at 59:59 with three minutes left in the third period. Then came Royce O'Neale's big 90 seconds. Three buckets from beyond the arc, one of them with a bonus free throw after he was fouled by Travis Leslie, with just one point for Bayreuth from a free throw by Jake Odum, gave Ludwigsburg a 10:1 run. medi struck back with four points to reduce the deficit to 64:69 at the end of the third quarter.
In the final period, it first looked like Bayreuth's strength was beginning to wane. Ludwigsburg pulled away again in the first three minutes to 77:66. Yet the team of Michael Koch proved its morale once more. It clawed its way back attack by attack and when Jake Odum even managed to snatch the lead back (82:81) with 66 seconds to go, it seemed as though Bayreuth's third away win in a row was a possibility. However, Kerron Johnson and Jon Brockman had more luck with their shots in the final spell than did Jake Odum or Kenneth Horton, who failed to tie the scores with a shot from outside with ten seconds on the clock, and so this time there was unfortunately no surprise win for medi bayreuth.
Bastian Doreth, Andreas Seiferth & Co. aim to take a big stride toward avoiding relegation this Saturday, April 9, when Bremerhaven Polar Bears come to the Oberfrankenhalle in a game that tips off at 6:30 p.m.