Munich
Beko German Basketball League playoffs: 0.1 seconds in the lead are enough for Brose Baskets to win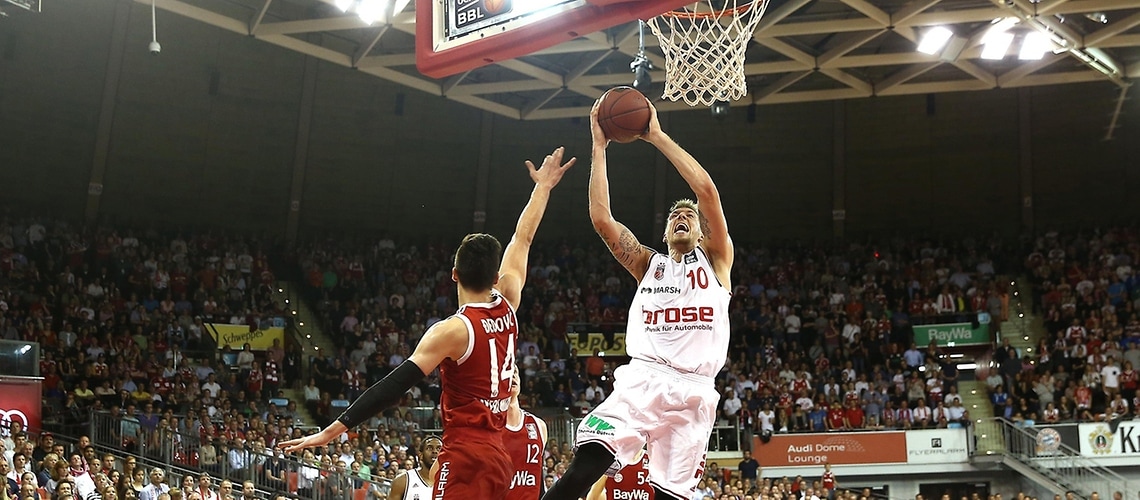 Munich, 06-10.2015
What a crazy game! Brose Baskets trailed for 39 minutes, 59.9 seconds – at one stage by eighteen points – in game 2 of the final on the road at the reigning German champions FC Bayern Munich. However, the lay-up by Dawan Robinson with 0.1 seconds on the clock, gave them the lead for the first time in the game and was enough to take victory by 80:78 in the Audi Dome. Thanks to this gigantic comeback, the team of Head Coach Andrea Trinchieri have tied the series at 1:1.
In front of the German NBA star Dennis Schröder, Brose Baskets got off to a weak start, were 2:13 behind and then, in the fourth minute, saw Andrea Trinchieri concede a technical foul because he argued too vehemently with the referees. In addition, Bamberg again did not make its threes, draining just one bucket from outside out of seven attempts in the first half. Janis Strelnieks' points reduced the deficit to 20:15, but the German champs hit back right away with a run of 12 without reply to surge 32:15 in front. Bamberg did not really get into the game, but was able to cut Munich's lead (18 points / 35:17) to 49:35 by half-time thanks to the three by Brad Wanamaker and a lay-up plus bonus free throw from Ryan Thompson.
Bamberg then suffered a small shock after the break: When trying to pick up a rebound, Elias Harris slammed against the floor with his pelvis and was not able to continue. Yet that made Bamberg pull even closer together. Although the home side led by 55:39, Bamberger then perceptibly stepped up its intensity at the back and made it enormously difficult for Bayern to attack and shoot thanks to magnificent team defense. As a result, the home side failed to score from the field for six-and-a-half minutes and only added two free throws. And Brose Baskets also gained in confidence in offense thanks to its strong defending: Daniel Theis added a slam-dunk and two free throws, while captain Brad Wanamaker (19 points) made a tough lay-up and, at long last, buckets from beyond the arc. Thanks to the three-pointers by Janis Strelnieks and Daniel Theis (15 points), Trinchieri's team reduced the deficit to 57:54. Of all people, it was the former Bamberg player Anton Gavel who ended Bayern's drought with a bucket from outside to make it 60:54. Brose Baskets went into the final period trailing by seven (65:58). Although the home side stretched its lead to 71:63 with a three by center John Bryant, the visitors continued to battle away under the baskets, finally getting the better of Bryant and Vladimir Stimac in that department, and, after two slam-dunks by Daniel Theis and Trevor Mbakwe, managed to tie the scores at 76:76 with a lay-up with 64 seconds to go. After FCB made its free throws and Robinson added a lay-up, it was still all-square at 78:78 with 39 seconds remaining. Bayern failed to score on its attack and although Brad Wanamaker was attacked by two players from the home side at the sideline, the captain managed to produce an exquisite pass to the free-standing Dawan Robinson below the basket, who made it 80:78 to put Bamberg ahead for the first time in the game with just 0.1 seconds on the clock – enough to give Brose Baskets its first victory in the 2015 final series.
Andrea Trinchieri commented: "We managed today to win a game that looked very, very bad for us for 30 minutes. Now we have a best-of-three series and start again from scratch on Sunday. We played incredibly badly. We had no offense, no defense, and no support came from the players on the bench either. In the second half, we displayed the passion and willpower to achieve something special."
Brose Baskets face the third game in the final of the German championship against title-holders FC Bayern Munich on June 14, 2015. The game in the Brose Arena tips off at 7 p.m. and will be broadcast live in TV on sport1 and in an Internet stream at telekombasketball.de.