Ludwigsburg
Beko German Basketball League playoffs: Brose Baskets capture match ball after overtime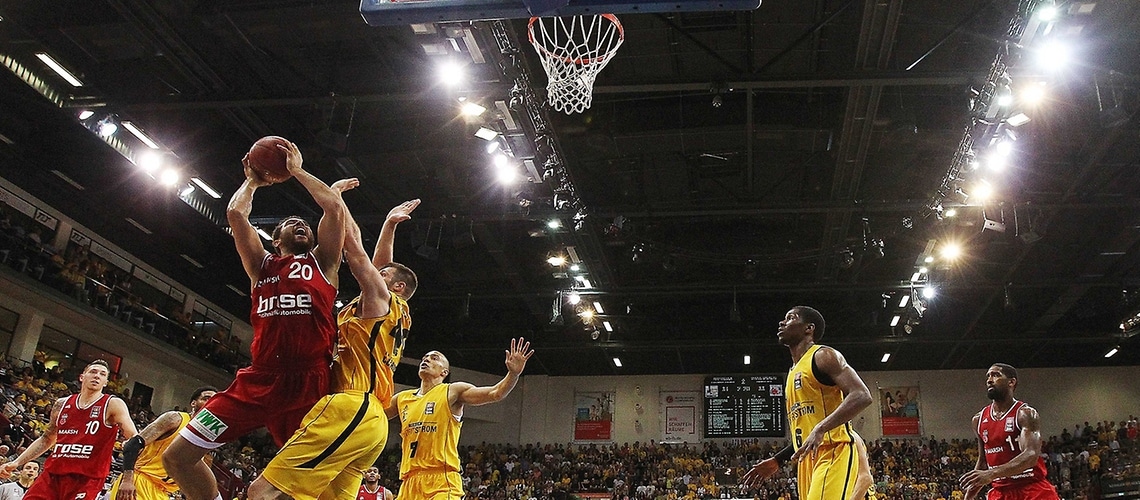 Ludwigsburg, 05-12.2015
Brose Baskets survived the cauldron that is the MHP Arena to secure its first match ball in the playoff quarter-finals with an 89:84 win on the road against MHP Riesen Ludwigsburg. However, the team of Head Coach Andrea Trinchieri had to fight even harder to take this 2:0 lead than in its home win three days ago. Bamberg was not able to hold on to a 72:64 lead with two minutes remaining and, after the game was tied at 74:74 after forty minutes, needed overtime to seal victory.
Brose Baskets did not get off to such a good start to the physically tough game as they intended. Whereas Ludwigsburg sought to finish its attacks quickly and also drained its shots, Bamberg did not have any luck with its shots, in particular in the first period. It passed the ball around well, but open shots did not seem to want to drop. Bamberg was behind by its highest margin after nine minutes (14:19), after which it increased its intensity in defense perceptibly. Ludwigsburg only managed to add 14 points in the second quarter and the upshot was that Brose Baskets went 25:23 ahead through a lay-up by Ryan Thompson and then built a 38:33 lead at half-time thanks to seven free throws by Elias Harris and Dawan Robinson.
However, the first minute after the break was symptomatic of the further game. Brose Baskets squandered its five-point lead by conceding two turnovers and a technical foul (38:38). The two top scorers Daniel Theis (17 points) and Brad Wanamaker (16) put Bamberg back in front (48:40), but then the home side capitalized on three bad passes by Bamberg to move back ahead by 49:48 to the jubilation of the 4,300 home fans. Trinchieri's team responded with composure, as Dawan Robinson and Daniel Theis made it 56:53 for Bamberg at the end of the period. And things went even better for it in the final quarter: a bucket from beyond the arc by Dawan Robinson (13 points) and a slam-dunk by Wanamaker made it 72:64 with two minutes to go. However, the game was not over. Ludwigsburg's Head Coach John Patrick provoked his disqualification by insulting the referees, thereby firing up the Ludwigsburg fans, who got behind their team even more vociferously. With 18 seconds left on the clock, the league's top scorer DJ Kennedy, whom Bamberg had kept under control very well up to that point, drained a shot from outside to make it 74:74 and force overtime.
Trinchieri's players then proved to be fresher and more agile: in particular, Bamberg's Janis Strelnieks was outstanding in this spell, making four free throws and burying the decisive three-pointer to give his team an 85:79 victory.
Andrea Trinchieri commented: "I asked my players in the changing room how many times they had actually wanted to win this game. We had everything under control over 40 minutes and still had to go to overtime. We weren't smart enough and made life very difficult for ourselves in individual situations. But what counts at the end of the day is the win. It was incredibly tough to win here. We defended well today, but had a few weaknesses in rebounding. Ludwigsburg exploited that, they were a real force to contend with. But all said and done, I'm very happy we were able to win in this loud arena and take a 2-0 lead with us back to Bamberg."
Brose Baskets now face the third quarter-final game on Thursday, May 14, 2015. Another win will make them the first team to book its ticket for the semi-finals. The game tips off at 8 p.m. and will be broadcast live on telekombasketball.de.
For more information visit www.brosebaskets.de and www.beko-bbl.de .