Bamberg
Beko German Basketball League playoffs: Brose Baskets reach the final after second clean sweep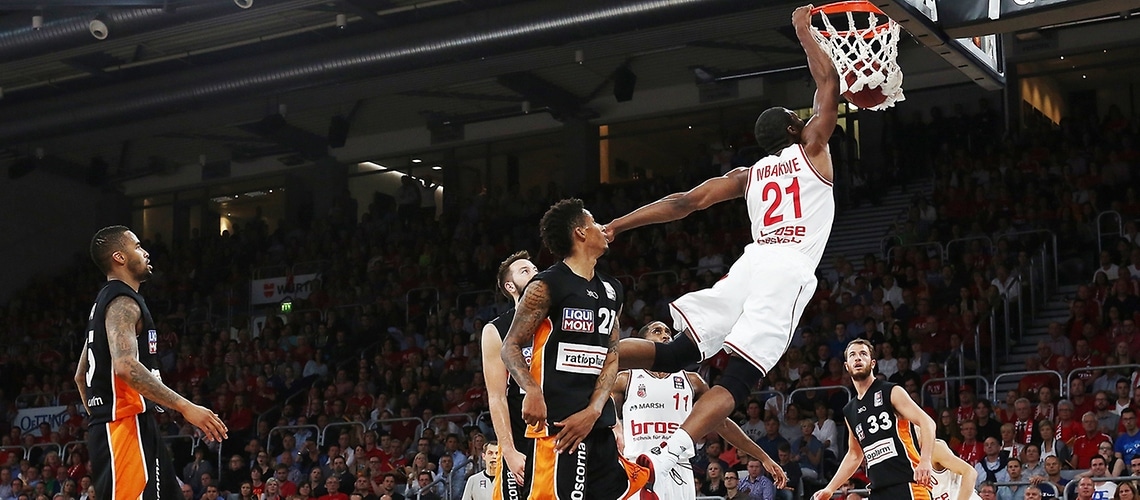 Bamberg, 05-30.2015
Brose Baskets defeated ratiopharm Ulm 90:70 under the watchful eyes of Bamberg's first championship-winning team of 2005 coached by Dirk Bauermann and so decide the third play-off game in the semi-final in their favor. The second successive clean sweep (3:0 over Ludwigsburg and 3:0 over Ulm) means the team of Head Coach Andrea Trinchieri has qualified for the final of the German basketball championship after missing out last year.
The visitors from Ulm did not want to go down without a fight after their incredibly narrow loss in game 2 (80:81) and gave Brose Baskets a good run for their money, especially in the first quarter. In an evenly poised game, the visitors initially led 9:7, after which Ryan Thompson (12 points) scored five straight points to put Bamberg 12:9 in front. After leading 17:14 at the end of the first period, Brose Baskets picked up the pace and intensity and scored a high percentage of their attempted threes. Darius Miller gave the home side a double-digit lead with his first bucket from beyond the arc (29:19) and later made it 37:22 with another from outside. However, Ulm was able to reduce the deficit a little to 42:30 by half-time.
After the break, Brose Baskets ramped up their intensity a notch higher: in the space of just 127 seconds, Bamberg bagged two lay-ups and two three-pointers to surge 52:30 ahead. With a 22-point lead, Bamberg thought the game was sealed and subsequently the number of turnovers it committed and shots it squandered began to mount. Trinchieri's team was only able to add a meagre two points in four minutes, while Ulm came closer attack after attack and by the end of the quarter had almost caught up (64:58).
It was in particular thanks to the outstanding top scorer Janis Strelnieks that the gap did not get any closer than 70:67 at the start of the final period. The Latvian point guard made 21 of his total haul of 28 points in the second half, drained an important three in a spell when Ulm turned on the pressure to make it 70:60 and then, on the very next attack, produced an exquisite pass to Trevor Mbakwe (11 points), who finished the move with a ripping slam-dunk (72:60). After that, Brose Baskets improved again in offense and defense and Brad Wanamaker (12 points) und Janis Strelnieks, who scored from sixteen of his eighteen shots, sealed victory and a place in the final for Brose Baskets.
Andrea Trinchieri commented: "Ulm was a strong opponent in this series. The second game was incredibly tight and head Coach Leibenath and his team did an extremely good job. Nevertheless, my thoughts are on what lies ahead of us. This series is over and now we're focused on the next one. We'll try to improve our standard of play in the coming days. At the end of the day, all that counts is the final scoreboard. We're at our limit and are happy that we now have a small break."
Brose Baskets' first game in the final of the German championship will be on Sunday, June 7, 2015. Their opponents will be either Alba Berlin or Bayern Munich (Berlin lead the series 2:1). The game tips off in the Brose Arena at 3 p.m.