Bamberg
Beko-BBL ChampionsCup: Brose Baskets outclass Oldenburg on debut of Zisis and Melli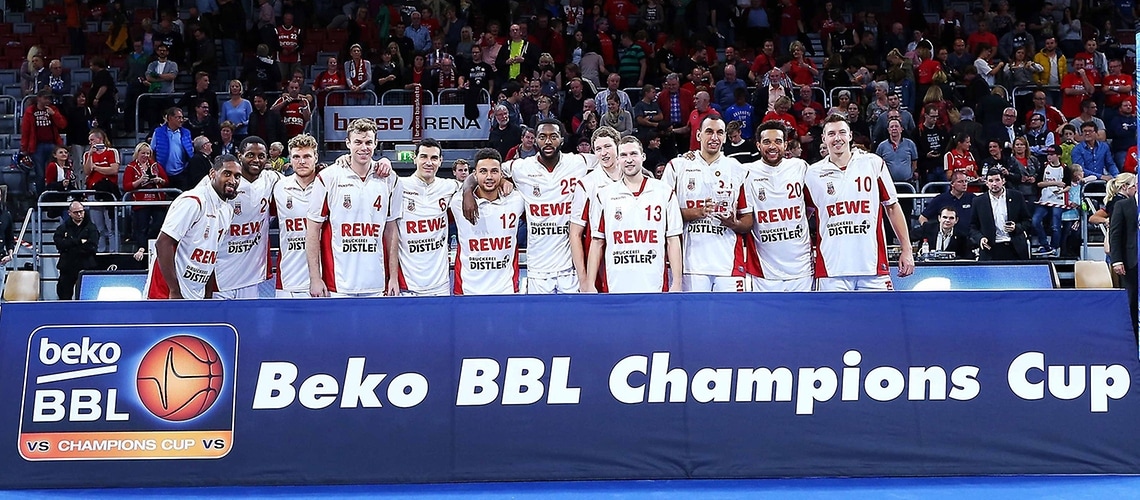 Bamberg, 09-27.2015
The German champions Brose Baskets exacted revenge for their cup final defeat by virtually outclassing German cup winners EWE Baskets Oldenburg by 87:66 in the Champions Cup in the Brose Arena. From the tip-off, the club from Franconia dominated the game in front of a 6,400 crowd. In particular, the new signings Nikolaos Zisis and Nicolo Melli, who joined the team just three days ago, slotted in perfectly.
However, two players from last season's championship-winning side dictated the run of play to begin with: Brad Wanamaker, the Most Valuable Player (MVP) of last season's finals, led Head Coach Andrea Trinchieri's team with his customary dependability, distributed the ball unselfishly to his teammates (7 assists) and still made tough shots (6 out of his 11 in the first period). Darius Miller, who became the secret match-winner in the finals against Bayern Munich thanks to his versatility in offense and strong defending, turned on an inspiring display: He made his first mark in the 5th minute with a slam-dunk to (12:4) and spark jubilation among Bamberg's fans. It was only on Thursday, three days before the encounter, that Trinchieri was able to train with the complete squad for the first time, since the three international players Janis Strelnieks and new signings Nicolo Mell and Nikolaos Zisis were on duty in the European Championships. Janis Strelnieks was a key player for Bamberg last season and proved that once more against Oldenburg by bagging 14 points. The spectators were all the more surprised by the performance of the two new signings: The Greek player Nikolaos Zisis, an old hand at 32 years of age and Euroleague winner, impressed with incredibly intelligent play, passed the ball around cleanly and had an immaculate shooting percentage on his way to 14 points. The Italian player Melli also exhibited a brilliant mix of uncompromising toughness and speed in defense and variability in offense. Whether his two buckets from beyond the arc, slam-dunks or half-distance shots – top scorer Melli showed the whole breadth of his abilities while notching up 17 points.
It was therefore no surprise that the home side opened up a 43:23 gap over the cup winners thanks to a run of 16 points without reply, also because Oldenburg was missing its key playmaker through injury. Oldenburg mainly had to thank their center Brian Qvale (20 points) that they were not crushed by an even greater margin after the break. That was because Bamberg's new signing in the big position, Gabriel Olaseni, was almost never able to stop the ex-Bayreuth player Qvale. Nevertheless, Brose Baskets' fifth Champions Cup title was never in doubt, since they were far too superior to Oldenburg in all other positions.
Nikolaos Zisis (Brose Baskets) commented: "We did a good job. It's an advantage that I've already played a season under coach Trinchieri and know his systems. That makes it easier to fit in. But we still have a lot of work to do and have to get to know each other better on the court. All my teammates helped me in my three training units. If we keep on developing, we can become a really dangerous team."
Brose Baskets embark on the mission to defend their title on Sunday, October 4, when they travel to Basket Lions Braunschweig. The game tips off at 5 p.m.
For more information visit www.brosebaskets.de and www.beko-bbl.de.