Paris
Brose Baskets advance to the last 32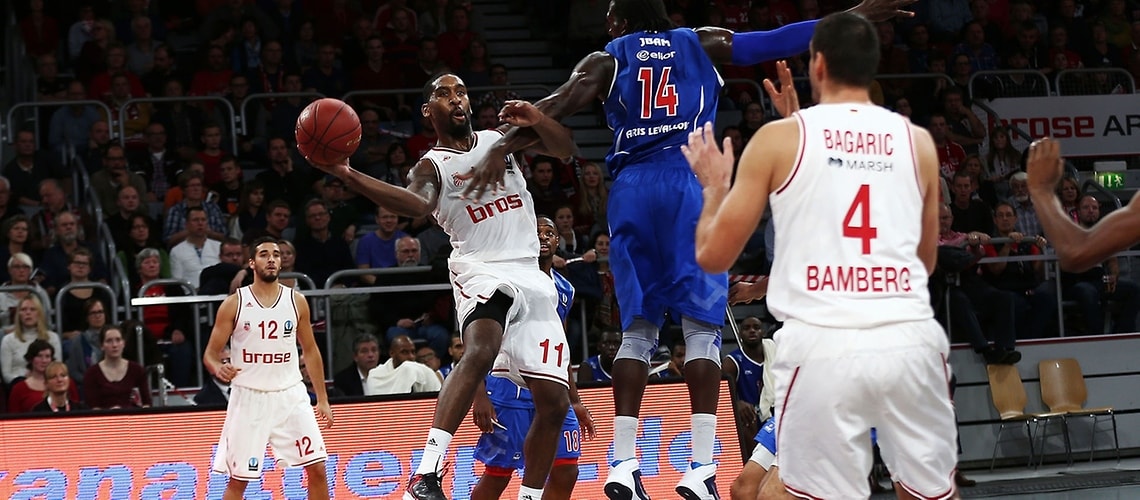 Paris, 12-02.2014
Brose Baskets are on a roll in Europe, capturing a comfortable 56:67 victory against Paris Levallois, who had been unbeaten at home up to then. The second straight win on the road means Bamberg has made certain of second place in the group and booked its ticket for the last 32 with two matchdays still remaining. Another win next week at home against top-of-the-table SIG Strasbourg could even give them a chance of finishing top of the group.
Head Coach Andrea Trinchieri's team got off to a bad start in the game, did not come to terms with the aggression of the French side and trailed by 16:5 after five minutes. After Trinchieri called a timeout and gave his team a good dressing-down, Brose Baskets stepped up a gear, above all in defense and forced Paris to make rash shots and concede turnovers, with the result that the home side went five minutes without scoring. Two important buckets from beyond the arc by Josh Duncan and lay-ups from Daniel Theis slashed the deficit to 16:14 by the end of the period. Paris hit back and stretched the gap to 26:21 in the second quarter. Daniel Theis, Janis Strelnieks and Brad Wanamaker drained their threes in the final spell of the first half to ensure that Brose Baskets went in at half-time trailing only by the narrow margin of 31:32.
After the break, Bamberg played dream basketball for 15 minutes: Janis Strelnieks (14 points) added a bucket from outside, Brad Wanamaker made a slam-dunk after stealing possession, top scorer Daniel Theis (17 points) finished a strong pass from Wanamaker and Ryan Thompson buried a three. Trinchieri's team produced a 2:13 run in the space of three minutes to surge 33:45 in front. Paris struck back through the former Bamberg player Sharrod Ford (44:50), but Bamberg gave the right response, scoring 9 without reply. Karsten Tadda stole the ball at the back and finished at the other end with a three-pointer to make the score 44:59 at the end of the period. With a rare four-point play (a three plus a bonus free throw because he was fouled), Janis Strelnieks stretched the gap to 44:63, while Josh Shipp (8 points) and Trevor Mbakwe added slam-dunks to complete a 0:15 run and then make it 46:67 after 35 minutes. Sensing that victory was certain, however, Bamberg became complacent in offense, enabling Paris to put a better complexion on the result with an 11:0 run.
Andrea Trinchieri commented: "We played very good basketball for 25 minutes, especially in defense. Our tall players were very effective in stopping Blake Schilb. We've certainly come along well in the away games. But we still have a problem with consistency. It's like a student who has to read a book for homework and skips two pages. He closes the book too early and so does his homework wrong. We're working on that and the team is also responding."
Brose Baskets have a free weekend as the German league game on the road at BG Göttingen has been postponed to December 22 because the Lok-Halle arena is booked. Their next game is therefore on Wednesday, December 10, when they welcome top-of-the-table SIG Strasbourg in the Brose Arena in a game that could decide who wins the group. The tip-off is at 8 p.m.