Kaunas/Hagen
Brose Baskets blow hot and cold at the weekend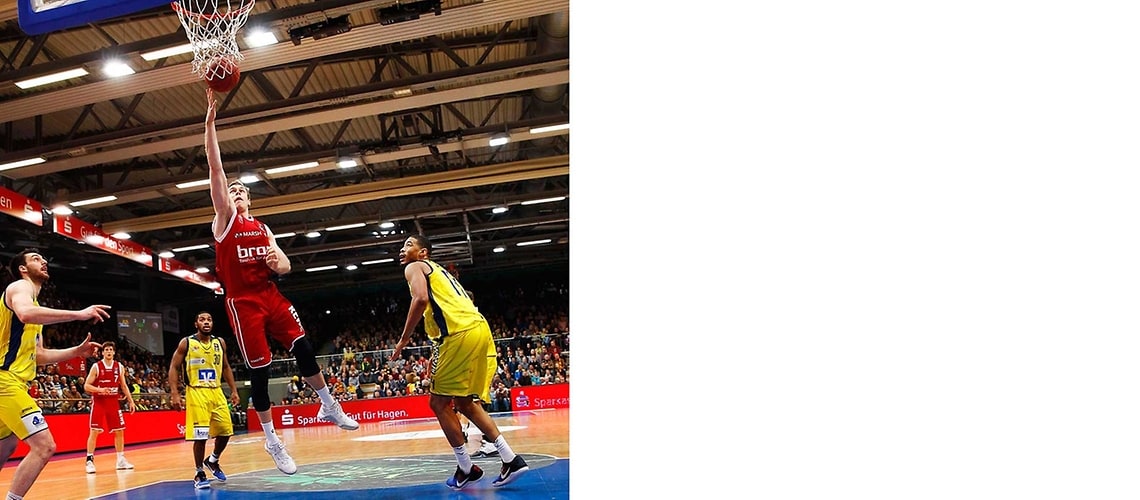 Kaunas/Hagen, 03-06.2016
Brose Baskets suffered a bitter defeat in the Euroleague on Friday evening, losing on the road at Zalgiris Kaunas by 73:75. However, the German champions did not display any weakness at Phoenix Hagen in the German Basketball League on Sunday afternoon and defeated the home side comfortably by 87:66. Since FC Bayern lost at the same time to bottom-of-the-table MBC, Brose Baskets now have a four-win lead over Munich in the table.
Have the German champs' dreams of reaching the quarter-final of the Euroleague been dashed by the 73:75 defeat at last-placed Zalgiris Kaunas? Qualifying for the next stage will certainly be very difficult: Bamberg has two defeats more than fourth-placed Real Madrid with five games remaining in the Euroleague. And the team of Head Coach Andrea Trinchieri only has itself to blame. Kaunas was by no means better than the visitors – the Lithuanians made less than 40 percent of all shots and in particular just one out of 14 attempts from outside. Yet Bamberg failed to capitalize on the home side's weak finishing; on the contrary, it allowed its opponents to keep on snatching up offensive rebounds under its basket. As a result, Kaunas was able to take a second or third shot on eighteen occasions – and made some of them. Yet Bamberg still stayed in contention up to the death: old-hand Nikos Zisis, with 248 Euroleague appearances to his name, kept his side in the game with a personal record of 25 points and Brad Wanamaker tied the scores at 73:73. Yet on the subsequent attack, Wanamaker lost possession and Kaunas snatched a 75:73 lead with 16 seconds remaining. Trinchieri's team still subsequently had two chances to shoot, but Zisis and Janis Strelnieks only hit the hoop.
Just 43 hours later, Brose Baskets were back in action in the German league in Westphalia and Phoenix Hagen was the uncomfortable opponent the visitors expected. In the Enervie Arena, the home side were mercilessly tough, in particular in offense, so that Brose Baskets were not able to produce any finely flowing play in attack. All the same, they were able turn around a 6:11 deficit to go 21:16 in front by the end of the period. The second quarter was overshadowed by a horrific injury to Hagen's DJ Covington. The American collided while spurting with his teammate David Bell and dislocated his left knee inward by 90 degrees in falling. The shock at this serious injury was visible among both sides after that and their intensity, especially in defense, diminished perceptibly for the time being. Brose Baskets, also thanks to top scorer Nicolo Melli, who notched up 11 of his 15 points before the break, opened up a 42:27 gap by half-time. After the break, Hagen closed the deficit to 32:42, but top scorer Daniel Theis (15 points) and Patrick Heckmann and Lucca Staiger (11 each) did not give their opponents a look-in after that as the German champs surged further and further in front to run out winners by 87:66.
Andrea Trinchieri commented: "It's a mistake to blame the defeat in Kaunas on the final missed shot. We lost because we didn't rebound well enough. If you let your opponent pick up 18 offensive rebounds, you can't win. As regards Hagen – I really only want to talk about D.J. Covington. When you see such an injury, it's hard to think of other things. We're professionals and it's our job. But that was so tough today. All my thoughts are with DJ."
Brose Baskets aim to chalk up a win again in the Euroleague on Thursday, March 10, 2016, when they visit Olympiacos Piraeus. The tip-off is at 8 p.m.