Gießen
Brose Baskets lose to Gießen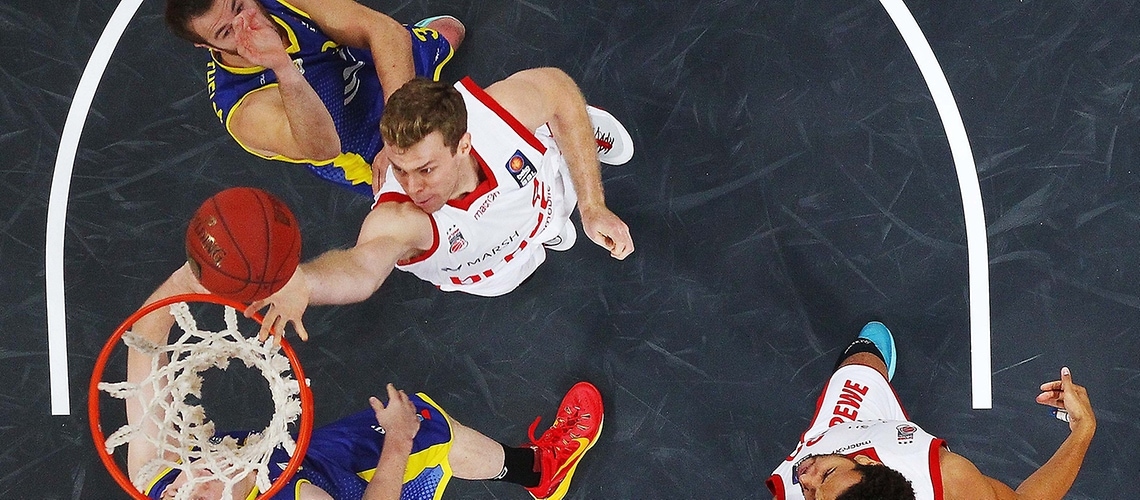 Gießen, 10-10.2015
That was a nasty defeat: the German champions Brose Baskets lost 81:80 on the road at Gießen 46ers, who had previously not won this season. The team of Head Coach Andrea Trinchieri underestimated the league newcomers and trailed by 11 points (7:18) at one stage in the first period. Although Bamberg turned the game around at the end of the third quarter, it was not able to hold on to its seven-point lead. The only consolation for Brose Baskets on the weekend: FC Bayern Munich also came a cropper and lost at home against Telekom Baskets Bonn by 85:91.
There are no longer any easy opponents in the German Basketball League, especially on the road. The players of Brose Baskets will need to take that to heart quickly. Despite the warnings Andrea Trinchieri gave them before the encounter with newly promoted Gießen 46ers when asked about his team's participation in the Euroleague ("I don't want to talk about the Euroleague now. That would a huge mistake. Gießen is super-fast and super-aggressive"), the German champs went into the game with too lax an attitude. The league newcomers were on an emotional high: Gießen 46ers had celebrated their "Day of the Champions" the whole Saturday and all the members of its championship-winning teams from 1965 and 1975 were in the Osthalle arena. And Bamberg promptly gave the home side's playmakers too much space, especially in the first period: Gießen thanked them with seven buckets from beyond the arc in the first ten minutes to surge into an 18:7 lead and take the quarter 29:20. Bamberg's defense improved in the second period, but Brad Wanamaker and Darius Miller were turned over on eight occasions up to half-time, meaning the reigning champions only closed the gap to 39:37 by the buzzer.
Brose Baskets also had difficulties to begin with after the break. Although they did not let Gießen score any open three-pointers, their opponents from Hesse were able to irritate them with ripping slam-dunks that were wildly celebrated by their fans and take a 53:47. Brad Wanamaker (18 points) then began ticking over at last – the American contributed eleven points to his side's 15:2 run up to the end of the period. Trinchieri's team took a 65:58 lead into the final quarter and it seemed Brose Baskets had grabbed control of the game. But far from it – Gießen surprised the champions with totally unconventional defending, forced Bamberg to concede four more turnovers and tied the scores at 65:65 in the space of three minutes. An open exchange ensued until the end. With Gießen leading 73:76, Bamberg's sharpshooters Nicolo Melli (19 points, 11 rebounds) and Janis Strelnieks (16 points) put their side 78:76 ahead and Brad Wanamaker made a lay-up with one minute to go (80:79). Gießen did not manage to score and Brose Baskets was leading and had possession with 26 seconds on the clock. Old hand Nikolaos Zisis (10 points) unnecessarily took aim from outside with six seconds still on the shot clock, enabling Gießen to launch a fast attack and add a slam-dunk to go 81:80 in front with six seconds left. Top scorer Nicolo Melli fought his way magnificently through Gießen's defense to below the basket – but instead of finishing his move with a lay-up to give his side victory, he surprisingly passed to Daniel Theis, who was not able to gather the ball – Bamberg's first defeat of the season was sealed.
Andrea Trinchieri commented: "Congratulations to Gießen. It was a very deserved win. They played excellently and they really ought to be on the plane to Malaga on Wednesday. I'm ashamed at my team's performance. We were superficial, egoistic, slow and soft. Now we've felt how bitter it is to lose badly and I hope that everyone very soon understands that we've squandered a great deal of what we've managed to build up in the past weeks as a result of this game. That makes me angry. I've often said to the team that it's tough to get to the top. But also that it's ten times tougher to stay there. To sum it up simply: Gießen whipped our butt today. And it's on the floor now."
The German champions start their Euroleague campaign on Thursday, October 15, 2015, when they come up against Unicaja Malaga, an established European club that has advanced to the competition's Top 16 thirteen times in its 14-year history. The game tips off at 8:30 p.m. A new feature this season: Telekombasketball.de will broadcast all of Brose Baskets' game in Europe as a live stream on its Internet portal.
For more information visit www.brosebaskets.de and www.beko-bbl.de.