Quakenbrück
Brose Baskets romp to a clear 56:76 win on the road against Artland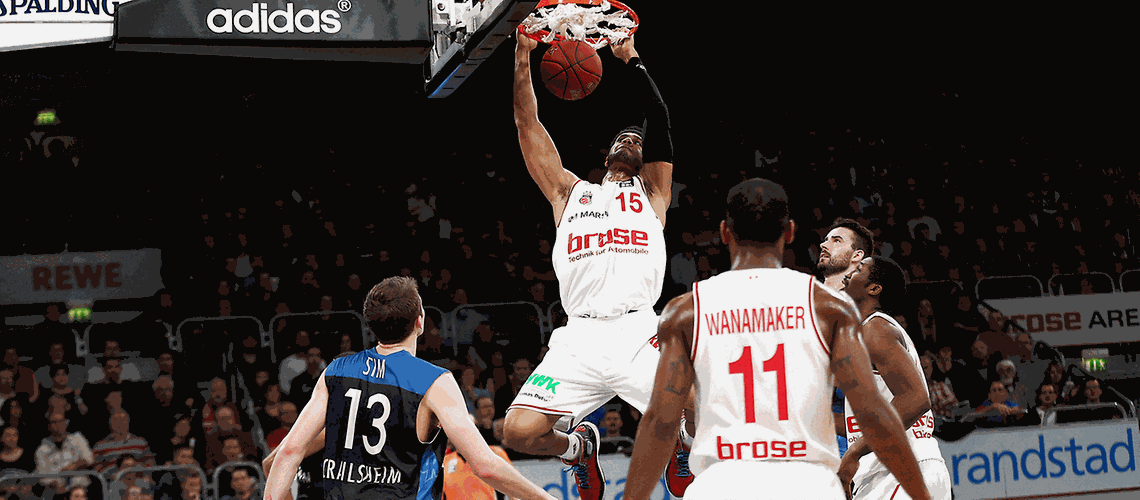 Quakenbrück, 12-20.2014
Brose Baskets secured an away victory over Artland Dragons thanks to a fantastic performance in defense. It has been a long time since Bamberg has been so commanding against the Dragons than in their 56:76 victory on Saturday evening.
The home side from Quakenbrück was only able to match the visitors from Franconia in the first period and took a 13:8 lead after five minutes. However, Bamberg tightened up its defense considerably and made every attack even more difficult for the Dragons. Ryan Thompson added five points and Trevor Mbakwe and Josh Duncan (9 points) gave their side a 14:17 lead, although Quakenbrück turned the tables, scoring five points without reply to take the first quarter 19:17. Bamberg then took complete control of the game in the second period: Josh Shipp tied the scores at 19:19, Daniel Theis added two lay-ups and Brad Wanamaker following that up with free throws to make it 19:25. Bamberg responded to Quakenbrück's first points in the second quarter promptly with two buckets from beyond the arc by Daniel Theis (14 points). Janis Strelnieks then made it 21:31 and Josh Duncan drained two shots to stretch the gap to 23:35. However, the home side was able to cut the deficit to eight points by half-time (33:41).
Although the home side opened the second half with a lay-up to make it 35:41, Head Coach Andrea Trinchieri's team was unperturbed. Three-pointers by Janis Strelnieks and Ryan Thompson (13 points) enabled Bamberg's lead to surge well into the double digits (36:51). The Baskets played far more effectively and, thanks to strong defending, in particular nullified the Dragons' forte: shots from outside. The home side had a 3-point field goal percentage of more than 42 for the season going into the game, but until shortly before the end of the game Bamberg's bulwark had restricted Quakenbrück to just one three out of ten attempts. Because Trinchieri's team was also strong in rebounding, hardly allowed Quakenbrück to snap up rebounds under its own basket and also capitalized on its chances for a second shot in offense, it went into the final period ahead by 20 points (46:66). Trevor Mbakwe (13 points) and top scorer Brad Wanamaker (15) then gave their side its highest lead of the game with two minutes to go (50:76). When Andrea Trinchieri brought on the two young German players Daniel Schmidt and Andi Obst for a run-out in the final minutes, Quakenbrück was able to put a better complexion on the result by adding two threes. The game finally ended 56:76.
Andrea Trinchieri commented: "We had a very solid, stable game in defense, reduced the number of mistakes we make and let the ball run well in offense. It was vital to control the game against Artland because it's difficult to defend against the Dragons. They have good shooters and tall players who know how to play basketball. It was a good performance from us."
Brose Baskets are back in action in the Beko German Basketball League this evening when they travel to the Lokhalle to play newly promoted BG Göttingen in a game postponed from earlier in the season. The tip-off is at 8 p.m.