Dijon
Brose Baskets stroll to 86:56 victory in Dijon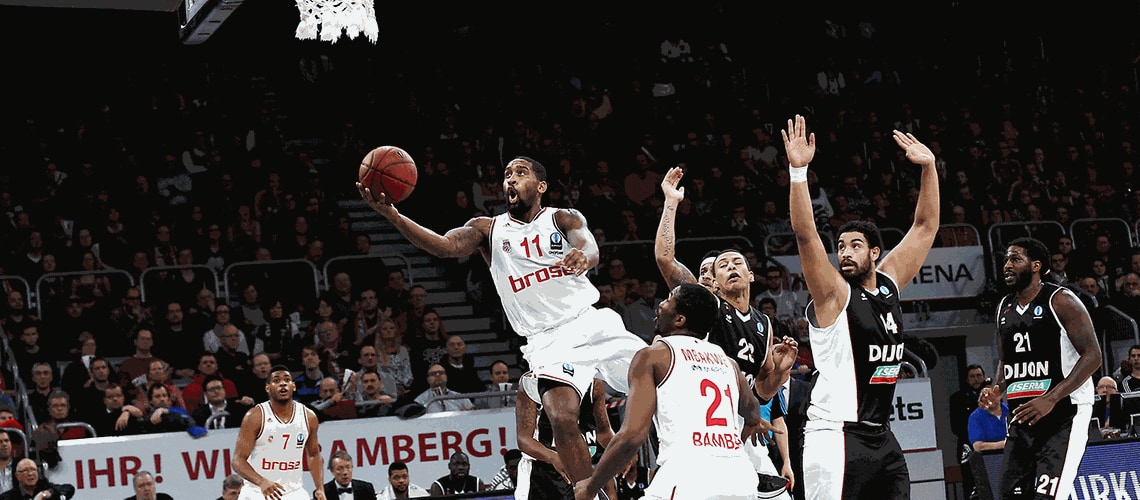 Dijon, 01-28.2015
What an incredibly strong answer from Brose Baskets to the 81:86 home defeat in the Eurocup against Dijon a week ago!
Bamberg outclassed the French club, trouncing it by 56:86 on its home court. The team of Head Coach Andrea Trinchieri now just needs to win its home game against Union Olimpija Ljubljana to advance to the last sixteen of the competition.
Brose Baskets got off to a strong and focused start, with the old-hand Dalibor Bagaric at center scoring twice to give his side a 0:4 lead. Andrea Trinchieri's players turned in a magnificent performance, especially in defense, as a result of which Dijon could only complete 20 percent of all its lay-ups; even three-pointers – a department in which the French side had wreaked a lot of havoc in the first game – were few and far between. After just seven minutes, Bamberg had built a double-digit lead (8:18) and top scorer Trevor Mbakwe (14 points) added a slam-dunk just before the end of the period to make it 10:23. Dijon reduced the deficit to 25:29 at the start of the second quarter thanks to two buckets from beyond the arc and then by stealing possession and adding a lay-up. Playmaker Brad Wanamaker (10 points, 7 assists) then showed all his class, setting up Ryan Thompson, making two wonderful drives to the basket (25:35) and then winning a turnover right after a timeout and slamming the ball through the hoop to make it 25:37. New signing Dawan Robinson brought the first half to an end with his first points in Europe and both teams went in at 28:46. Bamberg's offense was ticking over smoothly, as shown by the fact that of the 20 shots that scored points, 16 came from direct assists.
Like in the previous game, when Bamberg led by twelve at the break, Dijon battled vehemently to avoid defeat and drained a number of wild three-pointers. Yet when the gap was reduced to 42:55, Trinchieri's team reasserted control, with point guard Dawan Robinson making wonderful assists that top scorer Janis Strelnieks (14 points) was able to capitalize on with two buckets from outside to give his team a 46:67 lead at the end of the period. Brose Baskets did not give their opponents a look-in in the final period: Daniel Theis (9 points) and Janis Strelnieks drained quick threes to make it 50:77, after which Karsten Tadda added another bucket from beyond the arc to increase to gap to more than 30.
Andrea Trinchieri commented: "We won and even by more than the five-point gap we needed to beat them on aggregate. However, our work in the Eurocup isn't over. This time we played like a team and controlled the game throughout thanks to our good defense. We're growing together more and more. The team is young, but this time it produced a mature performance."
Brose Baskets now face a home game in the Beko German Basketball League on Sunday, February 1, 2015. The opponents in the Brose Arena are EWE Baskets from Oldenburg, with whom Brose Baskets have a score to settle after the 78:73 defeat earlier in the season. The tip-off is at 5 p.m.