Bamberg
Brose Baskets stroll to victory over Tübingen and go to the Top Four brimming with confidence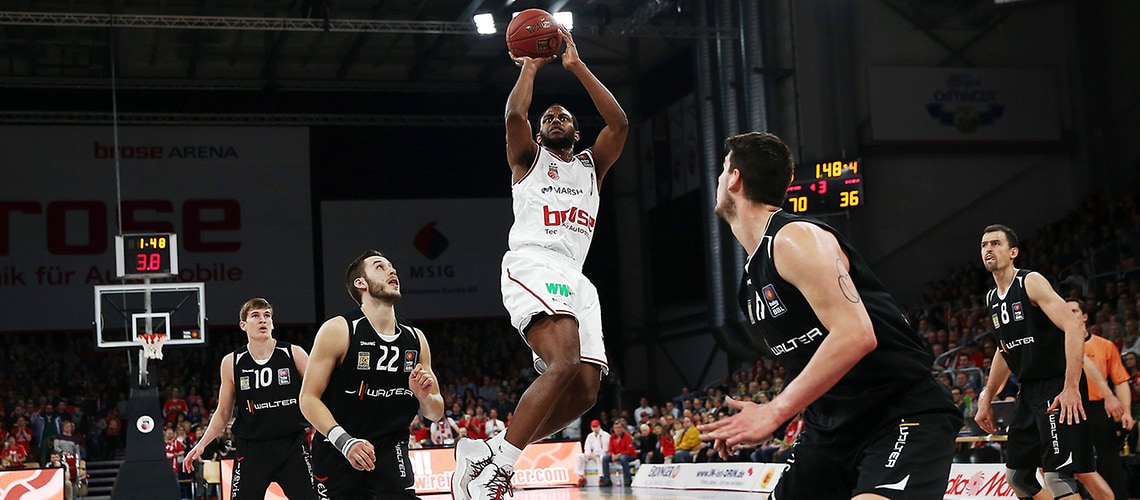 Bamberg, 04-05.2015
Twelve impressive opening minutes were enough for Brose Baskets to surge 40:9 ahead against bottom-of-the-table Walter Tigers Tübingen on Easter Sunday. After that, Head Coach Andrea Trinchieri rested his key players and gave the club's young talents a lot of time on court. Even then, the league leaders were never at risk of losing and strolled to a 100:59 victory.
After the defeat in Ludwigsburg, Brose Baskets wanted to make amends in front of their own fans – and did so in superb fashion. Although Bamberg needed three-and-a-half minutes to get into its stride in offense, it displayed scoring of the very highest quality after Ryan Thompson made it 5:2. Two slam-dunks by Thompson and Brad Wanamaker and two open shots from beyond the arc by Josh Duncan meant Trinchieri's team opened up a 17:2 gap in the space of 120 seconds. It was not until Bamberg had stretched its run to 18 without reply that Tübingen was able to put its next points on the board against the home side's excellent defense. Ryan Thompson, the outstanding player in the first quarter, in which he scored twelve out of his total haul of thirteen, added two free-throws and a bucket from outside, after which Darius Miller also drained his three to make it 30:4. Youngster Andi Obst followed suit to bring the period to an end (33:7).
Darius Miller opened the second quarter with the next bucket from beyond the arc, after which a lay-up by Josh Duncan and a further jump shot extended the home side's lead to 40:9. Trinchieri's team then visibly stepped down gear –– the game was as good as over. The lead hovered around the 30-point mark and both teams went in at half-time with the score at 51:22.
After the break, the home side turned up the heat again in offense. In particular, Josh Duncan (returning after injury) and Darius Miller (the last new signing) were given a lot of time on court by Andrea Trinchieri and rewarded that with points. Duncan repeatedly stormed through Tübingen's defense and could often only be stopped by fouls. However, he buried all of his six free throws in his final haul of 21 points. Miller, also joint top scorer with 21 points, showed how quickly he has slotted into Trinchieri's system and impressed not only with four three-pointers out of five attempts, but above all with nimble fingers in defensive, where he stole the ball from Tübingen twice.
In the final period, Head Coach Trinchieri put on Daniel Schmidt and Andi Obst for a long spell. In particular youngster Obst showed what a talent he is with seven points, two assists and a turnover, but also drew Trinchieri's anger when he committed his fifth foul with five minutes to go. Trinchieri had to send playmaker Janis Strelnieks back on – a player he wanted to rest. Strelnieks then added two buckets from outside, after which Darius Miller brought up the hundred and made the final score 100:59 with his last three-pointer.
Andrea Trinchieri commented: "We bounced back after our last game and that was a good sign. A further one was that our young players were on court for a long time. We were improved in defense and played very physically. I'm very happy about the time Andreas Obst and Daniel Schmidt had on court. At the end I was a bit unhappy with Andi. He shouldn't have committed his fifth foul – that wasn't what we'd discussed. He has to improve his foul management. Apart from that, he was really good and has got better in some departments of his game."
Brose Baskets now face the Top Four tournament in the German cup in Oldenburg next weekend: First up on Saturday, April 11, 2015, in the EWE Arena is the semi-final against Alba Berlin (tip-off: 5 p.m.), after which Telekom Baskets Bonn and host EWE Baskets Oldenburg will contest the second semi-final (tip-off: 8 p.m.). The 2015 cup final will be held on Sunday, April 12, 2015, at 2 p.m. and will be broadcast live on ZDF; the third-place playoff tips off before that at 11 a.m.
For more information visit www.brosebaskets.de and www.beko-bbl.de .