Bamberg
Brose Baskets struggle for one half against Göttingen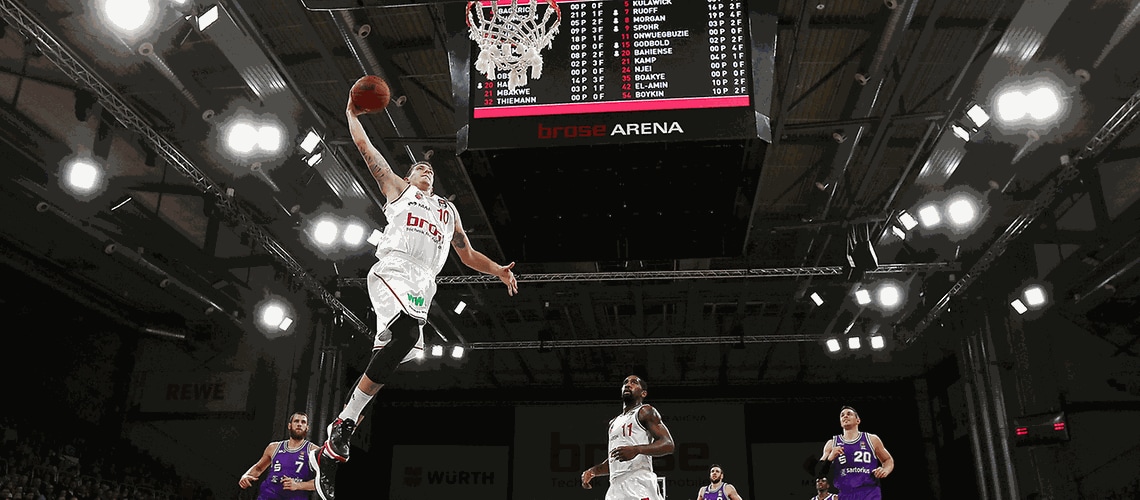 Bamberg, 01-18.2015
After the heavy defeat at the hands of Bayern Munich on Wednesday evening, Brose Baskets needed a bit of time to get back on track in their 94:75 victory against BG Göttingen. It was not until shortly before the break, and having trailed by nine points at one stage, that the team of Head Coach Andrea Trinchieri was able to shed its nervousness and then capture a comfortable win against the strong league newcomers in the second half.
The high loss against FC Bayern Munich was still haunting Bamberg's players, at least for one-and-a-half periods, as newly promoted Göttingen make life tough for the home side up to the sixteenth minute. The team from Lower Saxony quickly went 0:5 ahead, was also not perturbed by five points from Ryan Thompson to make it 11:8 and, thanks to Bamberg conceding seven turnovers, snatched a 23:24 lead after the first quarter. Eight more points without reply put Göttingen 23:32 in front, after which top scorer Ryan Thompson (23 points) drained a bucket from beyond the arc to end the home side's three-minute drought. The American added five further points to help Bamberg close the gap to 32:34. Göttingen responded by pulling away to 32:40, but then Bamberg toughened up its game, especially in defense. Karsten Tadda put Göttingen's former NBA playmaker Khalid El-Amin on a tight leash, while Daniel Theis blocked two shots and added two slam-dunks at the other end. With the score at 41:45, captain Brad Wanamaker then turned the game around by draining two great three-pointers in the space of 36 seconds to give his side a 47:45 lead at half-time.
The game remained tight to begin with in the third period, but Trinchieri's team did not relinquish its lead: Brad Wanamaker set up Ryan Thompson to score a wonderful alley-oop dunk and Janis Strelnieks buried two buckets from outside. Ryan Thompson was able to increase the gap to 68:60 with a buzzer beater from beyond the arc. Elias Harris, who was in strong form and scored sixteen points with no missed attempts, gave his side a double-digit lead at the beginning of the final period (70:60), after which the league newcomers increasingly lost their stamina and Trinchieri's team stretched its lead rapidly. A slam-dunk by Daniel Theis to make it 88:69 sealed a game that has likely given Bamberg a lot of confidence back, especially from the way it played after the break.
Andrea Trinchieri commented: "After the defeat on Wednesday, it was very difficult for us to prepare for the game. We were a little shocked and the mood among the team was not as it usually is. Göttingen was then the worst opponent we could have: a team that plays with four guards and makes full use of the breath of the court, shoots well and can cause great problems. Mentally, today was our best game because we were able to win and run ourselves into the ground. We were nowhere near perfect and had a few setbacks, but you should never underestimate a win against such a good team. After the game on Wednesday, today was again a step in the right direction."
Brose Baskets next game is on Wednesday, January 21, 2014, in the Eurocup, when Baskets JDA Dijon come to the Brose Arena. A win will help Bamberg keep the French club, which has yet to win a game, at arm's length in Group K. The tip-off is at 7 p.m.