Göttingen
Brose Baskets turn around a crazy game away at giant killers Göttingen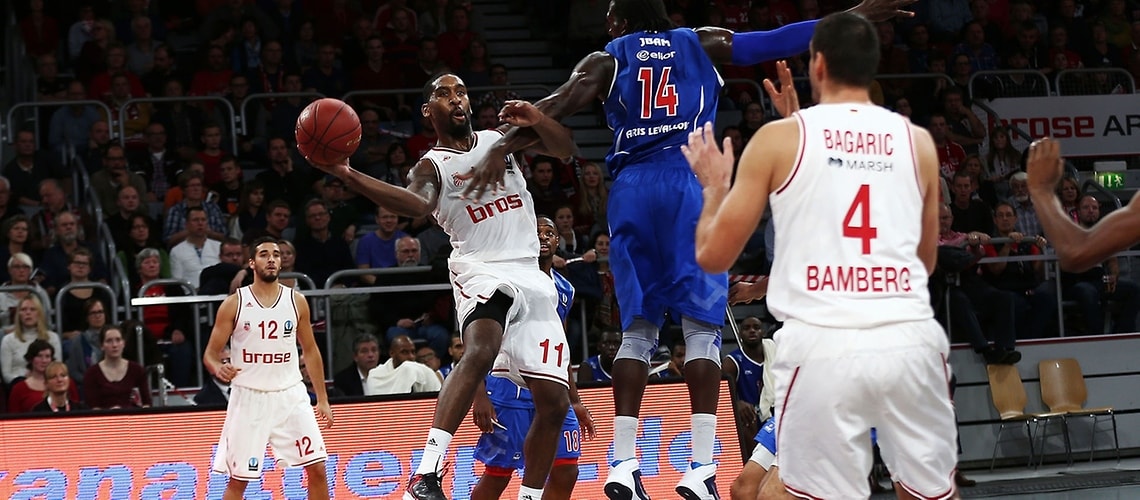 Göttingen, 12-22.2014
Brose Baskets won an incredibly dramatic game against newly promoted BG Göttingen in the Lokhalle cauldron by 86:93 on Monday evening. Bamberg was not disconcerted by trailing twice by double digits and, despite Head Coach Andrea Trinchieri being ejected, turned the game around in the space of six minutes to chalk up its second win on the road in 48 hours.
Because its new S Arena was already booked, BG Göttingen moved back into its old cult basketball hall for its three home games in December. And the Lokhalle, in which the league newcomers won the EuroChallenge cup in 2010, is notorious on account of its cramped space, how close the crowd is to the court and the atmosphere the almost 3,600 home fans produce. ratiopharm Ulm had been defeated 80:92 there just two days previously and Bayern Munich had also fallen foul of the newly promoted club before that. There were two main reasons for that: Khalid El Amin, its 35-year-old stalwart and at just 1.77 m one of the two smallest players in the German league, and Raymar Morgan – two bold transfers by Göttingen, since both players were injured for almost a year last season. El-Amim bagged ten points against Bamberg in the first period (24:22), then Morgan turned on the heat in the second quarter and was responsible for Göttingen's 11:0 run to make it 40:27. Janis Strelnieks and Ryan Thompson struck back with two easy lay-ups after turnovers to make it 40:31 and spur their side into action. The visitors then stopped three successive attacks by Göttingen and were able to score three lay-ups plus a bonus free throw for a foul. Trevor Mbakwe (10 points) and Janis Strelnieks got Brose Baskets into striking distance (42:40) and Strelnieks even gave his side the lead with a bucket from beyond the arc just before the break (46:48).
However, Trinchieri's team was also not able to get to grips with El-Amin after the break, regardless of whether it was playmakers Brad Wanamaker or Janis Strelnieks or the more athletic Ryan Thompson who defended against Göttingen's playmaker: El-Amin either bagged the points himself or set up his teammates, especially Raymar Morgan (37 points!). As a result, Bamberg trailed by 71:66 after the third period. At the start of the final quarter, Göttingen drained its next two three-pointers to the frenzied jubilation of the 3,600 BG fans to move 80:70 ahead. A dubious foul called in favor of Göttingen with seven minutes left caused Andrea Trinchieri to explode – he remonstrated loudly with the referees, who then awarded two technical fouls against him and banished him from the sideline. However, Trinchieri managed to communicate the crucial change in tactics to his assistant coach Ilias Kantzouris: the tall centers were to take care of the small "ball lightning" Khalid El-Amin as soon as Göttingen started building its attacks. The Head Coach's ejection welded the team together in the final minutes: Ryan Thompson scored a lay-up, then Daniel Theis added a tip-in with a bonus free throw to make it 81:75. Theis subsequently took El-Amin completely out of the game and provoked Göttingen into losing possession three times in a row, after which Josh Duncan (21 points) was able to tie the scores at 83:83. Göttingen then went ahead by 85:83, but Janis Strelnieks (20 points) hit back with his third bucket from outside to put his side 85:86 in front. Brad Wanamaker and top scorer Ryan Thompson (23 points) then sealed victory in what was a crazy game by completing Bamberg's 5:23 run. Bamberg's eleventh win of the season means it is now also qualified for the German cup, as it is certain to finish among the top six teams in the first half of the season.
Ilias Kantzouris, the assistant coach of Brose Baskets, commented: "We tried a lot of things to stop Khalid El-Amin in the first 33 minutes. However, he always found a solution and we tried out the final alternative we had trained in the past days. We gained the upper hand in defense by playing a center against El-Amin. We then moved the ball well in offense and the result is a further victory on the road for us against a very strong team."
The Brose Arena will now host a top game in the Beko German basketball league on Boxing Day (December 26, 2014), when the unbeaten leaders Alba Berlin face Brose Baskets. The tip-off is at 3 p.m.