Bamberg / Berlin
Brose Baskets win at Alba to finish regular season champions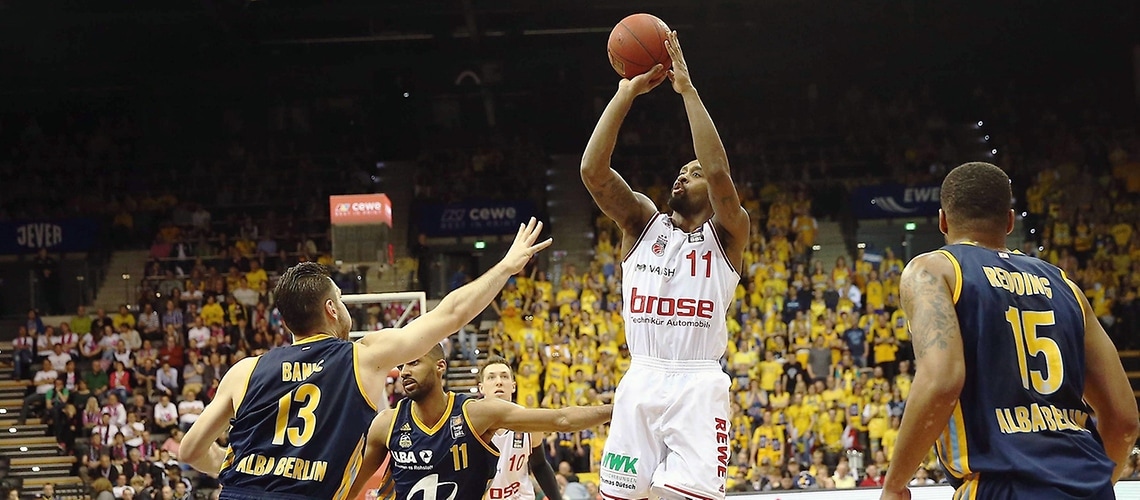 Bamberg / Berlin, 05-03.2015
Brose Baskets have finished top of the table after the regular season in the 2014/2015 Beko German Basketball League season. After strolling to a comfortable 99:64 victory over medi Bayreuth last Thursday, the team of Head Coach Andrea Trinchieri produced a strong performance in the "first place decider" on the road in the O2 World Arena on Sunday afternoon: The 78:72 win away at Alba Berlin secured home court advantage for Brose Baskets in all subsequent playoff rounds.
What was nominally the final matchday in the regular season was held on Maundy Thursday, when the injury-weakened neighbors from medi Bayreuth visited the Brose Arena. A one-sided encounter ensued from the outset and Brose Baskets exploited their superiority in particular to rest their key players a little. As a result, Trevor Mbakwe and Dawan Robinson did not even get time on court, yet Trinchieri's team captured the first period by 21:11 and extended the gap to 82:39 by midway through the third period. After that, the home side eased up to run out winners by 99:64. The top scorers were Ryan Thompson (18 points), Elias Harris (17) and the strong Karsten Tadda (15). Unfortunately, Josh Duncan injured his shoulder so seriously in the second quarter that he will be out of action until further notice.
The encounter that was postponed from the 24th matchday now became the "first place decider" on Sunday afternoon – hosts Alba Berlin and Brose Baskets were tied on points in 1st and 2nd going into the game. The O2 World Arena in Berlin was sold out with a crowd of more than 13,600, but the around 1,100 Brose Baskets fans who had made the journey were distinctly audible as they fired on their team against a far greater number of Alba supporters. And Bamberg soon had reason to celebrate: Karsten Tadda picked up from where he left off in the game against Bayreuth in terms of shooting accuracy, draining two buckets from outside in the space of a minute to put Bamberg 9:8 in front. Although Berlin then pulled away to 22:17, Brad Wanamaker, Daniel Theis and Dawan Robinson (twice) produced inimitable lay-ups to snatch the lead back (25:22). After that, Trinchieri's players allowed Alba to pick up a number of offensive rebounds, which Berlin exploited to go in at half-time ahead by 40:38. After the break, Brose Baskets toughened up their act substantially in defense and were able to open up a gap for the first time after a lay-up by Theis and free throws from Thompson (57:50). However, Alba did not give up and edged ahead again at the beginning of the final period (61:60). After that, Bamberg – led by the circumspect playmaker Brad Wanamaker (16 points) – kept its cool: In defense, the giants Trevor Mbakwe and especially Daniel Theis (with a combined total of 15 rebounds and three blocks) scooped up as good as everything, while Janis Strelnieks at the other end clinically drained a bucket from beyond the arc to make it 67:61 for Bamberg. Shortly before the end, Daniel Theis stole the ball from an in-bounds pass by Alba and added a quick lay-up to make it 75:67 for Brose Baskets and seal top spot. Brose Baskets now have home court advantage in all playoff rounds up to the final – and they are still unbeaten at home in the Brose Arena in this season's Beko German Basketball League.
Andrea Trinchieri commented: "The crowd saw a great game in Berlin. Ups and down, comebacks, big plays – there was a bit of everything. First of all, I have to say that I have huge respect for how Alba has played so far this season. Sasa Obradovic has rightly been named Head Coach of the Year. Apart from that, I'm very happy that all my players were repeatedly able to dig themselves out of the small lows there doubtlessly were. It's an important win for us, but it mustn't be overrated, because now come the playoffs."
Brose Baskets start the playoff quarter-finals with a home game against MHP Riesen Ludwigsburg on Saturday, May 9, 2015. The first team to win three games advances to the semi-finals.
For more information visit www.brosebaskets.de and www.beko-bbl.de .