Tübingen
Brose Baskets: Zisis and Wanamaker secure victory in the final period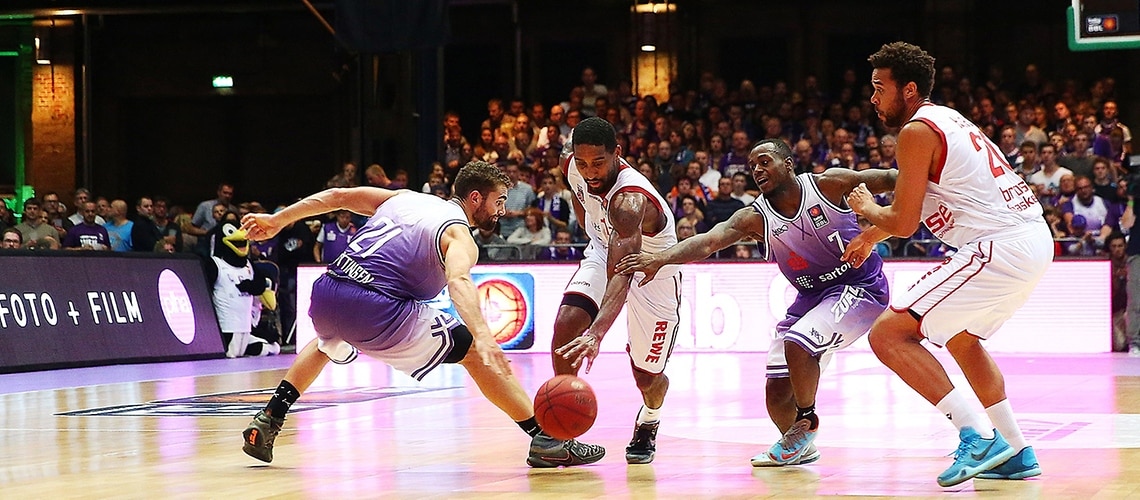 Tübingen, 11-08.2015
Brose Baskets won their game on the road at Walter Tigers Tübingen by 98:88 thanks to strong individual performances by playmakers Brad Wanamaker and Nikos Zisis, especially in the final quarter. For three periods, the team of Head Coach Andrea Trinchieri tried to defeat the opposing side from Swabia by not playing at full intensity in defense (this was its fourth game in eleven days), but that did not do the trick. It was not until the final eight minutes that Bamberg was able to open up a gap and secure victory.
The away win means that Brose Baskets have moved up a spot to second in the league table, since rivals FC Bayern Munich lost at Fraport Skyliners Frankfurt at the same time on Sunday afternoon. Like the Bavarian club, Bamberg had been in action in the Euroleague a few hours before its league encounter and so wanted to conserve its energy. Consequently, the team did not show the necessary physical presence and focus, especially in defense. As a result, the first half saw a sparkling display of offensive basketball from both sides. Youngster Patrick Heckmann made five points to put Bamberg 11:6 in front, but Tübingen kept on finding a way through its opponents defense and reduced the deficit to 23:21 by the end of the period. In the second quarter, Lucca Staiger drained four buckets from beyond the arc, three in the space of 89 seconds, but despite the total of 15 points Staiger added in the first half, the team from Swabia kept within striking distance. Bamberg was not able to open up a gap of more than six points (43:37) and went in at half-time leading by just two (49:47).
Right after the break, the home side took the lead for the first time (51:49) to the jubilant roar of its fans in the Paul Horn Arena and the game remained up for grabs with seven minutes left. Bamberg was not able to shake off Tübingen until the scores stood at 74:73, but then its playmakers took the game by the scruff of its neck: Nikos Zisis buried a three and replied to Tübingen's next bucket outside with another (82:76), Brad Wanamaker made a difficult lay-up despite being fouled, Zisis stole possession from Tübingen and set up Wanamaker for a slam-dunk – a run of 10 points without reply in 115 seconds that finally sealed the game in Bamberg's favor. Apart from his 21 points (16 of the them in the final period), Nikos Zisis also made eight direct assists, while Brad Wanamaker chalked up 19 points and five assists.
Andrea Trinchieri commented: "Tübingen produced a very good performance and we had to give our all to win. Especially after the tough game against Maccabi Tel Aviv, it wasn't easy for us and above all we weren't mentally fresh. And Tübingen exploited that. It shot well and Mihailovic was superb. It cost us a lot of strength today, but in the final five minutes we managed to focus our energy on the essentials."
Brose Baskets' next game is on Tuesday, November 10, 2015, when bottom-of-the-table Mitteldeutscher BC comes to the Brose Arena (tip-off: 8 p.m.).