Eisenach
Dinkel/Kohl show great fighting spirit to capture fifth podium placement in the 2016 season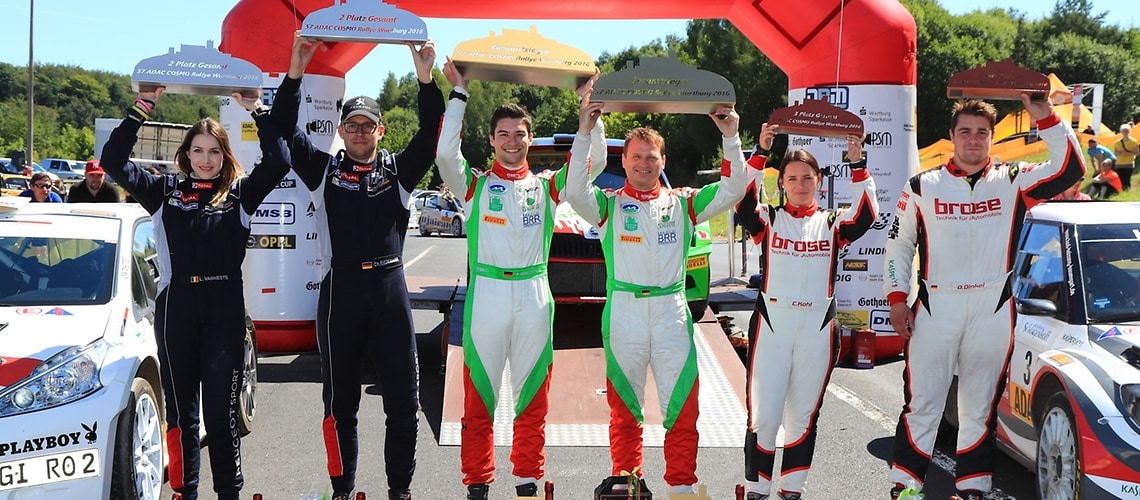 Eisenach, 08-06.2016
The seventh race in the German Rally Championship was held in Eisenach last weekend. The ADAC Cosmo Wartburg rally is one of the biggest moguled courses in the rally calendar and was a must for Dominik Dinkel and Christina Kohl after they suffered a technical failure and had to withdraw from the DMV-Sparkassen Thuringia Rally in mid-July.
The Brose Skoda Fabia S2000 was again in top condition. However, things did not go ideally for Dinkel/Kohl at the beginning of the event on the Saturday. The right setup for the undulating stretches was simply not found, despite recurrent testing in the service breaks. As a result, Dinkel/Kohl were fifth overall after the first five trials.
That meant they were almost a minute behind the leaders Kremer/Winklhofer and Riedmann/Vanneste. However, the gap between them and Alketbi/Hepperle and Al-Kuwari/Duffy and a place on the rostrum was just 5.9 seconds. The pilot from Rossach struck back impressively on the legendary trial "Cosmodrom by night," clocking the fastest time and giving the competition warning that he was a force to be reckoned with. As a result, Dominik Dinkel and Christina Kohl ended up fourth in the overall standings at the end of the first day.
Dinkel's fine feel behind the wheel then returned on the Sunday. Dinkel/Kohl again turned on the heat in the 15th trial "Madelungen." The power stage with its extra points was a nail-biter, with the drivers battling for every hundredth of a second. The two were able to secure the second-best time overall and so two important extra points to reduce the gap to a place on the rostrum to 0.4 seconds. In the last service break, the Brose Skoda Fabia S2000 was again restored to top form. Dinkel/Kohl clocked the third-fastest time on the trial and so were even able to turn the deficit into a lead of 5.6 seconds. With a lot of sweat and hard fighting, Dominik Dinkel and Christina Kohl thus captured third place and another outstanding result.
"We gave our all, sometimes pushing ourselves right to the limit, but things worked out," said a jubilant Dinkel, who also expressed his thanks for the trust shown in him by his sponsors. The next race for Dinkel and Kohl will be at the ADAC Lower Saxony Rally at the beginning of September.