Nürburg
Engelhart defends second place in the championship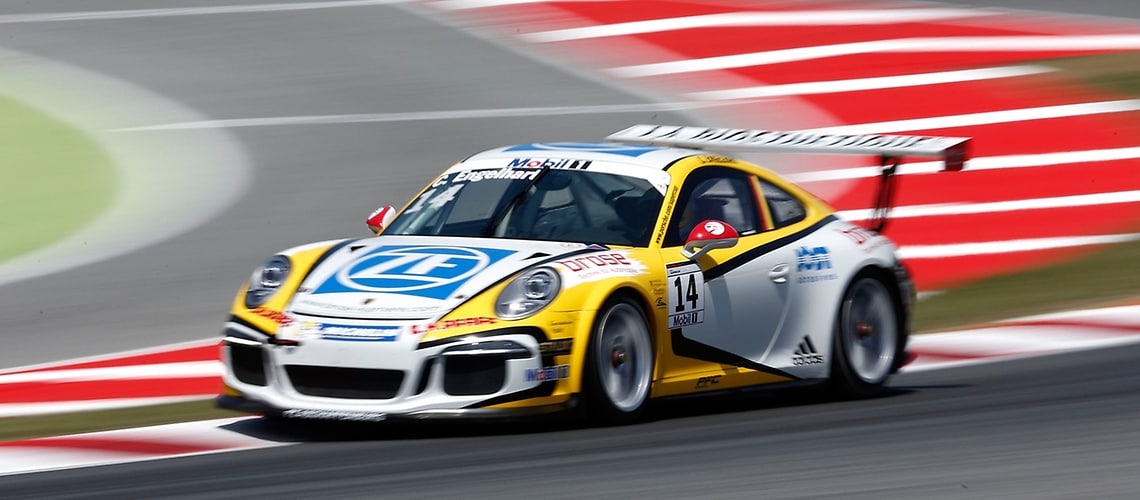 Nürburg, 09-27.2015
Two intense races in the Eifel enabled Christian Engelhart to add 28 points to his championship tally. As a result the pilot from Kösching is second overall going into the final weekend of the Porsche Carrera Cup in Hockenheim.
The Eifel had a surprise in store, with resplendent late summer conditions – a factor of great importance for Christian Engelhart in his battle to finish as runner-up. The track remained dry from the Friday on and so was ideal for the two races on the penultimate weekend of the 2015 Porsche Carrera Cup season. Once again, the leaders in the championship showed how closely matched they are and that the smallest of mistakes and different settings can result in wafer-thin time differences.
Everything to finish runner-up
Apart from that, Christian had his sights firmly set on one goal: to defend second spot in the championship. And that is precisely what he did in his Porsche 911 GT3 Cup of the MRS Racing team. Christian came fourth in both races, picking up 14 points in each and so only missing out narrowly on a place on the rostrum.
He now goes into the final weekend of racing on the Hockenheimring twelve points ahead of his nearest challenger. However, that does not mean he'll take things easy. "As usual, I'll attack with all I've got and try to repeat my win from the start of the season. The track definitely suits me," says Christian Engelhart.
Christian chalked up two victories in the first two races of this year's season. He could also give notice that he will be a force to contend with in the new season by repeating that success.
The final weekend in the Porsche Carrera Cup in Hockenheim will be from October 16 to 18, 2015.
We wish Christian Engelhart every success!