Spa Francorchamps
Engelhart picks up place on the rostrum and many points after a hard fight in Belgium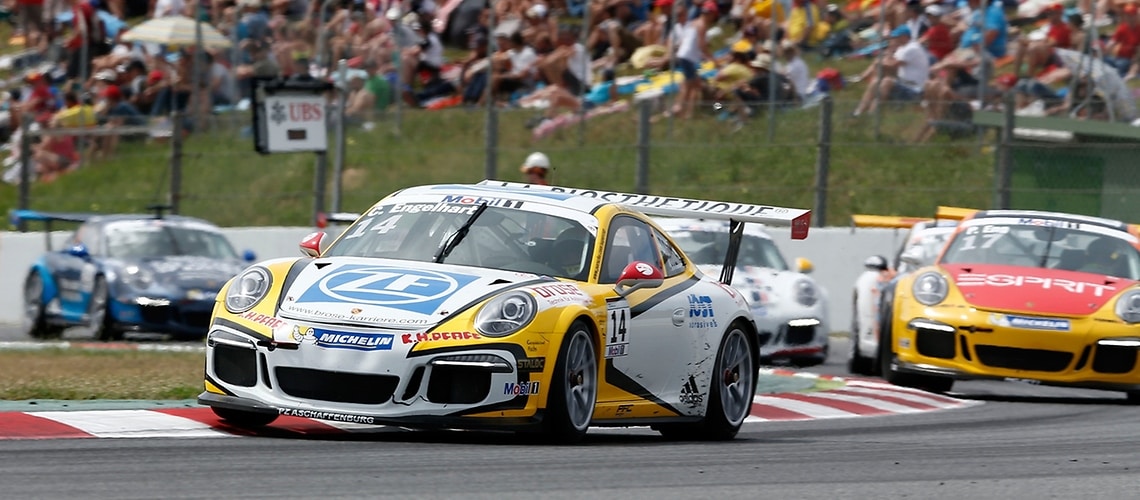 Spa Francorchamps, 08-23.2015
Christian Engelhart got the weekend of two races in the Porsche Mobil 1 Supercup off to the start he had hoped by posting strong results in training.
A maximum haul of 40 points is now possible on each remaining weekend in the Porsche Mobil 1 Supercup, since two races are always held. Christian Engelhart captured 28 in Spa Francorchamps from the two races, i.e. almost three-quarters of the points up for grabs. As a result, the pilot from Kösching kept in direct touch with the table leaders as the best pursuer in what is Europe's strongest brand cup.
Third spot in the race on Sunday and fifth on Saturday are still not optimal. However, the result is an important step to help him keep setting the pace among the pursuers in the title race. Christian clocked the fastest times in free training and on the Saturday came third in qualification, just 0.1 seconds and 0.05 seconds behind pole position respectively. However, contact with Eng in the first corner in the first race suddenly caused his car to have problems with its balance. Christian's pace was also perceptibly better on the Sunday, with the result that he was able to celebrate a place on the rostrum in the second race over eleven laps (a distance of 77.044 km), which was held as part of the Belgium Formula 1 Grand Prix event.
"A place of the rostrum in the Supercup is always superb! The whole team did a great job and we intend to keep it up. There are still four races left and it's not over until the fat lady sings."
Intensive preparation for the next two races in Monza at the beginning of September, with an eye on the championship, is now on the agenda.