Baden-Württemberg
Engelhart: Runner-up in the Carrera Cup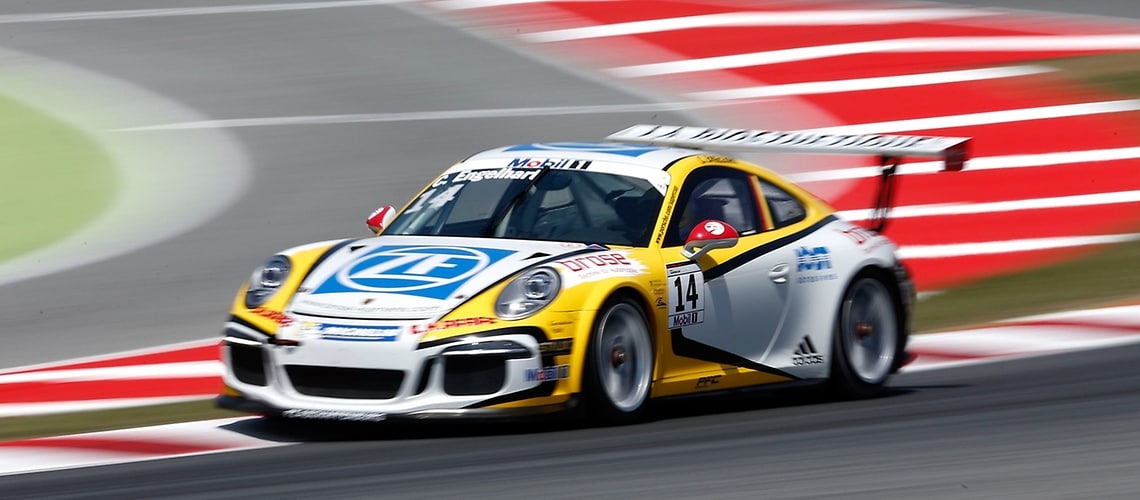 Baden-Württemberg, 10-16.2015
On a thrilling weekend of racing, Christian Engelhart from Kösching secured the title of runner-up in the Porsche Carrera Cup Germany together with his team MRS to crown his season in Germany's fastest brand cup.
The Porsche pilots produced fascinating tussles in a race that was hard to top for excitement in the finale of this season's Porsche Carrera Cup Germany on the Hockenheimring. Christian Engelhart was in the thick of things and finished as runner-up in the drivers' championship after a spectacular race.
Christian laid the foundation for the two races on the final weekend by coming fourth in both qualifying sessions. After a great start in the 16th championship race on the Saturday, Christian was unchallenged in third. He steadily increased the pressure on the second-placed pilot with a string of fast laps, but was not able to overtake him by the checkered flag.
Christian then started the final race on Sunday with a cushion of 8 points. However, his closest rival for the title of runner-up started from pole position and so at the head of the field. The race therefore turned out to be a truly nerve-tingling affair. Christian again got off to a good start and was able to keep in touch with the leading 3 pilots to begin with. As a race progressed, Sven Müller und Nicki Thiim on new tires caught up with him to form a further group of three. The three-way tussle saw a lot of contact and at one stage Christian was only in sixth, until Müller went into a spin and Christian was able to reclaim fifth spot. This fifth place in the final race of the season in the Porsche Carrera Cup Germany was enough for Christian to defend his second place in the overall standings and become runner-up in the championship.
Christian: "We did everything right this weekend. We couldn't have asked for more from the car and I got all I could out of it. It was a really tough race, but I'm glad that I was ultimately able to capture the points I needed. I'd like to thank all my team for its hard work and above all my sponsors and partners who have backed me for years. This success is down to all of us and I feel sure it'll give us strength and energy for the upcoming finale of the Porsche Mobil 1 Supercup."
The final two races in the Porsche Mobil 1 Supercup will be held in Austin, Texas (U.S.) from October 23 to 25. We wish Christian every success!