Zlin
ERC: Dinkel turns in a top-class result in Zlin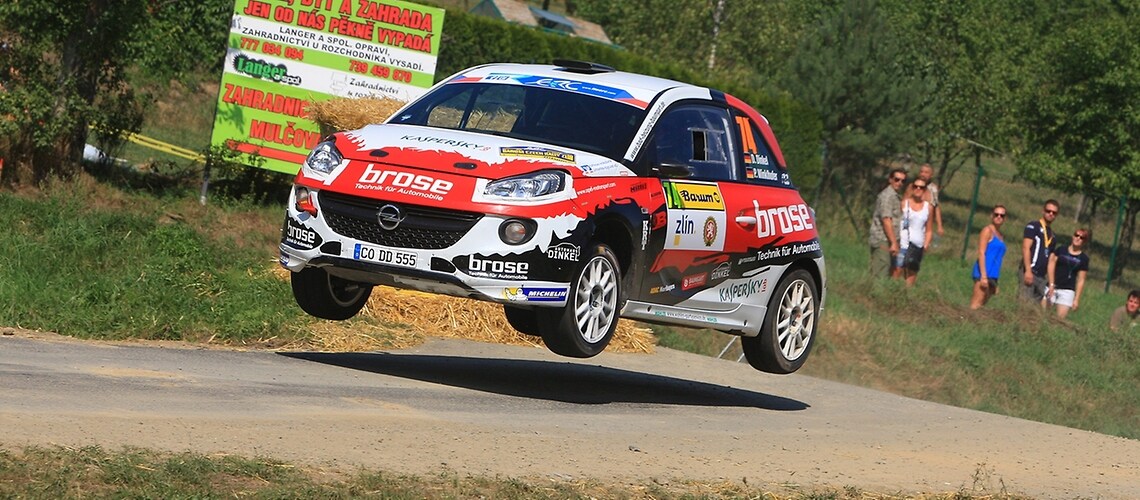 Zlin, 08-30.2015
Dominik Dinkel and co-pilot Pirmin Winklhofer tackled a new challenge last weekend. Thanks to the support of the ex-FIA Historic European Champion Michael Stoschek and the Brose Group, the young driver from Rossach was able to line up for the first time abroad in his Opel Adam R2 at one of Europe's most demanding rallies. The Barum Rally is part of the ERC (European Rally Championship) and with its 229 kilometers of fast-paced trials is a daunting prospect. Held over three days and comprising 15 trials, it began on the Friday evening on the town circuit.
The competition could not have been tougher for Dinkel: 25 direct opponents – the crème de la crème – in the RC4 class. They also included the Opel works drivers Emil Bergkvist and Marijan Griebel, who have already been competing the whole year in the ERC.
Dominik Dinkel and Pirmin Winklhofer were faced with the task of getting accustomed to each other again after a lengthy break. Dinkel chose too soft a setup at the start of the rally on the circuit in Zlin. As a result, his times were not ideal to begin with.
On the Saturday, the young driver from Rossach had to contend with a severe headache – with temperatures of 30°C outside and a sweltering 45°C in the car. When the oil temperature rose to reach the critical range during the first trial, the two pilots had to throttle their speed so as not to risk any consequential damage. After a small slip and a collision with a bale of hay, the service crew also had to change the radiator – in just the 20 minutes allotted. After the car was repaired successfully, the goal was to make it to the end of a checkered day. Dinkel/Winklhofer occupied 10th place in the RC4 class out of the 25 teams that had started. Despite the initial difficulties, Dinkel was able to show right away that he can also irritate the international competition.
After their good placement on the previous day, Dinkel/Winklhofer were motivated going in the final day. On the second trial of the day, the young talent managed to clock a top-class time, the fourth best in his class. The team completed the remaining trial in its Opel Adam R2 without any further problems. Dinkel/Winkelhofer finished their first outing abroad more than successfully with a 6th place in the RC4 class.
Now Dominik Dinkel and Pirmin Winklhofer can tackle the competition in Austria: the two of them aim to attack from the outset in the Austria National Championship race in Liezen this weekend. The new route profiles in Austria will demand total concentration from both of them. We wish them every success!