Nürnberg
Erlangen and Berlin draw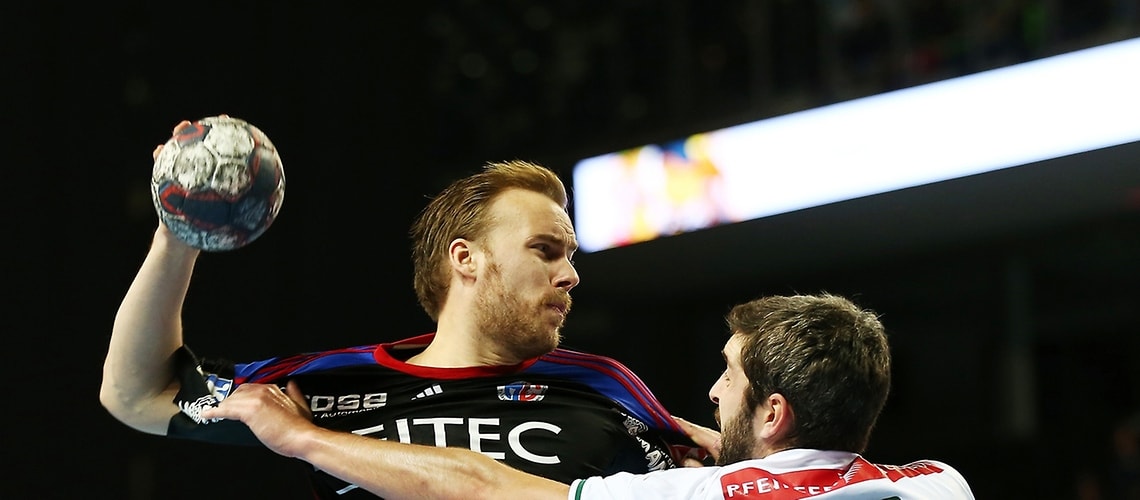 Nürnberg, 05-30.2015
It was another of those indescribably exciting handball evenings HC Erlangen has experienced so often this season. In the end, the first-division team from Franconia drew 28:28 (12:12) with the newly crowned EHF Cup winners Berlin Foxes.
The passionate handball fans from Franconia were there again, plunging the Nürnberger Versicherung Arena into a celebration of handball and spurring their team on for the whole 60 minutes with unerring devotion. The game was evenly poised in the opening spell. The lead kept on changing hands and at no point in the game was there any visible difference between the EHF Cup winner and a team that was battling to avoid relegation in the "world's strongest league." After ten minutes, the HCE was able to open up a three-goal gap. The top team from Berlin needed until the 24th to equalize through the strong Iker Romero. HC Erlangen very deservedly went in at half-tine with the scores tied at 12:12.
The fiercely contested encounter continued in the second half. Driven on by 4,638 frenzied fans, the home side forced the star ensemble from Berlin to summon up all its abilities. Nikolai Link, Ole Rahmel and Nicolai Theilinger kept their side in the game and, in defense, it was the home side's goalkeepers Nikolas Katsigiannis and Jan Stochl who made sure their side stayed in with a shout in the nail-baiting finish. There was a flurry of action in the final two minutes. The international Ole Rahmel heralded in crunch time with his goal five minutes before the end. Nikolai Link and Nicolai Theilinger then forced the German national team's Head Coach Dagur Sigurdsson to call a timeout with the score at 28:27 and seven seconds left on the clock. The goal by Petar Nenadic with two seconds to go briefly plunged the Franconian handball fans into a state of shock. Yet a few minutes after the bitter equalizer, they were back on their feet, clapping and calling for a lap of honor from their defeated heroes. Trailing by two points and with a much worse goal difference, Erlangen's chance of avoiding relegation have dwindled. The HCE now travels to TuS N-Lübbecke for the final game of the season (throw-off: 8 p.m.).
Robert Andersson (Head Coach of HC Erlangen): "Of course, it's very bitter that we conceded the equalizer at the death. But I really have to pay my team a huge compliment. It gave its all and had the reigning EHF Cup winners teetering on the brink of defeat. Now we have to pick ourselves up – and we'll bounce back."
Volker Zerbe (Assistant Head Coach of Berlin Foxes): "My players had to dig very deep today. We knew what awaited us and took up the gauntlet."