Bamberg
Euroleague & Beko German Basketball League: Brose Baskets capture two victories in the space of 48 hours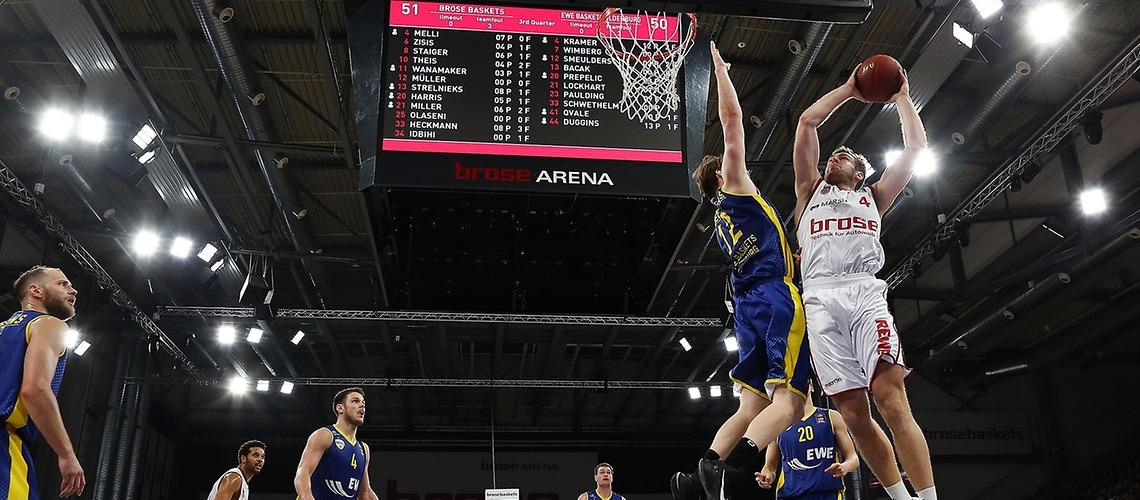 Bamberg, 10-23.2015
Brose Baskets followed up their first home win in the Euroleague on Friday evening with another victory on Sunday afternoon in the Beko German Basketball League. After the surprisingly clear 86:76 against the Turkish star ensemble of Darussafaka Dogus Istanbul in the Euroleague, the German champions went on to replicate their victory a month ago in the Champions Cup by defeating the German cup winners EWE Baskets Oldenburg by 89:76.
Darussafaka is a club steeped in tradition (it was founded in 1914) and since the Dogus Group became its sponsor, its fortunes have soared: in two years, the club from Istanbul has climbed from the second Turkish division and is now playing in the Euroleague thanks to a wildcard. Backed by a budget estimated to be more than 25 millions euros, Head Coach Oktay Mahmuti has assembled a true Euroleague star ensemble. However, Brose Baskets taught their Turkish opponents that it takes more than a large number of top players to make a strong team. After an evenly poised first seven minutes (11:11), the side of Head Coach Andrea Trinchieri pulled away thanks to a wonderful team performance and fantastically carved-out slam-dunks to lead 20:13 at the end of the period. Although the visitors closed the gap to 22:20, Bamberg's Nikos Zisis displayed his class as playmaker. The Greek player set up four slam-dunks by Daniel Theis with his brilliant passes to enable his side to produce a 14:2 run and surge 36:22 in front. However, the visitors were able to reduce the deficit to 36:27 by half-time.
After the break, Trinchieri's players were again merciless in capitalizing on the many losses of possession by the visitors from Istanbul. In particular, Darius Miller (13 points) and Elias Harris (11) made the big players up against them look ordinary with their fast attacks – and Brose Baskets showed they had learned the right lessons from the defeat in Malaga they could have avoided if their rebounding had not been so weak. When Istanbul reverted to zone defense, however, the specialists from beyond the arc – Lucca Staiger (8 points), Darius Miller and Janis Strelnieks (13) – drained their threes. The Latvian player buried his third bucket from outside to make it 75:59, Bamberg's highest lead on the evening. The only annoying aspect of the win was that the home side was not able to hold on to its 15-point lead (84:69) with one minute remaining – every single point could be vital if the aggregate result between the two teams determines who advances to the Top 16.
Trinchieri's team had far greater difficulties on Sunday afternoon against the German cup winners EWE Baskets Oldenburg – despite a gala performance by the youngster Patrick Heckmann (8 points in the first four minutes), Brose Baskets were not able to open up a gap until midway through the third period. The opposing side from Lower Saxony defended fiercely and even went in at half-time leading by 45:44. The home side came out with a flourish after the break and went 51:45 in front thanks to Darius Miller (8 points) and Elias Harris. However, Oldenburg struck back with a run of ten points without reply and Bamberg trailed again. Old hand Nikos Zisis took charge and distributed fantastic passes, which Lucca Staiger (11 points) and Nicolo Melli (14) easily drained from outside while unmarked to put their side 68:62 ahead after the third period. In the final quarter, Staiger drained his first and second threes and it was above all Brad Wanamaker (15 points) who sealed victory for Bamberg with eight points in succession.
Andrea Trinchieri commented: "Unfortunately, the win against Darussafaka doesn't mean much. It was just one game in a tough group. It was important for us to bounce back after the defeat in Malaga, but we have to stay grounded. I'm delighted at the win, but we were only solid – not excellent. Oldenburg was a very good opponent. It drained important shots and moved the ball well. However, we didn't display enough energy. We need to learn to regenerate faster after Euroleague games. Our defense was a nightmare in the first half. We then improved and made their shots more difficult."
Brose Basket face what is probably their toughest away game in Euroleague Group D on Thursday, October 29, 2015, when they travel to CSKA Moscow. The Russian club has won its two group games to date by an average of 30 points. The encounter tips off at 6 p.m.
For more information visit www.brosebaskets.de and www.beko-bbl.de.