Bamberg
Euroleague: Brose Baskets romp to victory against Maccabi Tel Aviv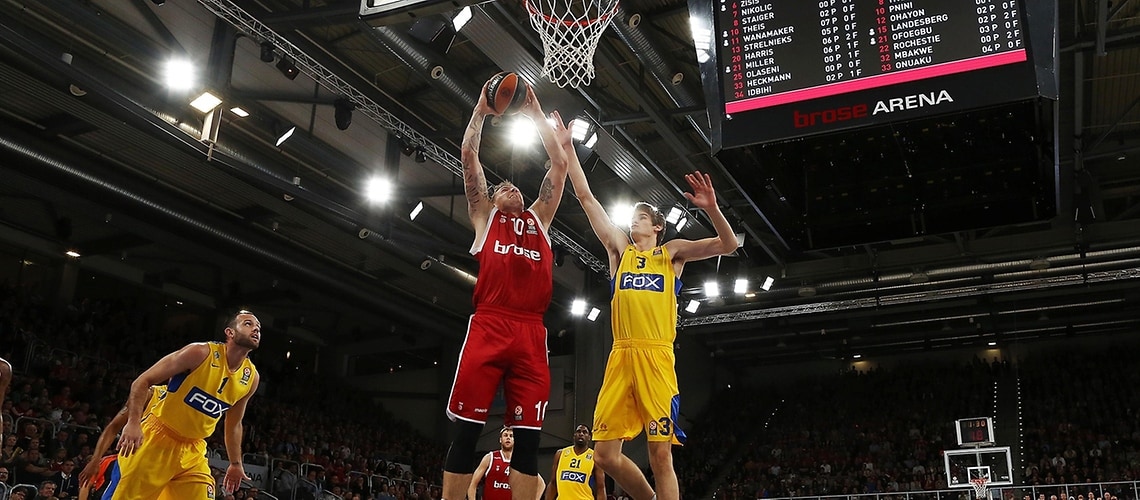 Bamberg, 11-05.2015
That was an truly emphatic display by Brose Baskets in Europe's top club competition! The team of Head Coach Andrea Trinchieri sent the five-times Euroleague champions Maccabi Tel Aviv packing from the Brose Arena by 77:66 and has now strengthened its hold on third spot in Group D with two wins and two losses. Bamberg needs to finish fourth or higher to reach the next round, the Top 16.
Maccabi was stronger than the home side in the opening spell in particular. Above all, big man Gabriel Olaseni did not come to terms with center Arinze Onuako in the first few minutes and the Israeli club soon stormed into a 10:3 lead. Only Nicolo Melli with two buckets from beyond the arc put up some resistance (6:13). The home side finally woke up when Elias Harris came on. The 25-year-old covered the former Bamberg player Trevor Mbakwe very well and also scored two lay-ups and two free throws, with the result that Brose Baskets produced a run of 8 points without reply to move 14:13 in front. Yet the game stayed tight. Although Bamberg was strong in defense, it missed a few lay-ups and free throws up front and so led only by 23:22 after the first period. In particular when it came to rebounding, Bamberg was more resolute and vigorous than in its first Euroleague games. Trinchieri's team was able to snap up seven offensive rebounds and so made many points after getting a second chance, with the result that it opened up a clearer lead (39:31) and went in seven points ahead at half-time (42:35).
However, Bamberg's superiority was soon over after the break: Maccabi put quick points on the board as befitted a confident club that has been a perennial participant in the Euroleague and took the lead back through Trevor Mbakwe midway through the third period. In contrast, Bamberg was disconcerted and added just nine points in the third quarter. Trailing by the narrow margin of 51:52 before the end of the period, Bamberg made two glaring mistakes to slip further behind (51:57). And what was the reaction of Head Coach Andrea Trinchieri, who is known to blow his top when his players make errors in defense? The 48-year-old Italian did not blame anyone, nor did he scribble down any tactics or moves on the board. Instead, he appealed very calmly to his team's morale and heart: "We've no energy, we've no passion, we're not playing smart. We have to make our mind up now! If we want to win, we have to change the way we're playing. And there are still ten minutes left and we're playing at home!" What followed were probably the best ten minutes a Bamberg team has ever produced in the Euroleague: Brad Wanamaker (15 points, 8 rebounds) made two free throws and Nikos Zisis (10 points) drained a wide-open three to make it 56:57. The fans got behind their team vociferously and literally erupted when Daniel Theis smashed two slam-dunks through the hoop in finest "Mbake style." Nikos Zisis completed the 12:0 run with his next bucket from outside. Bamberg then boarded up their own basket and allowed Maccabi, the 2014 Euroleague champions, to score just two points in seven minutes. And top scorer Daniel Theis (16 points, 7 rebounds) combined brilliantly with Nicolo Melli (9 points, 10 assists) – the Italian set up Theis a number of times to score direct points and Theis stretched the lead to 69:59 with his next slam-dunk. This time, Bamberg did not let the chance of pulling off a shock slip and, with incredible self-confidence, managed to win 77:66.
Andrea Trinchieri commented: "That was a great victory for us. Maccabi has won the Euroleague – and just 15 months ago, not 15 years. However, it was the tough game we expected. We're new, we're naive, we're beginners. Maccabi threw us completely off our stride in offense for three periods. But there are days when you have to take a step back as a coach. And so all my respect, all my thanks today go to my players. They did a sensational job in the final period. My players showed a big heart, passion and personality. They were better than me in this game."
Brose Baskets are back on duty in the Beko German Basketball League on Sunday, November 8, 2015, when they travel to the Paul Horn Arena to face Walter Tigers Tübingen. The tip-off is at 5 p.m.