Nuremberg
HC Erlangen also wins third in a series of home games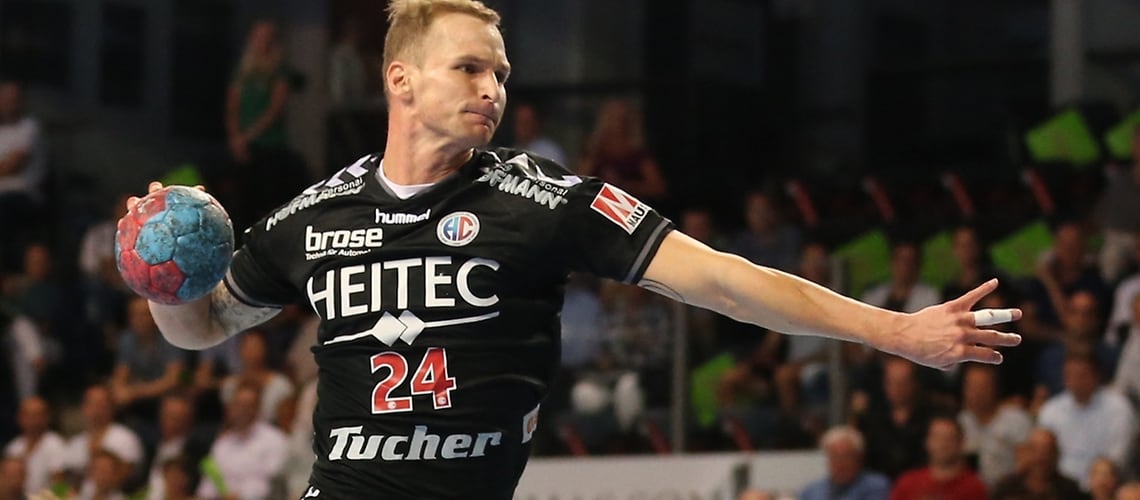 Nuremberg, 10-21.2015
The team of Head Coach Robert Andersson eventually ran out winners by 25:24 (12:13) against HG Saarlouis in an encounter that was full of excitement down to the wire and so extended its unbeaten home record at the Nürnberger Versicherung Arena to six games this season.
It proved to be the tough game the HCE's officials said they expected in midweek. The visitors from Saarland showed right away why they are deservedly fifth in the second division. With its mobility and strong shooting, the HG posed a stout challenge for the defense of their opponents from Franconia and was able to keep the game evenly poised at all times. HC Erlangen was not able to take the lead against a strong opposing side and HG Saarlouis managed to always stay in front. The home side finally went in at half-time trailing by 12:13.
Things were not much different after the break. The crowd of more than 2,000 then saw an exciting final spell. The visitors never managed to pull ahead by more than three goals, which HC Erlangen capitalized on at the end. HG Saarlouis still led with three minutes to go, but then HC Erlangen's time came. Nicolai Theilinger first battled his way through three Saarland players to bury the ball in the net, then the young Weissgerber hit Erlangen's bar with a seven-meter penalty. It was left to the circumspect Martin Stranovsky to seal the game. The goal from the Slovakian international put his side ahead for the first time and so enabled it to win its third home game in eleven days.
The HC Erlangen now faces the strong newly promoted club from Ferndorf this Sunday, after which there is another Franconian derby on October 31, when the Wolves from Rimpar come to the Nürnberger Versicherung Arena.
Robert Andersson commented: "Saarlouis deserved a point today. I'm a bit annoyed that we often made the wrong decision in attack today. But I'm overjoyed at taking both points."
HC Erlangen: Stochl, Huhnstock – Theilinger (5), Link J. (1), Preiß, Herbst (1), Nienhaus, Heß (1), Djozic, Rahmel (1), Stranovsky (5), Horák (6), Link N. (2), Thümmler (3);