Nuremberg
HC Erlangen gives a demonstration of its strength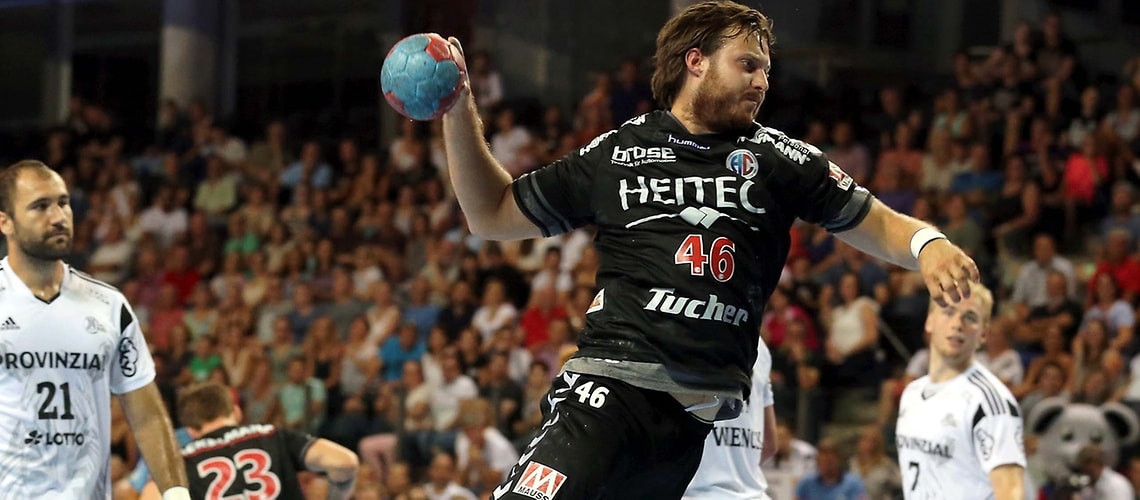 Nuremberg, 09-19.2015
The German league team from Franconia defeated TSG Ludwigshafen-Friesenheim by 36:22 (17:11) to chalk up its fourth straight win.
The backcourt dictated play for the first 15 minutes. Martin Stranovsky in particular stood out in this spell, directed his side's moves commandingly and clinically took advantage of the opportunities that were offered him. Erlangen then produced its strong combination play from the twentieth minute on. The HCE finished its attacks patiently and kept on carving out good shooting opportunities. When Jonas Thümmler made it 11:7, Erlangen's fans raised the roof in the ARENA for the first time. Once again, the support of its fans inspired HC Erlangen and ensured that it went in at half time with a 17:11 lead.
After the break, the HCE showed the strength that had been so evident in the first three games of the current season. The team of Head Coach Robert Andersson did not slacken its efforts at any time in the game, kept its focus when finishing its attacks and drove the visitors' defense to despair. In the final minutes, the home side was able to step up a gear. That ability is due to a magnificent bench with players who can take the strain off their teammates and make a strong mark. HC Erlangen kept its clean sheet and is top of the table after its fourth win in succession.
Robert Andersson commented: "We found it difficult to get into the game in the first 15 minutes, when we were helped by solo actions. We then played well and sealed the game relatively early in the second half."
HC Erlangen: Stochl, Huhnstock –Theilinger, Link J (2), Preiß (3), Herbst (3), Nienhaus, Heß (3), Djozic (5/4), Rahmel, Stranovsky (6), Horak (3), Link N. (4), Thümmler (7);
HC Erlangen now comes up against SV Hamm-Westfalen on September 25, 2015. We wish the team every success!