Erlangen/Nuremberg
HC Erlangen win against VfL Gummersbach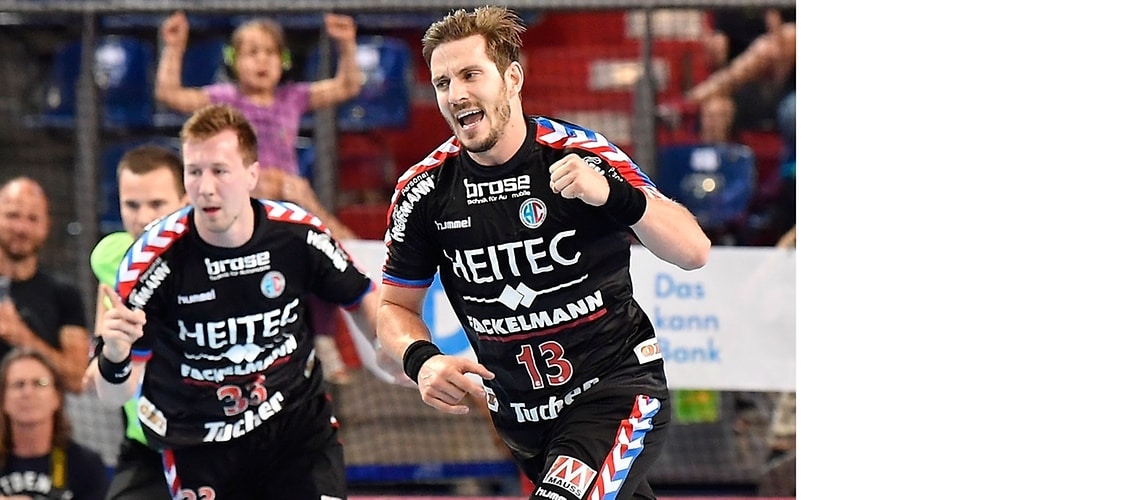 Erlangen/Nuremberg, 09-09.2017
HC Erlangen defeated former champions VfL Gummersbach by 25:22 (12:9). The team of Head Coach Robert Andersson thus picked up both points at home in the Nürnberger Versicherung Arena following its win in Stuttgart and is now eighth in the DKB German Handball League after four match days.
Like last Sunday in Stuttgart, HC Erlangen also got off to a very good start to the encounter against VfL Gummersbach. The players around playmaker Michael Haaß operated confidently in offense and quickly opened up a 2-goal gap. The defensive ranks and two goalkeepers then dominated the encounter. Erlangen's Gorazd Skof and Gummersbach's Carsten Lichtlein demonstrated that they are two of the best between the post. The lead kept on changing hands until with six minutes left in the first half, when HC Erlangen stepped up the pace again. Three goals in a row gave the home side a clear lead.
However, the visitors leveled the encounter relatively soon after the break. Technical mistakes then crept increasingly into both sides' play and their defensive ranks again dominated. Both teams failed to exploit excellent scoring opportunities and so the encounter remained tight to the death. It was then that HC Erlangen – fired on by its vociferous fans – decided the game in its favor. VfL Gummersbach was not able to respond to four straight goals and so the only first-division club from Bavaria celebrated its first points at home in the new season.
HC Erlangen now travels full of confidence to the "Hell of the North" to play SG Flensburg-Handewitt and hopefully take away two points again this Thursday.
Robert Andersson commented: "We won the game today in defense. The interplay between our covering and goalkeeper was very good today."