Wuppertal
Home win against HSV Handball secures place in the top flight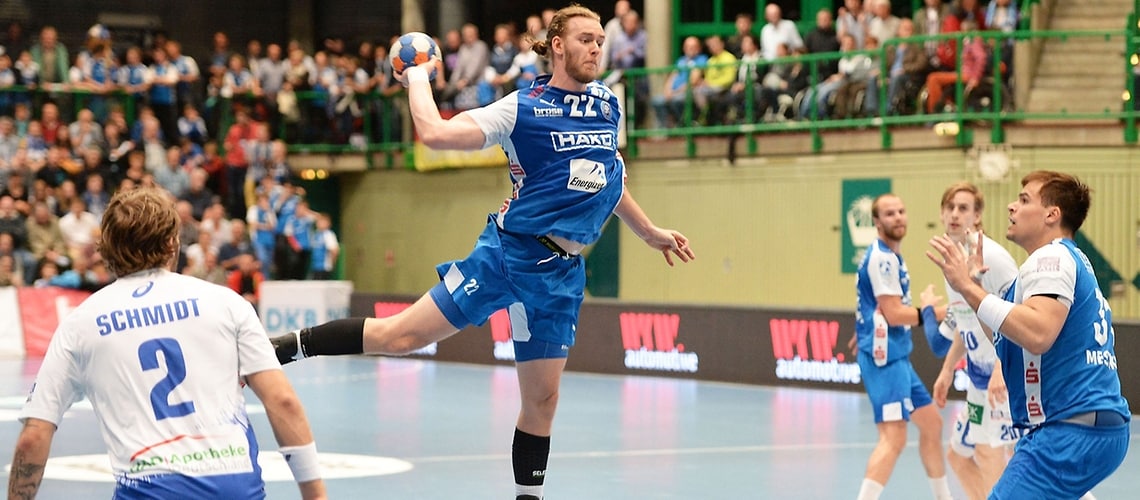 Wuppertal, 05-20.2015
To the boisterous cheers of the 3,079 spectators in the sold-out University Hall in Wuppertal, Bergische Lions defeated HSV Handball by 35:30 (19:12) at home to remain in the DKB German Handball League with four matchdays left in the 2014/2015 season.
The Bergische Lions came out firing from all guns and, despite injury worries, did not give their opponents, who were likewise weakened through injury, a glimmer of a hope that they would take anything away with them from the Lion's Den. The home side surged into a 5:1 lead after just a little more than five minutes of play. The BHC scored at will and defended vigorously – as exemplified by goalkeeper Björgvin Pall Gustavsson, who produced an outstanding performance on this memorable evening.
The score stood at 9:5 after a quarter of an hour. The BHC still had Hamburg under control and could even afford the odd "breather" during which the Lions were not able to celebrate a goal, but nonetheless never ran the risk of HSV closely the gap dangerously – Gustavsson intermittently produced a spectacular save and so fired up the home side. The BHC led 12:7 in the 21st, stretched the gap to 15:9 in the 25th and went in at the break with a clear 19:12 cushion to the jubilant cheers of the crowd in the sold-out arena.
The picture remained the same in the second half: The Lions were totally focused on winning and Hamburg did not manage to create spells where it might have made the BHC buckle. At the latest when the HSV missed a shot with the score at 30:23 in the 48th minute, the University hall was like a madhouse as the crowd cheered on its team over the final minutes to a win that was never in danger and gave the Lions 28 points. Due to the fact that THW Kiel defeated Minden at home by 24:23, that means they have secured a berth in the "world's strongest league" again with four matchdays still remaining.