Bayreuth
WALTER Tigers Tübingen without a chance in 85:70 defeat against Bayreuth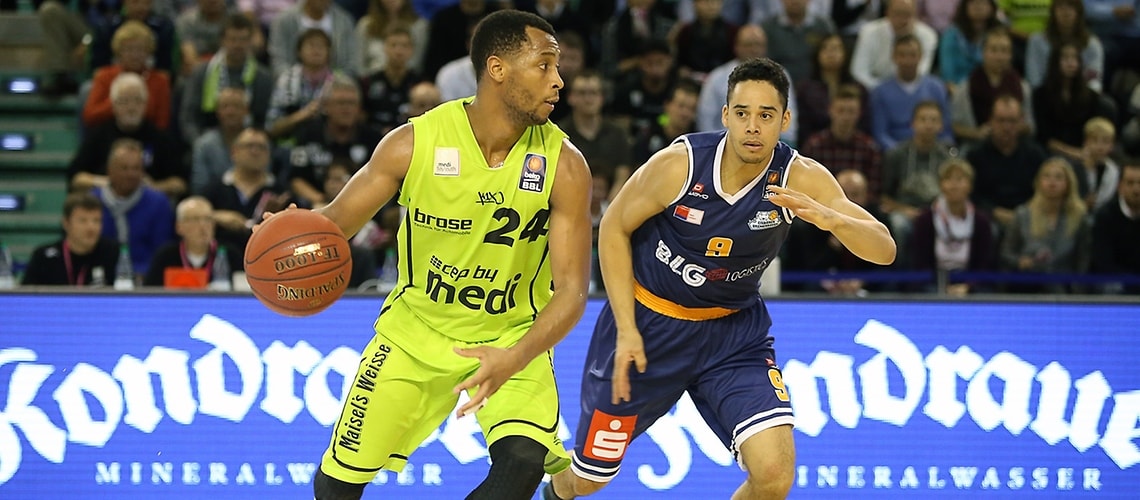 Bayreuth, 12-18.2014
First the commanding 85:70 (47:30) victory over WALTER Tigers Tübingen, in which all eleven Bayreuth players had time on court and scored, then the auctioning off of the medi Christmas shirts, which brought in more than 3,000 euros for the club's own youth section: what more could medi bayreuth have hoped for in its final game before Christmas?
The way Bayreuth put its rivals from Swabia in their place was especially impressive. A mix of selfless defense and in some cases attractive moves in offense brought the atmosphere to boiling point in the Oberfrankenhalle, which was again very well-filled with a crowd of 2,821.
Mike Koch also found hardly anything to criticize this time. "We played together as a team, had a lot of assists and the points were split pretty evenly among the players. We had the energy, ambition and will to win the game," said a wholly satisfied Bayreuth Head Coach after the game. The homogeneity he mentioned was also reflected on the scoreboard. Five medi players ended up in double digits – Brandon Bowman (15), Javon McCrea (13), Trevon Hughes (12), Bryan Bailey (11) and Lukas Palyza (10) – and all eleven Bayreuth players scored – including the just 18-year-old home-grown Dilhan Durant. He bagged the first points of his career in the German league with a free throw to make it 82:59 with 2:30 minutes left.
By that time the arena was already delirious. The only aspect which left anything to be desired from Bayreuth's point of view was the first three minutes, where the visitors took a 7:2 lead. Events then unfolded quickly: in the sixth minute, Brandon Bowman drained a shot from beyond the arc to make it 12:7 for the home side, and after ten minutes and a number of spectacular slam-dunks that lead had been stretched to 27:17. A three by Lukas Palyza in the 31st minute with the score at 72:44 gave medi its highest lead of the evening, an advantage that the second-string players commandingly played out.