Vila Real
WTCC: Luckiness in misfortune for Tiago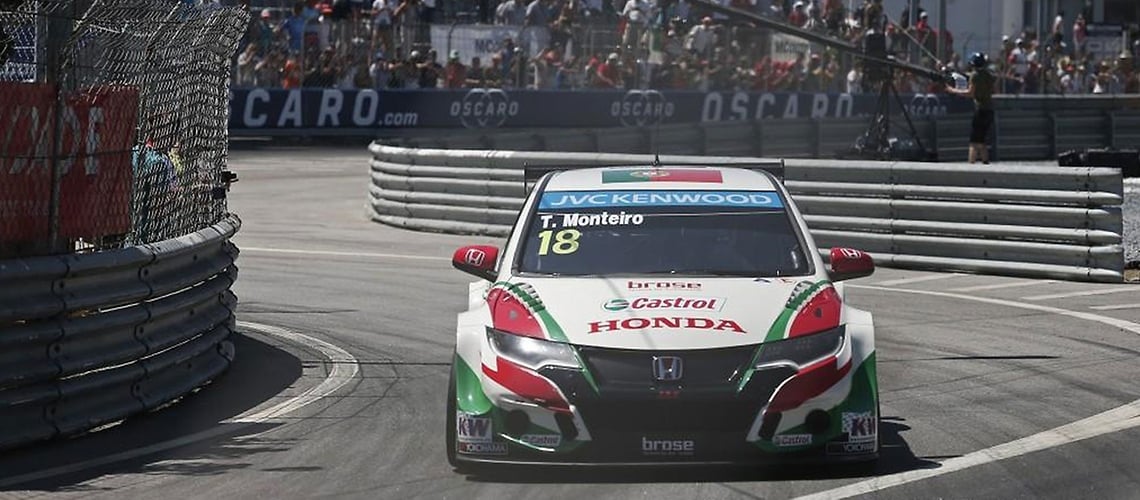 Vila Real, 07-12.2015
Tiago Monteiro was determined to put on a good showing in front of his home crowd in Vila Real, Portugal. However, the Honda pilot, who is sponsored by Brose, only came away with a fifth place in the first race on the eighth weekend of the World Touring Car Championship (WTCC). In the second race, Tiago wanted to make a couple of positions good right at the start. However, he got caught between two Ladas and was no longer able to avoid having an accident. He slammed into the side barrier and his race was over immediately. However, he fortunately did not suffer any serious injuries. "I'm OK. I've a bit of a headache and my foot got stuck between the pedals and is strained, but otherwise I'm fine," said Tiago after the race.
In resplendent sunshine and soaring temperatures, Tiago lined up in sixth on the grid in the WTCC premiere on the city circuit in Vila Real. As so often this season, he managed to get a flying start and gain one position right away. However, the 38-year-old also benefited from the starting difficulties of the Chevrolet pilot Hugo Valente from France, who had to retire a little later. Tiago subsequently held on to his fifth spot to capture ten points in the drivers' championship. Norbert Michelisz from Hungary, likewise in a Honda, came third behind the winner Jose-Maria Lopez (Citroën) from Argentina. Tiago's teammate Gabriele Tarquini finished fourth.
Tiago attacks immediately
Tiago started from fifth in the second race and attacked again right away. Since he saw that Jaap van Lagen and Nicky Catsburg, the two Lada pilots ahead of him, got off to a poor start, he wanted to slip by between the Dutch duo. But he didn't quite manage to. "I got a very good start. That was the problem," said a disillusioned Tiago. "I went for the gap between the two Ladas because they were slower off the line. Unfortunately they then started to move across in the same direction and I got caught in the middle. I had wheel-to-wheel contact with Jaap's car. That broke my wheel and I plowed into the barrier," was how Tiago described how the accident occurred from his perspective.
The ex-Formula 1 pilot explained why he attempted this maneuver on the first meters: "When you get a good start, you have to try to capitalize on it right away and overtake. That's the best option on a city circuit with many tight bends. It's just one of those things. You can't place the blame on any of the drivers." He was nevertheless disappointed. "Of course, it's very frustrating. I believed I'd have had the chance to capture a place on the rostrum if I'd been able to pass at the start," said Tiago: "That would have crowned my weekend and I would have also been able to show my thanks to the many people who gave me so much support over the entire week."
However, Tiago came away with positive aspects from the chaotic second race, which had to be aborted prematurely after a further accident: "Everyone's fine and the event was magnificent. The second race was very eventful." After 16 of the 24 races, Tiago is seventh in the drivers' championship. "There are still four weekends of racing to go and still lots of points up for grabs. We'll keep on attacking," promised Tiago. However, first comes a two-month summer break, before the WTCC resumes on September 13 with races 17 and 18 in Motegi, Japan. We wish Tiago a good recovery and then every success again for the next weekend of racing.