Losail
WTCC: Tiago ends season by getting into the points twice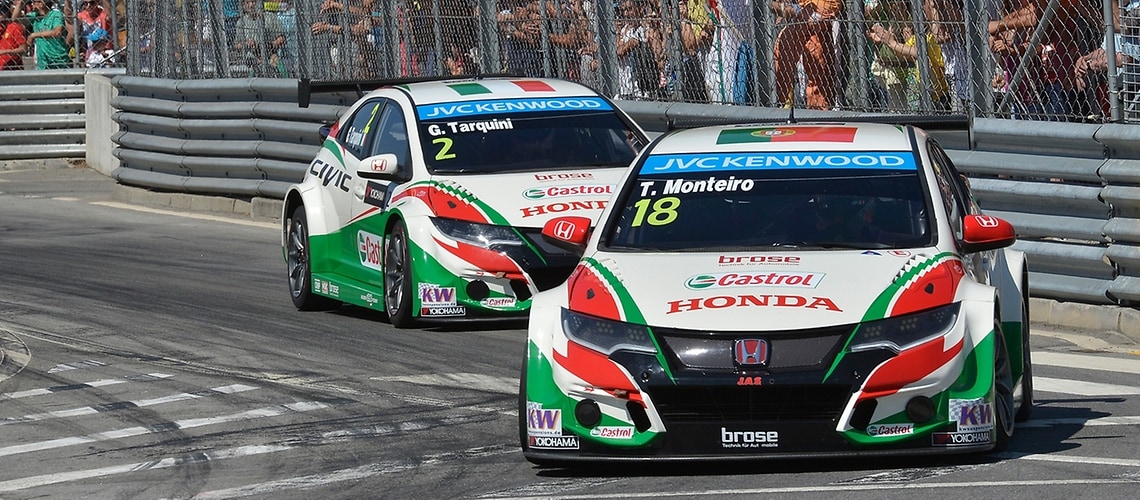 Losail, 11-27.2015
Tiago Monteiro celebrated a successful finale to the season in the World Touring Car Championship (WTCC) in Qatar. The Portuguese driver, who is sponsored by Brose, finished in the top ten twice (eighth and ninth) to finish 2015 as seventh overall with 177 points. That means he has been among the top ten in the driver's championship each year since 2009 – an impressive series. "All in all, we made steady advances this year," said Tiago. "Despite some setbacks, we were able to capture three victories on the track, so we can be happy with the season."
After his disappointment on the penultimate weekend of racing in Thailand, when his win in the second race was annulled, Tiago wanted to go into the winter break with a feeling of success under his belt. And he managed to do that. In the first race to be held under floodlights in the history of the WTCC, the ex-Formula 1 pilot started from eleventh on the grid. As in so many previous races, however, he managed to move up the field very soon after the start.
Monteiro improves in both races
In a race that passed off without any major incidents over its 15 laps, Tiago's overtaking maneuvers were some of the highlights. After battling his way through the pack, Monteiro finished in eighth in the race, which was won by the old and new world champion Jose-Maria Lopez (Citroen), to pick up four more points in the rankings. His Honda teammate Gabriele Tarquini left the track after a light collision in the first corner and found himself at the back of the field. All the same, the Italian pilot was able to work his way up into 16th by the end.
Tiago also started from eleventh in the second race. This time, too, he demonstrated his qualities over the first meters and moved up in the field. The race was neutralized after a collision involving three pilots. The pack drove behind the safety car for the next five laps until the track was cleaned and the caution period was lifted. Tiago then put up a long and brilliant defense under attack by Lopez, but ultimately had to let the world champion pass him. Nevertheless, he was able to improve on his position and crossed the line in ninth.
"It was a constant up and down here, like the season as a whole," summed up Tiago. "We occasionally didn't have the necessary luck, like in Vila Real or Le Castellet. Then things went really well on other tracks. That's racing. Qualifying didn't go according to plan this weekend. But we managed to get into the points in both races. That was important." This was Monteiro's ninth season in the World Touring Car Championship. He finished seventh overall, his second-best result. Our warmest congratulations go to him.