Shanghai
WTCC: Tiago fights his way to valuable points in China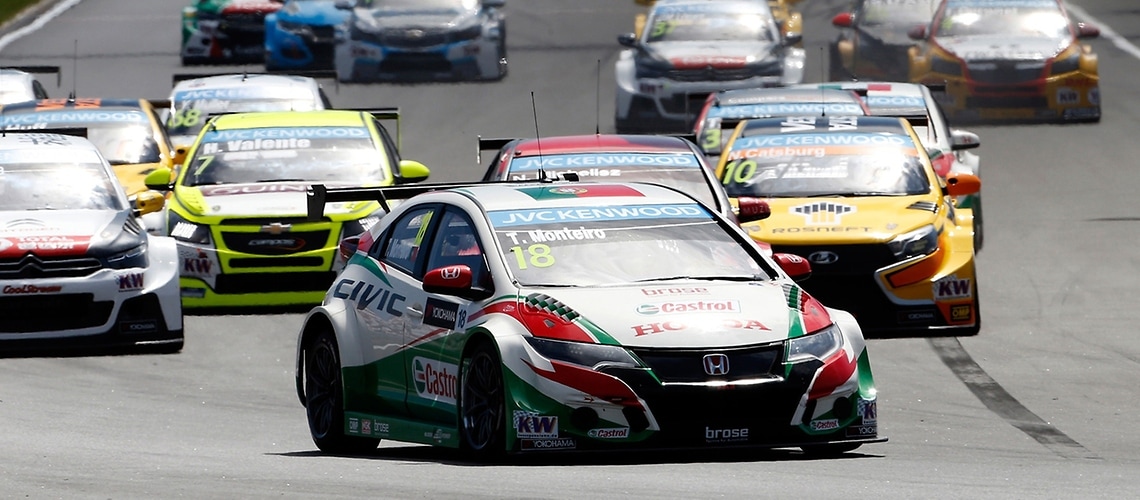 Shanghai, 09-27.2015
After his victory in Honda's home race in Motegi, Japan, Tiago Monteiro was not able to fulfill his hopes of capturing a place on the rostrum in Shanghai. Nevertheless, the Portuguese pilot, who is sponsored by Brose, could still be satisfied with eighth and sixth places on the tenth weekend of racing in the World Touring Car Championship. "We knew it would be a difficult weekend for us, as you could see from our result in qualifying. But as always the Honda Civic proved to be really consistent in race pace," said Tiago. "With a bit of luck, I was able to finish in the points both times despite my poor position on the grid."
The pilots were initially faced with an unusual challenge on the Shanghai International Circuit. Since part of the crash barrier had to be repaired for hours after an accident in a support event on the Saturday, qualifying in the WTCC was postponed until the Sunday morning. That meant the pilots had to come out onto the track three times on the Sunday. Things initially did not go as Tiago would have wanted. He was eliminated in the first round of qualifying and so had to line up at the back of the grid in both races.
Successful effort to catch up
Yet that did not dampen his motivation – on the contrary. When the first race started, the ex-Formula 1 pilot demonstrated his customary aggressiveness and was soon involved in tough battles for position. Right in the second bend, his Honda received a knock from behind, damaging the rear suspension. Tiago was nevertheless able to continue the race and even ended up in the points, crossing the line in eighth thanks to prudent driving and the fact that some rivals were forced to withdraw. That meant he climbed eight places in the race, which was won by Jose-Maria Lopez (Citroen).
His effort to catch up in the second race was just as successful, although it was far less chaotic than the first one. Starting from 13th, the 39-year-old quickly moved up a number of spots and was again heading for a place among the points. He finally took the checkered flag in an outstanding sixth position. His teammate Gabriele Tarquini did even better. The Italian driver led for a long time and was only passed by Yvan Muller (Citroen). In the closing phase, he produced a thrilling tussle for second with championship leader Lopez, who he was able to keep at bay until the end.
Tiago Monteiro picked up 14 points in the drivers' championship thanks to his strong showing in both races. He remains in seventh in the overall standings with 165 points, but still has the chance to capture fourth spot going into the final two weekends of racing. "I'm happy that the races allowed us to discover new areas where we can improve the car," he said. The penultimate weekend of racing is in Thailand on October 31 and November 1. We wish Tiago every success.