Termas de Rio Hondo
WTCC: Tiago gets off to a rousing start to the new season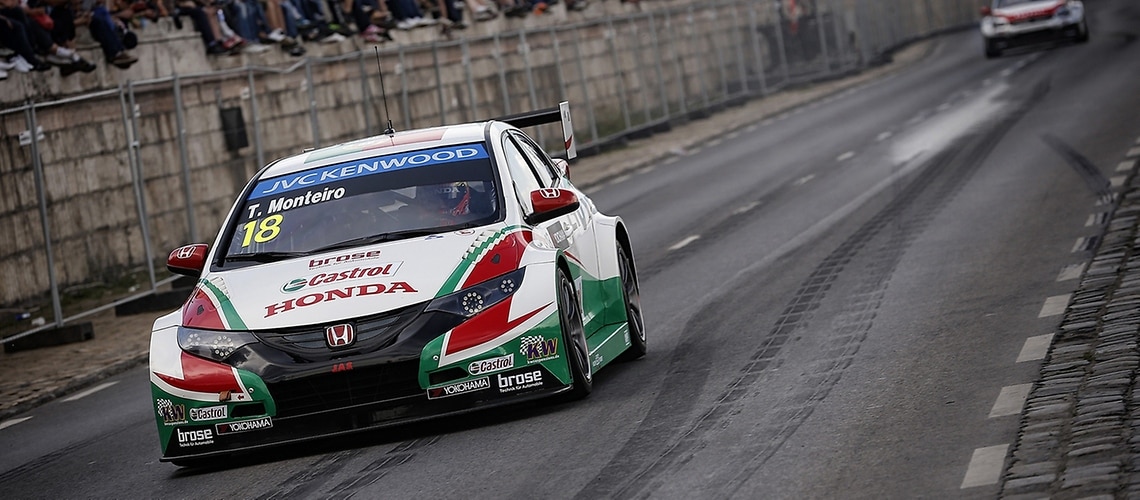 Termas de Rio Hondo, 03-08.2015
Tiago Monteiro has got off to a magnificent start to the new season in the World Touring Car Championship (WTCC). The Portuguese pilot, who is sponsored by Brose, managed to capture a place on the rostrum in Termas de Rio Hondo, Argentina, and pick up a lot of points for the drivers' championship. He finished the first race in fourth and in the second climbed through the field to take the checkered flag in third.
Even before the start of the new season, the Honda pilot had expressed optimism and spoken of "considerable steps forward." He added that the motivation in his Honda Motorsport team had never been so great as at the start of this year. The first two races in the Argentinean heat confirmed the optimism of Tiago and his team members. "We're clearly closer to the competition than last year. We've done well and our positive results are the deserved reward for all the team's hard work," he said at the press conference after the race.
Monteiro edges his way up through the field
In both races, the ex-Formula 1 pilot only came second best to the Citröen pilots headed by the previous year's winner Jose Maria Lopez. The local hero won the first race ahead of the two French drivers Yvan Muller und Sebastien Loeb. However, Tiago Monteiro crossed the line after them, meaning the 38-year old, who started the race in fifth, was able to make one place good over the 13 laps.
Tiago started from sixth on the grid in the second race, Whereas his Italian teammate Gabriele Tarquini was able to work his way into third by the second lap, Tiago was bogged down a little in the pack behind. However, he began a great effort to catch up after a safety car phase. By the twelfth lap, he had fought his way up into fifth and then moved into fourth a little later. And on the next lap, Monteiro even picked off his teammate Tarquini by overtaking him. As a result, he was on course for a place on the podium and managed to hold onto it.
Once again, he was only beaten by the Citröen pilots Loeb and Lopez. But that does not have to stay that way. "We'll keep fighting and put pressure on them wherever we can," said Tiago in Argentina, throwing down a challenge to the rivals ahead of him. He is also pinning hopes to coming updates to the car which are expected to make him even more competitive in future. At any rate, Tiago has already laid a good foundation for a successful season. By finishing third and fourth, he had amassed a haul of 28 points in the world championship standings on the very first weekend of racing and is third overall. The next two races are in Marrakesh on April 19.