Hagen
Basketball medi Bayreuth captures first win on the road this season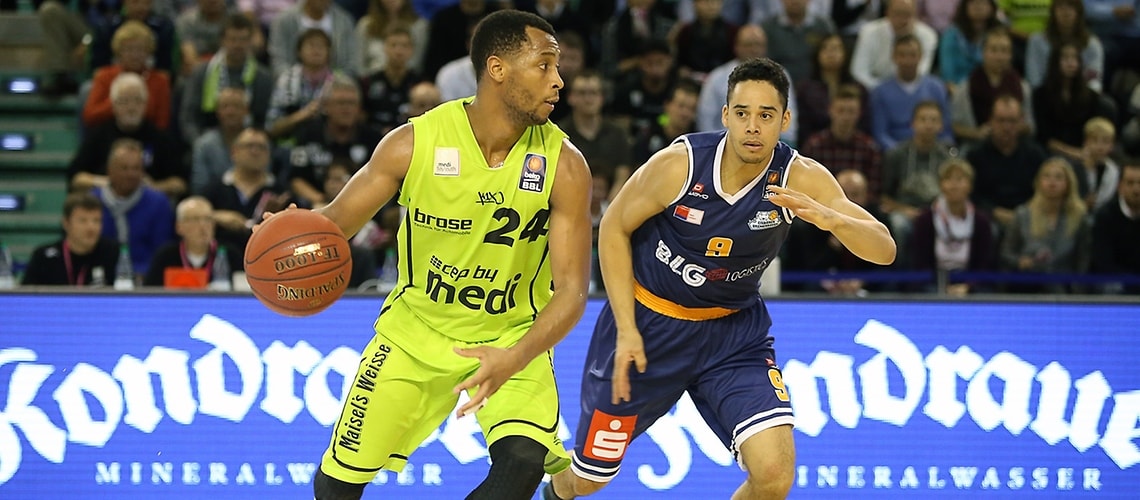 Hagen, 11-28-2014
medi Bayreuth has chalked up its first away win of the German league season, displaying team spirit, morale and strong nerves to conquer Phoenix Hagen. The reward was a tough-fought 79:78 (45:37) victory in front of 3,005 spectators in Hagen's ENERVIE Arena. The match winner for the team of Head Coach Mike Koch was a player who quite a few people had already written off: Ronnie Burrell (14 points) gave his side a crucial lead with a bucket from beyond the arc with 43 seconds left on the clock.
"I'm delighted we've won here," said a visibly relieved Michael Koch after his team has clipped the Phoenix' wings. "It was exciting to the end and we had luck on our side." Although Hagen only led once, the game was up for grabs for a long time – and at the end the team of Head Coach Ingo Freyer even scented the chance of victory. However, Urule Igbavboa did not manage to get in a shot at Bayreuth's basket shortly before the end, also because David Brembly and Bryan Bailey were wide awake to save the day and crucially disrupted Igbavboa.
It was then Ronnie Burrell who clinched the game with 43 seconds to go. The important attack was played out with great focus and the ball found its way via Bryan Bailey to the visitor's free-standing power forward. Burrell had space, shot – and drained a vital bucket to make it 79:76.
Michael Koch commented: "We prepared well for Hagen and played very well, especially in the first half. We lost our thread a little after the break. The game was then characterized more by fight than by tactics. That was perhaps a little negative on our part. However, we had been ahead for as good as all of the game and perhaps should have managed to open up a decisive gap."