Coburg
BBC retakes top spot with home win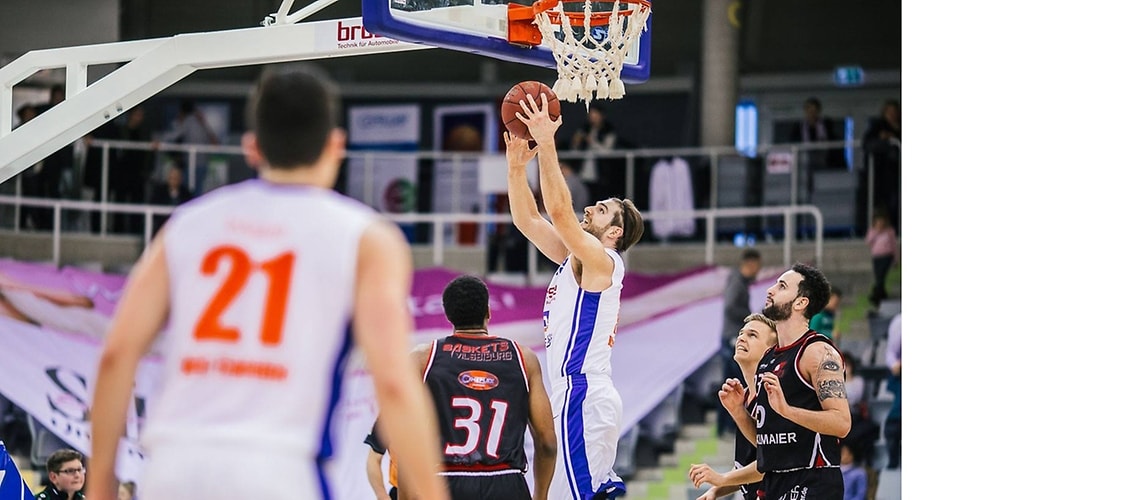 Coburg, 02-05-2017
A great Sunday afternoon crowd of 1,100 saw BBC COBURG eke out an 85-79 home victory over 5th-placed Baskets Vilsbiburg. With a 15-2 record, the Upper Franconians are now back atop the 1. Regionalliga standings.
The hosts jumped out to an early 11-0 lead and a severely short-handed Vilsbiburg team – star center Lubos Novy and sharpshooting wing Michael Mayr were out due to illness - seemed in over their heads in the first couple of minutes. Then, however, led by Americans John Boyer (27 points, 8 rebounds, 6 steals) and Kendall Timmons (24 pts, 11 reb, 6 stl), the guests mounted a strong comeback and tied the game before half-time. The home team was plagued by uncharacteristic mental lapses, turnovers and breakdowns on defense throughout the contest but still never let Vilsbiburg take a substantial lead.
Towards the end, the Baskets' thin rotation was no longer able to withstand the Coburg onslaught. A corner three by wing Steffen Walde (14 points, 5 assists) clinched victory for the league leaders.
BBC forward Fabian Franke led the way with a tremendous 36-point, 12-rebound outing, Jordan Burris added 16 points and 11 caroms.