Berlin
Beko German Basketball League: Brose Baskets top of the table in their own right after beating Alba Berlin on the road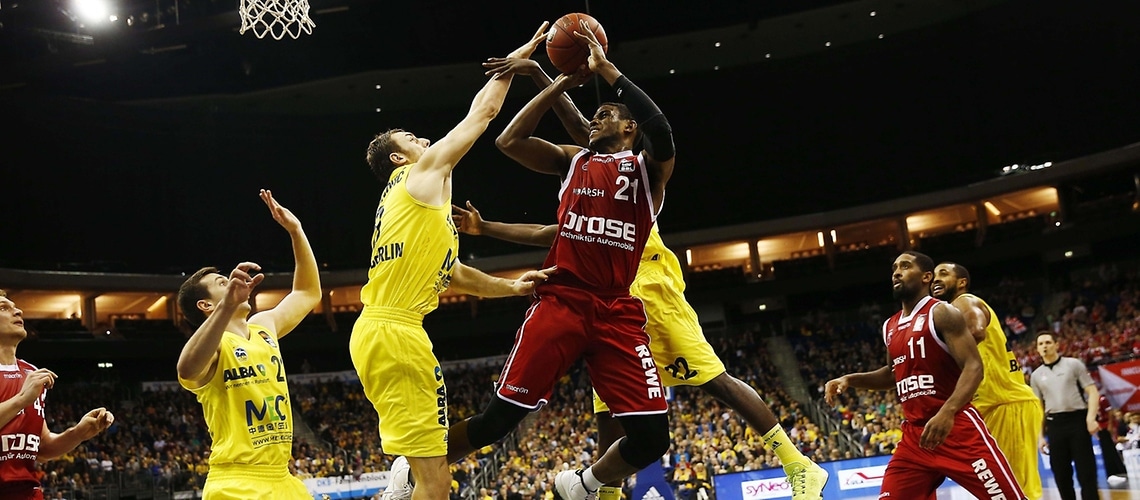 Berlin, 12-13-2015
On paper, the duel between the two arch-rivals was that between second-placed Alba Berlin and the team it was level on points with, top-of-the-table Brose Baskets. Yet in the big tussle to see who would go top of the Beko German Basketball League in the Mercedes Benz Arena in Berlin, there was a gulf separating the two teams for at least thirty out of the forty minutes. The German champions from Bamberg did not trail a single time, led by 51:34 at half-time and comfortably played out an 87:74 away win.
From the outset, Brose Baskets dictated the top game with their aggressive defending and kept on forcing the home side to take difficult shots. Although the players of Head Coach Andrea Trinchieri found it difficult to get into their rhythm in offense in the first five minutes, Bamberg always held on to its narrow lead (12:10). However, when the ball began to move more fluently through Bamberg's ranks, the German champs produced a run of 8 points without reply on the last four attacks in the first period to take a comfortable 20:10 lead at its end. To the jubilation and cheers of the around 180 Bamberg fans who had made the journey, Trinchieri's team even stepped up a gear in offense: top scorer Brad Wanamaker (18 points) and his teammates kept on unlocking Alba's defense, going into the game the league's best in terms of conceded points, with textbook team basketball. And then Brose Baskets often stood free at the arc and drained their buckets from outside. Nicolo Melli, Nikos Zisis and Patrick Heckmann made theirs, Darius Miller and Janis Strelnieks added two each – thanks to seven successful threes out of ten attempts in the first half, Brose Baskets took a commanding 51:34 lead in with them.
Alba Berlin came out better and produced a show of defiance – with more venomous defending, the home side provoked Trinchieri's team into conceding nine out of its total of fourteen turnovers in the third period. Alba reduced the gap to 54:63 going into the final quarter. However, the former Berlin player and new Bamberg signing Leon Radosevic stretched the lead back into double digits with seven out of his total of nine points and, with his slam-dunk plus bonus free throw to make it 70:56, quashed the home side's final attempt to stage a comeback. In a space of one week, Brose Baskets have put their two main rivals in the Beko German Basketball League, FC Bayern Munich and Alba Berlin, in their place.
Andrea Trinchieri commented: "First I'd like to expressly thank Alba Berlin. We've been here since Friday and experienced hospitality of a superb level. That's not usual in this shape or form and it shows what a first-class organization Alba Berlin is. We wanted to produce our best game against this tough opponent and we managed that, especially in the first 20 minutes. We controlled the game very well all in all and Taylor and Cherry defended well, which was a key to our victory. This important win should give us a push for the upcoming games."
Brose Baskets now face their final group game in the Euroleague on Thursday, December 17, 2015, when Dinamo Banco di Sardegna Sassari visit the Brose Arena. The Italian side has not been able to win any of its nine games thus far. Nevertheless, only a victory counts for Brose Baskets, who are certain to finish third in the group and advance to the Top 16.
For more information visit www.brosebaskets.de, www.euroleague.net and www.beko-bbl.de.