München
Beko German Basketball League playoffs: Brose Baskets fail to convert their match ball in the Audi Dome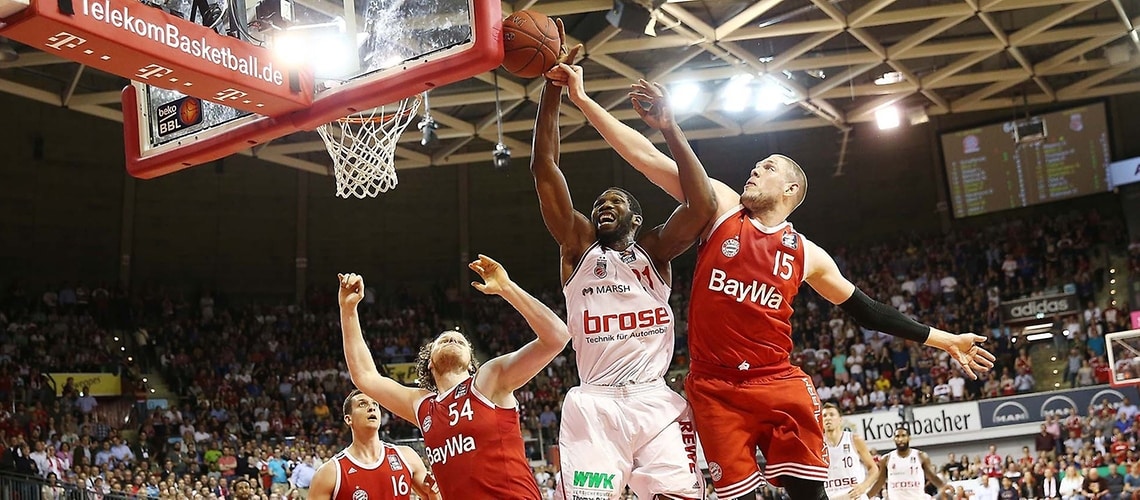 München, 06-17-2015
Brose Baskets was not able to use their first match ball against FC Bayern Munich in the Audi Dome: the title-holders won 83:73 to tie the final series at 2:2. Bamberg only led temporarily in the first period, after which it almost constantly trailed by a double-digit margin. The championship will now be decided in the Brose Arena on Sunday (tip-off: 3 p.m.)
After a fiercely contested start characterized by physical play in defense, the team of Head Coach Andrea Trinchieri took a lead after trailing 11:13 thanks to free throws by Daniel Theis and two buckets from beyond the arc by Darius Miller and Dawan Robinson and was able to open up a 19:13 gap with a run of 8 points without reply. However, Bayern then changed its defensive tactics, constantly alternating between full-court press and zone defense, and also singled out Bamberg's playmaker Brad Wanamaker for special attention. And that discomforted Bamberg's captain, who scored all his points in the first five minutes and then missed all his shots. The visitors rarely found an antidote to the home side's defense, as result of which Bayern caught up by the end of the period and then surged ahead midway through the second quarter with a 13:0 run (41:26 in the 17th minute). Janis Strelnieks and Darius Miller put up resistance and reduced the deficit to 45:34 at the break.
When Bamberg conceded three turnovers in succession at the start of the second half and slipped further behind (49:34), Andrea Trinchieri soon called a timeout. Darius Miller (21 points) then clinically drained two threes, as Bamberg got back to within nine (51:42). However, Bayern's captain Bryce Taylor struck back coolly and buried three buckets from beyond the arc to put the home side 65:51 in front going into the final period. John Bryant even increased the home side's lead to 68:51. Bamberg's strongest players Darius Miller and top scorer Janis Strelnieks (22 point) tried to avert defeat with four threes, but Bamberg was not able to close the gap to more than ten points at the end.
Andrea Trinchieri commented: "Bayern played better today and had more energy. We lacked the necessary patience in the second period. We wanted to force things too much. We weren't good enough to win. That's not enough if you want to dethrone the reigning champions. It's as simple as that. We were miles away from being able to win a final game in Munich."
The Brose Arena now hosts a showdown for the title between Brose Baskets and holders FC Bayern Munich in game five on Sunday, June 21, 2015. The winner of the game, which tips off at 3 p.m., will be the 2015 German champs.
For more information visit www.brosebaskets.de and www.beko-bbl.de.