Wuppertal
BHC pulls off its next shock against Flensburg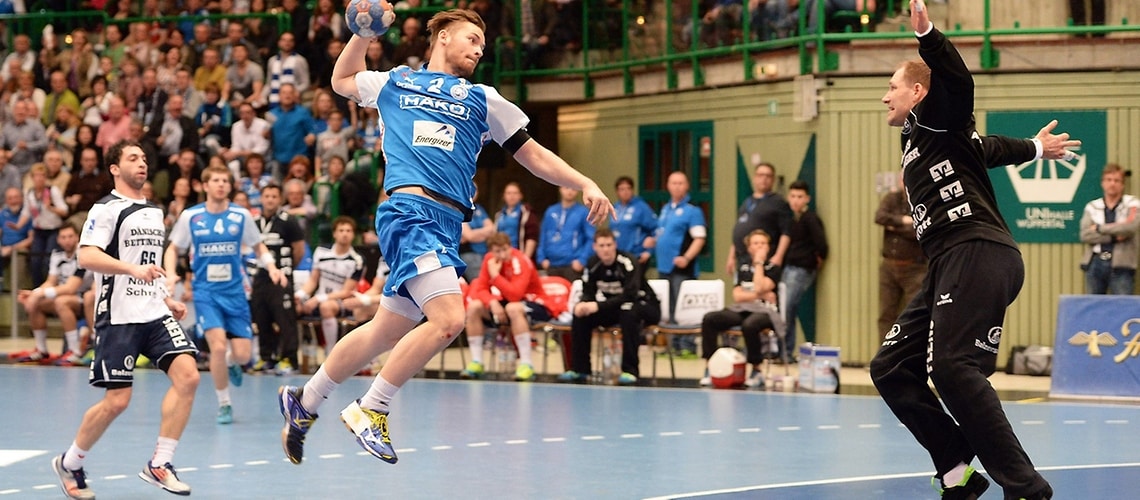 Wuppertal, 03-29-2015
Wounded lions are the most dangerous, so they say – and SG Flensburg-Handewitt, the reigning VELUX EHF Champions League title holders, got a dose of what that feels like in front of 3,087 spectators in Wuppertal's sold-out University Hall on Saturday evening when Bergische Lions pulled off a sensational 36:31 (14:13) victory.
The visitors were awarded their first seven-meter right in the opening minute, but Björgvin Pall Gustavsson unfurled his penalty-killing skills and saved spectacularly against Lasse Svan. The Lions went done the other end and took a 1:0 lead through Fabian Gutbrod, after which Gustavsson produced an impressive stop, this time against Lars Kaufmann. The Lions were unperturbed and even stretched their lead to three goals in the opening quarter of an hour – also because the team of Head Coach Ljubomir Vranjes had great problems coping with the BHC's extremely offensive and aggressive covering. 5:3 in the 10th minute, 7:4 in the 11th and 9:6 in the 14th when Christian Hoße ran in after a wonderful pass by Viktor Szilagyi to chalk up what was already his fourth goal – the Lions kept on pulling away goal by goal, forcing the visitors to call a timeout with the score at 10:7 in the 17th minute.
Flensburg got off to the better start in the second half and, after BHC hit the post, not only equalized, but then took the lead for the first time with a goal by Lasse Van (14:15). Yet the Lions fought selflessly and kept on hitting back right away. They went ahead after a time penalty against Fabian Gutbrod with a lot of passion and the vociferous support of the 3,087 crowd in the sold-out Lion's Den – first through Kristian Nippes (17:16) when short-handed and then with a goal from Christian Hoße (18:16), who produced a magnificent performance over the whole sixty minutes and finished up with nine goals. That was the springboard for the third shock result against one of the top teams in the DKB German Handball League. Ljubomir Vranjes called another timeout and, after replacing Andersson in goal with Kevin Moeller, tried one last fling in an attempt to stop the BHC by reverting to open defense. Yet the Lions survived the pressure unscathed and ran out winners by 36:31 to record their first-ever victory against SG Flensburg-Handewitt and defeat the third top-class team at home this season following Rhine-Neckar Lions and Berlin Foxes.