Hockenheim
Brose at Formula Student Germany at Hockenheimring
Hockenheim, 08-14-2016
Roaring engines and squealing tires: the Formula Student Germany (FSG) was held at Hockenheimring from 9 to 14 August. University students from around the world came together for the competition to compare vehicles they constructed themselves in a Formula 1 atmosphere and to present these to industry and business experts. It was not about finding the fastest car – but the team with the best overall package in terms of construction and on-track performance, business plan and costing. A total of 111 teams from more than 25 countries and almost 4,000 spectators came to Hockenheimring for the event.
An ideal platform to showcase Brose as an attractive employer and to address potential young recruits. "The students showed great interest in our company, the products on show as well as in our job openings. At the stand, they asked us about local and international internships, work placements, degree thesis topics and direct entry opportunities – mostly in technical but also in commercial vocations," reported Claudia Desselmann from HR marketing.
Driving safety training with Christian Engelhart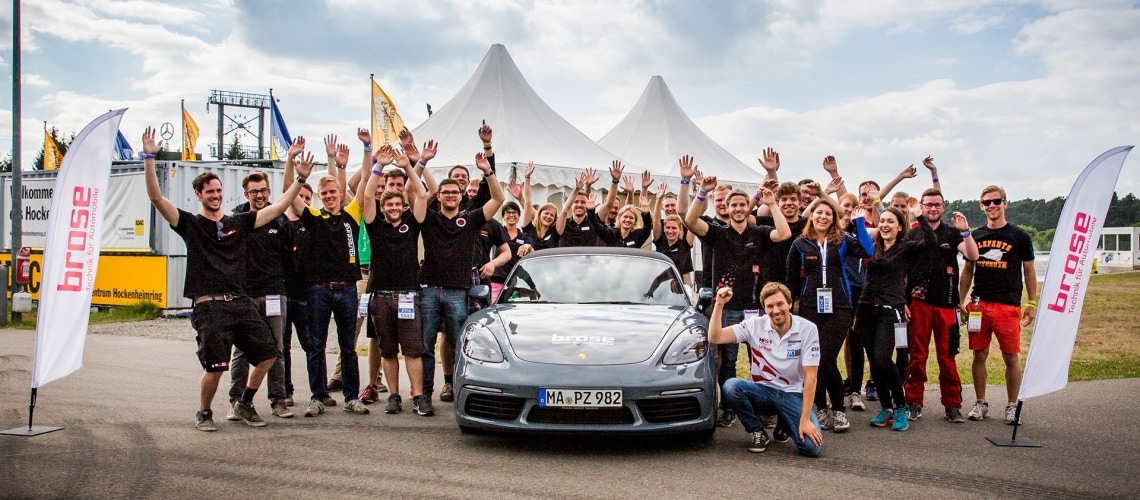 All of the students who visited the Brose stand and participated in our competition entered a prize draw for driving safety training with racing driver Christian Engelhart, who we have sponsored since 2012. On the Friday of the FSG week, he showed the 20 winners what a Porsche 718 Boxster can do on the race track. In the driving safety training, the participants then tested the handling and limits of their vehicles themselves in different modules – from a slalom course to a wet circuit track. The students experienced spectacular driving maneuvers and even more thrills as passengers in the "drift taxi".
Coburg University of Applied Sciences team in sixth place
The Coburg Automotive Team (C.A.T.), which our company supports with financial and in-kind donations as well as expertise, took sixth place overall out of a total of 73 teams with 751 points in the internal combustion engine category (Formula Student Combustion). This puts them in 26th place out of a total of 528 teams in the current world rankings.