Tel Aviv
Brose Bamberg beats Maccabi Tel Aviv by the surprisingly wide margin of 85:70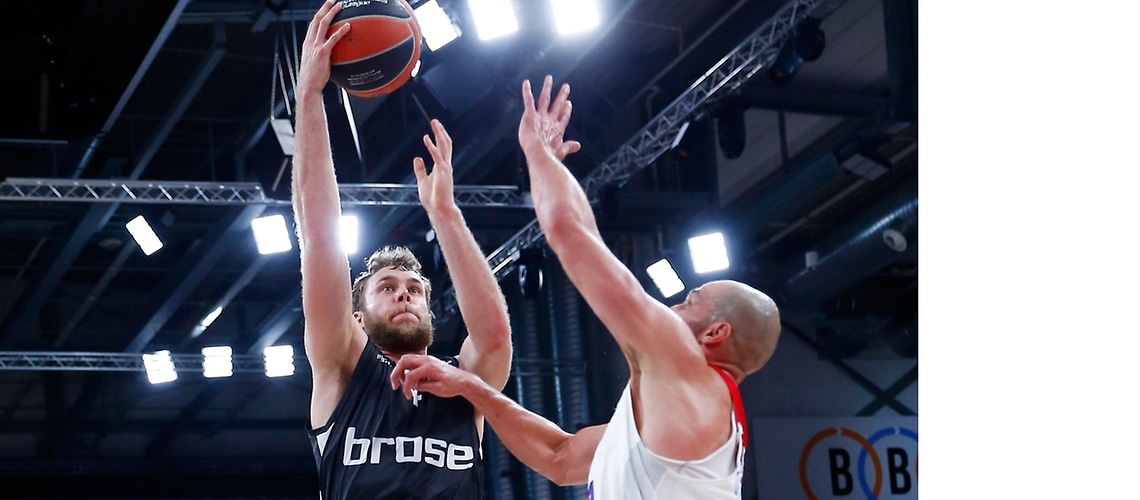 Tel Aviv, 12-07-2016
At long, long last: the first away win! German champions Brose Bamberg captured their first victory in the Euroleague after five painful defeats in a row – and it was fully deserved. Thanks to a highly focused performance, the team of Head Coach Andrea Trinchieri chalked up a surprisingly clear 85:70 win against the 2014 Euroleague champions Maccabi Tel Aviv in front of 11,000 spectators in the Menora Mivtachim Arena.
Trinchieri was without Elias Harris through a thigh injury, but the German champs nevertheless got off to a good start. Nicolo Melli scored a bucket from beyond the arc and a lay-up and Leon Radosevic added a slam-dunk to put the visitors 7:0 in front. Yet Maccabi, driven to frustration by Bamberg's strong defense at the start, clawed its way back and briefly snatched the lead (12:14). Janis Strelnieks and Maodo Lo recaptured it for their side with two further threes, then Lo added a buzzer-beater to make it 20:16 at the end of the period.
The German champions also turned in a strong display in the second quarter. Daniel Theis and Patrick Heckmann each added five points with lay-ups and three-pointers, while Nicolo Melli drained one out of his total of six threes (out of eight attempts!) to help his team produce a 13:2 run and take a clear 33:18 lead. Darius Miller (12 points) then scored three times in three successive attacks to make it 40:23 for Bamberg, as the 11,000 Israeli spectators began to boo their side vociferously. A bucket from downtown by Miller and a lay-up from Melli meant Bamberg went in at half-time 46:30 ahead.
The German league leaders were able to stretch the gap to 60:39 by midway through the third period thanks to the outstanding Nicolo Melli's third and fourth three-pointers, after which the Israeli club staged a comeback. In particular Sonny Weems and Andrew Goudelock capitalized on a number of turnovers to add quick points and help the home side to a 13:2 run, with the result that Bamberg went into the final period "only" leading by ten (62:52). And although Maccabi began the last ten minutes with a lay-up, Trinchieri's team struck back. First the strong Leon Radosevic (11 points) made it 66:56, then an unsporting foul was committed on Nicolo Melli as he completed a lay-up, meaning a bonus free throw for Melli and possession for Bamberg. Darius Miller capitalized on that with a shot from close distance to enable his side to add five points within 15 seconds and move 71:56 in front. Bamberg now securely defended its lead – Janis Strelnieks and Fabien Causeur exploited gaps in the home side's defense and were repeatedly able to hit back after Maccabi had scored. Nicolo Melli, Bamberg's most valuable player on the evening, drained two more threes in the final spell of the game: The Italian is currently in outstanding form in the Euroleague and in Tel Aviv he again beat his career bests (26 points the previous week against Moscow and 12 rebounds three weeks ago against Vitoria): 27 points and 14 rebounds.
Andrea Trinchieri commented: "We played a very clever game and were very efficient. We came to Tel Aviv on the back of five very painful defeats in a row, but when you have a team together, these wonderful things can happen. I have a team and we played like a team. Everyone was really important. Of course, Nicolo had a great game. But all the others, even if they only played for a minute, gave us something. We now travel home with a historic victory under our belt. I'm extremely happy for my players."
Brose Bamberg now faces a top-of-the-table clash in the easyCredit German Basketball League on Sunday, December 11, 2016. Last season's finalists and the only two undefeated teams in the league so far – second-placed ratiopharm Ulm and leaders Brose Bamberg – meet in the ratiopharm Arena in a game that tips off at 6 p.m.