Bamberg
Brose Bamberg beats Vitoria and loses to Alba Berlin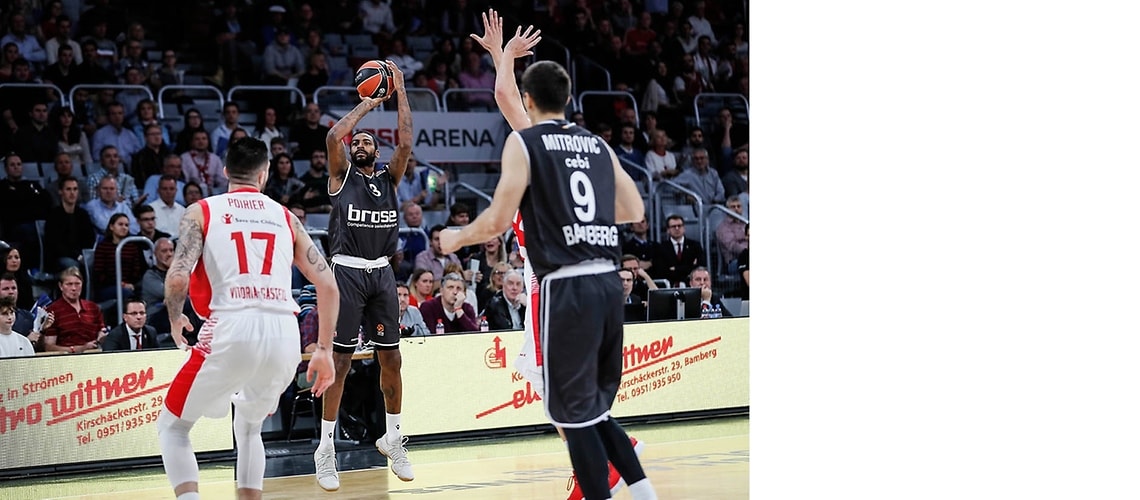 Bamberg, 10-29-2017
Three energy-sapping games in five days are one too many. After two magnificent victories in the Euroleague against Malaga and Baskonia Vitoria, the German champions Brose Bamberg lacked strength and so suffered a 75:77 home defeat against Alba Berlin on Sunday.
The top scorer in both games on the weekend was Bamberg's new signing Dorell Wright. The 31-year-old power forward, who will fill that position as a replacement for Elias Harris (who is out with injury for a long time) and Quincy Miller (who has been dropped from the squad), only just arrived in Bamberg on Thursday. Yet with his eleven years in the NBA, where he played 549 games for the Golden State Warriors and Miami Heat, the American has so much experience and individual class that he was put into action right away by Head Coach Andrea Trinchieri in the encounter against Baskonia Vitoria Gasteiz on Friday. And Wright got off to a commanding start: Coming on court with his side trailing 10:17, the 31-year-old drained a three plus a bonus free throw right away. That spurred Brose into action, and Lucca Staiger subsequently buried three shots from downtown as his team went in at half-time leading by 35:32. Apart from a short spell in the third period when the visitors took the lead once (47:45), Trinchieri's team showed hardly any weaknesses in the fiercely contested game. Lucca Staiger put the home side 60:51 ahead after the third quarter with his fourth bucket from beyond the arc. Vitoria was no longer able to catch up, which was also due to Dorell Wright, who bagged five out of his 13 points in the final period to finish as top scorer and proved to be a true rim protector by producing four blocks under the basket.
In the encounter against Alba Berlin, Trinchieri rested Augustine Rubit and Daniel Hackett, both of whom had shown stronger form recently, while the new captain Nikos Zisis returned after recovering from a bout of flu. Bamberg dominated the game against Alba Berlin for three periods, in particular producing its best display of the season so far in defense. Brose went in at hall-time leading by 42:33, also because Alba was unable to break through its defense. Bamberg also retained the lead in the third quarter – when Alba caught up briefly, European champion Ali Nikolic struck back with steals and seven of his eleven points to give Bamberg its highest lead. Yet Trinchieri's team then suffered a slump. Numerous mistakes crept into its play and Alba exploited them immediately. Despite threes by Bryce Taylor and Dorell Wright, Berlin led 71:66 shortly before the end. Top scorer Dorell Wright cut the deficit to 75:76 with 18 seconds left on the clock. Alba only made one free throw and, with the score at 75:77, Bamberg had the chance to win on the last attack, but playmaker Maodo Lo's attempt at a tough three missed the mark.