Piraeus/Vechta
Brose Bamberg loses narrowly in Piraeus and strolls to victory in Vechta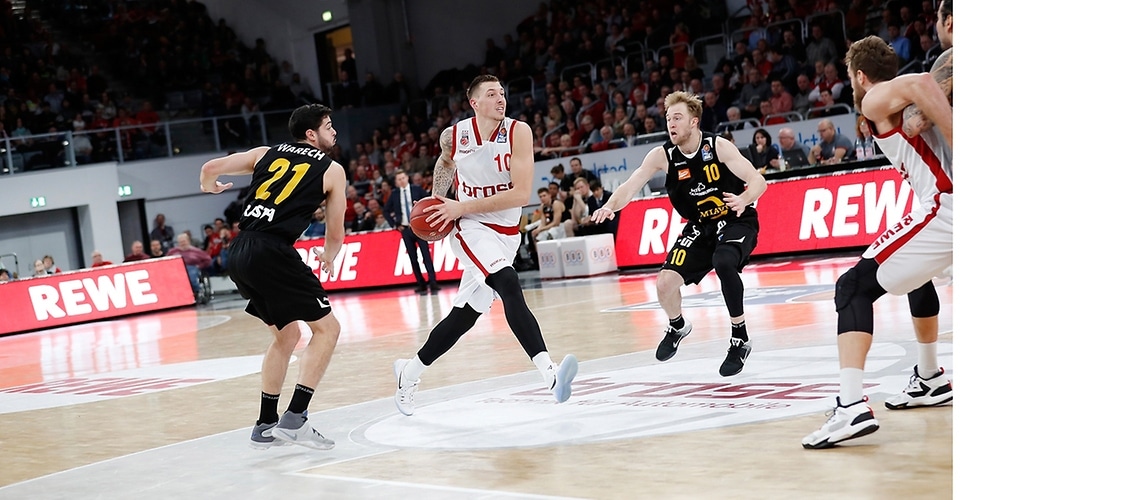 Piraeus/Vechta, 01-29-2017
Brose Bamberg lost by 77:83 on the road at Olympiacos Piraeus on Friday evening and so unfortunately concluded its string of tough encounters against the top three teams in the table – CSKA Moscow, Real Madrid and Olympiacos – with three defeats. As soon as the game was over, the team of Head Coach Andrea Trinchieri set off for Northern Germany for its German league game at bottom-placed Rasta Vechta – and chalked up a comfortable 96:68 win.
Whereas Bamberg got off to an 11:0 start and held on to its lead throughout the 40 minutes in its game at home against Olympiacos Piraeus, its "favorite opponent in the Euroleague" (Bamberg's record against the Greek club going into the encounter was four victories and just one defeat), the reverse was true just two days after the strength-sapping tussle against Real Madrid: Olympiacos quickly opened up an 11:3 gap, defended aggressively and did not give the visitors space or the opportunity to make good shots. The German champions trailed by 13:24 at the end of the period, while in the second quarter Olympiacos was not able to capitalize on the seven missed shots from beyond the arc and seven turnovers conceded by Trinchieri's team, with the result that Bamberger was "only" 32:41 behind at the break. Midway through the third period, third-placed Piraeus stretched the gap to 34:49, then Janis Strelnieks drained Bamberg's first three of the game. Bamberg's defense was now finally on top of things and Strelnieks (12 points), Zisis (13) and top scorer Melli (14) exploited stops in defense to launch fast attacks and score from downtown. After a further three by Darius Miller (13 points), Bamberg had suddenly closed the deficit to 69:71 with four minutes to go. However, Olympiacos' center Khem Birch shattered Bamberg's hopes to pull off a shock by snapping up three offensive rebounds to score at the second attempt. The game ended 77:83, meaning Brose Bamberg is now three wins away from a playoff berth.
Right after the end of the encounter in Piraeus, Bamberg flew to Paderborn and, on Saturday evening, most of the team traveled immediately by bus to the German league game against bottom-of-the-table Rasta Vechta. However, old-hands Nikos Zisis, Vladimir Veremeenko and Fabien Causeur flew back to Bamberg, since Trinchieri wanted to rest them against the club from Lower Saxony. Nevertheless, Bamberg did not give the league newcomers a whiff of a chance. Bamberg as good as decided the game as early as the fifth minute: Vechta tied the scores at 8:8 – and Trinchieri's team struck back in the space of 73 seconds with a run of 11 without reply: Nicolo Melli drained a bucket from outside, then Melli sharply stole possession in defense and played a long pass to Patrick Heckmann, who was fouled as he made the lay-up. After an unsporting foul was called, Heckmann buried the free throw and then, with his side awarded possession again, added the next lay-up. On its attack, Vechta was forced to take a Hail Mary shot after 24 seconds; Daniel Theis snapped up the rebound, played a fast pass and Maodo Lo drained the three to put his side 19:8 in front – Bamberg had the game completely under control. Although Vechta reduced the deficit to five points midway through the third period after trailing 47:37 at half-time, Bamberg soon pulled away thanks to five straight points by Patrick Heckmann (16 points) and four buckets from beyond the arc by Jarel McNeal (18) to clinch a comfortable 96:68 away win.
Andrea Trinchieri commented: "It was a tough and very physical encounter against Olympiacos. In weeks where you have two games, you never know how much energy you can summon up. Our performance was average, but we still had the chance to win. But then we committed stupid fouls and allowed Piraeus to snap up offensive rebounds. Vechta was our fourth game in eight days. The players I used for the ones I rested did a very good job. Although we didn't play hard enough at the start of the second half, we still controlled the game the whole time. Despite using a small rotation and our young players, we were clever in offense."
After a month's break, Brose Bamberg finally has a home game when Maccabi Tel Aviv visits the Brose Arena on Thursday, February 2 (tip-off: 8 p.m.).